Sales Have Ended
Ticket sales have ended
We are sorry, if this event is either full, or has passed. Please check out our other offerings for future events and join the waiting list.
Sales Have Ended
Ticket sales have ended
We are sorry, if this event is either full, or has passed. Please check out our other offerings for future events and join the waiting list.
Learn Journeyman Level blacksmithing techniques with Yori Seeger in the Third course of our Tool Making Series
About this event
Overview
Making one's own tools is the foundation of learning a skill and being able to understand fully what it takes to create something truly from scratch. Hand craftsmanship is an art form that is gaining a resurgence these days, and with focus on technology moving us forward, some of us like to keep thinking backward in terms of what matters most- building relationships with the things around us and the things we make with our hands.
This 4 evening workshop will give you further understanding of forging- both hot and cold techniques will be covered. Students will gain knowledge and real experience heating up steel, shaping it using proper techniques as well as metallurgy and heat treatments. All the materials necessary will be provided.
There is a prerequisite to take this course: You must have completed at least 2 courses in the INTRO series or APPRENTICESHIP series online OR in person to sign up.
Please wear a face covering to class as well as close toed shoes and cotton clothing. We will have the stations set up for social distancing as well as sanitizing stations throughout the studio. Students are welcome to go outside to eat or take in some fresh air, but we don't allow food in the studio at this time.
Schedule
Preliminary Work: Students will be given access to the INTERACTIVE video and workbook prior to the class to review the necessary skills presented. Watching the video will ensure that you are prepared to start smithing when you come to class, maximizing your time in the Hot Shop.
Day 1: Punching and Drifting
Day 2: Shaping
Day 3: Decoration and/or Heat Treatment
Day 4: Handle creation and finishing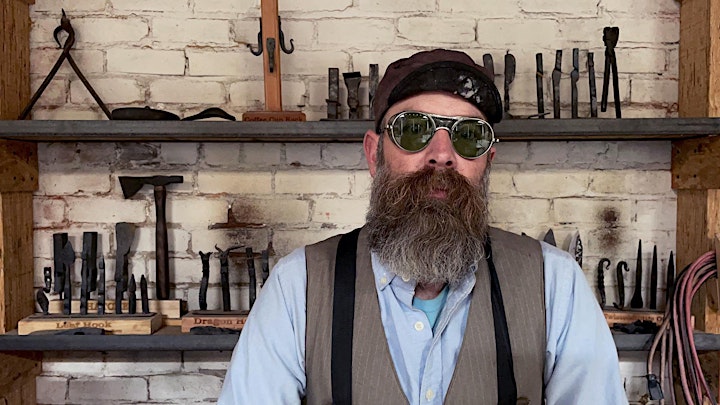 Meet the Instructor
Yori Seeger was born in Mt. Shasta and grew up in Santa Cruz, California. He has a BFA from the San Francisco Art Institute in Ceramic Sculpture. In 2013, Yori and his wife Dana opened an art studio and education center called the School of Visual Philosophy in San Jose, California. He is the President and Executive Director of the School as well as teaches sculpture classes there. Yori has been published in Ceramics Monthly, exhibited his work regionally and has his work in numerous private collections. He lives in Ben Lomond, California with his family.
Education is at the heart of my practice. I am a sculptor working in media and equipment that range from iron, cement and wood to laser cutters, pedagogy and the human experience. I incorporate any and all materials that I feel are appropriate in order to convey my ideas which focus primarily on the human figure. I deconstruct, re-orient and arrange elements to forge a connection with those who view my work.
He is currently working on a series of tools made for and named after each of his family members.
Organizer of Blacksmithing 302: Hammer
The School of Visual Philosophy is dedicated to improving art education and cultivating a professional, creative community by offering the highest level of instruction while integrating fine art with technology. We strive to respect and understand traditional practices while continually pushing the boundaries to improve and discover better methods of art education.