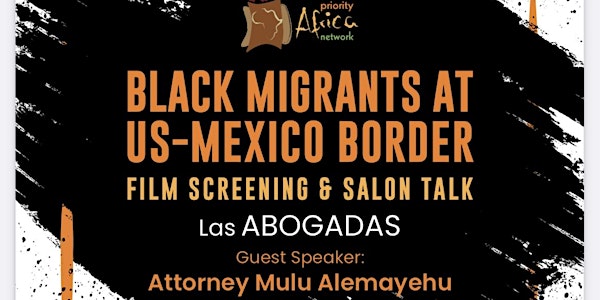 Blacks Migrants on the US-Mexico Border: Film screening and Salon Talk
Los Abogadas, a film about three extraordinary attorneys on the US-Mexico border, one is an Ethiopian lawyer Mulu Alemayehu.
When and where
Location
The New Parkway Theater 474 24th Street Oakland, CA 94612
About this event
Studies only 200 Black migrants crossed the US-Mexico border in 2016. By 2019, the number increased six fold to 1,200. In the coming years the figures are expected to increase even more.
The film and discussion will bring to light he experiences of the migrants as well as the attorneys assisting them with their legal needs.
Attorney Mulu Alemayehu from Ethiopia will be speaking about the film and her work.
From the filmmakers:
In 2019, we began pre-production of this important documentary film. With the rhetoric in Washington increasing to a fever pitch around the subject of refugees coming to the southern border, it was important for director Victoria Bruce to be a part of bringing a humanitarian face to the crisis.
After learning attorneys Rebecca Eichler and Charlene D'Cruz drove a VW bus to intercept 5000 migrants in central Mexico and offer legal advice in 2018, the protagonists for the documentary became clear. By centering the film around brave women attorneys often working for non-profits or completely pro bono, we could show true modern-day heroes standing up to insurmountable odds. Women who were trained to use the law to protect the most vulnerable were having their tools systematically twisted, canceled, and pulled out from under their critical work.
Mulu Alemayehu, an Ethiopian-American who came to the U.S. as a political refugee and fulfilled her dream of studying law to help others being persecuted.
While we were sidelined from location shooting during the pandemic, we still kept tabs on our characters and their journeys. We gathered footage they shot themselves as they reacted to the increasingly hostile laws and policies rolled out almost daily, and their own stress of living under quarantine.
The narrative of Las Abogadas centers around these brilliant women, all of whom gave us complete access to their lives and their practices. Among their clients, we have been given permission to film heartbreaking and heartwarming refugee stories as well.