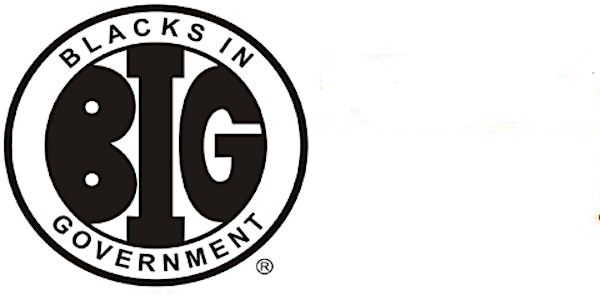 Blacks In Government (BIG) Region V Training Event
Blacks In Government Region V Training Event - "Adjusting the BIG Picture" - Life Post COVID-19"
About this event
The Region V Council and Training Committee is pleased to invite you to the following training sessions, planned especially for YOU! Each session are topics of knowledge and guidance emphasizing the importance of educating our members.
We encourage you to attend these sessions to enhance your leadership effectiveness with emphasis on improved communication and self-care.
Session I:
"Three Ways to Help Take Back Control of Your Financial Future"
Presenter: Darlene Jenkins, Life Insurance and Retirement Strategist
Affordable Benefits Solutions, Inc. (BIG Corporate Sponsor)
Given today's current economic climate and tomorrow's financial uncertainty, many things may feel completely out of your control right now, your FINANCIAL FUTURE doesn't have to be one of them. This informative workshop will cover the steps you should be considering right now to help ensure:
• You reduce your risk of further losses on Wall Street
• You reduce any unnecessary taxes being paid
• You potentially even capitalize on the current economic climate
• You can quit wondering about outliving your money
Session II
"Blacks in Government Affirmative Employment/Equal Employment Opportunity Program"
Presenters: Mary E. Watkins, Region V AE/EEO Chair
Alice Mercer, National AE/EEO Chair
BIG's AE/EEO program goals are is to eliminate practices of racism and racial discrimination against Blacks In Government. This informative workshop will outline BIG's process and specific focus areas for AE/EEO.
Session III
"Living Wills/Power of Attorney – Protecting your Legacy"
Presenter: Bruce Nash, Attorney
2nd Vice President Region V
Have you considered who should make decisions on your behalf should you become incapacitated? Are you a caretaker responsible for making financial and medical decisions? Do you have questions about legal documents needed to establish and protect your legacy? This workshop will provide insight and hopefully help attendees better plan for unexpected life changes.