BlackRock Presents: The Art of Corporate Speech Writing
Guide to effective and persuasive conversation.
About this event
CHERIL CLARKE, FOUNDER OF PHENOMENAL WRITING, LLC
Cheril has written speeches for C-Suite executives and entrepreneurs worldwide. She has also taught corporate workshops and coached leaders on presentation skills one-on-one. With a background deeply rooted in creative writing, from children's books to award-winning stage plays, Cheril has the unique ability to easily connect with audiences of all types.
She is the founder of Phenomenal Writing and its subsidiaries: Phenomenal Speeches as well as Phenomenal Voices. Her mission is to improve the substance and style of executive communication to make it more meaningful (and less boring). Numerous publications have noted her, including The Washington Post, USAToday, and The Atlanta Business Chronicle.
FELICITY BARBER, DIRECTOR AT BLACKROCK
Felicity is responsible for CEO, Larry Fink's executive communications and has written for numerous leaders across finance, tech, and government. Originally from the UK, she started her speechwriting career in London, writing for Inga Beale, CEO of Lloyd's of London. She won the Cicero Award for "Best Banking and Financial Services Speech" two years in a row. Felicity is a guest lecturer at Pratt and Carleton universities, and sits on the Advisory Council of the Professional Speechwriters Association. She holds a BA from the University of Leeds and an MSc from the London School of Economics.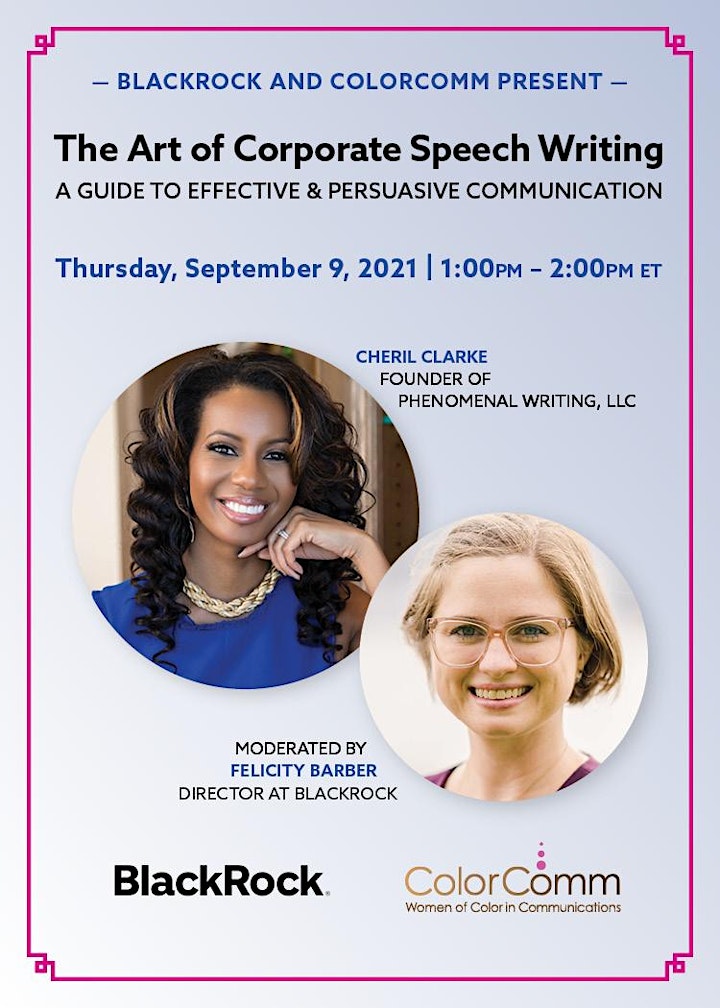 Organizer of BlackRock Presents: The Art of Corporate Speech Writing
The ColorComm mission is to personally connect women with other like-minded individuals to build a strong network of leaders by creating mentors/mentees, business relationships and friendships. ColorComm offers a unique opportunity for women to share experiences and learn from one another to enhance their personal and professional development.