Description
TINHIH presents #BlackMonday2018: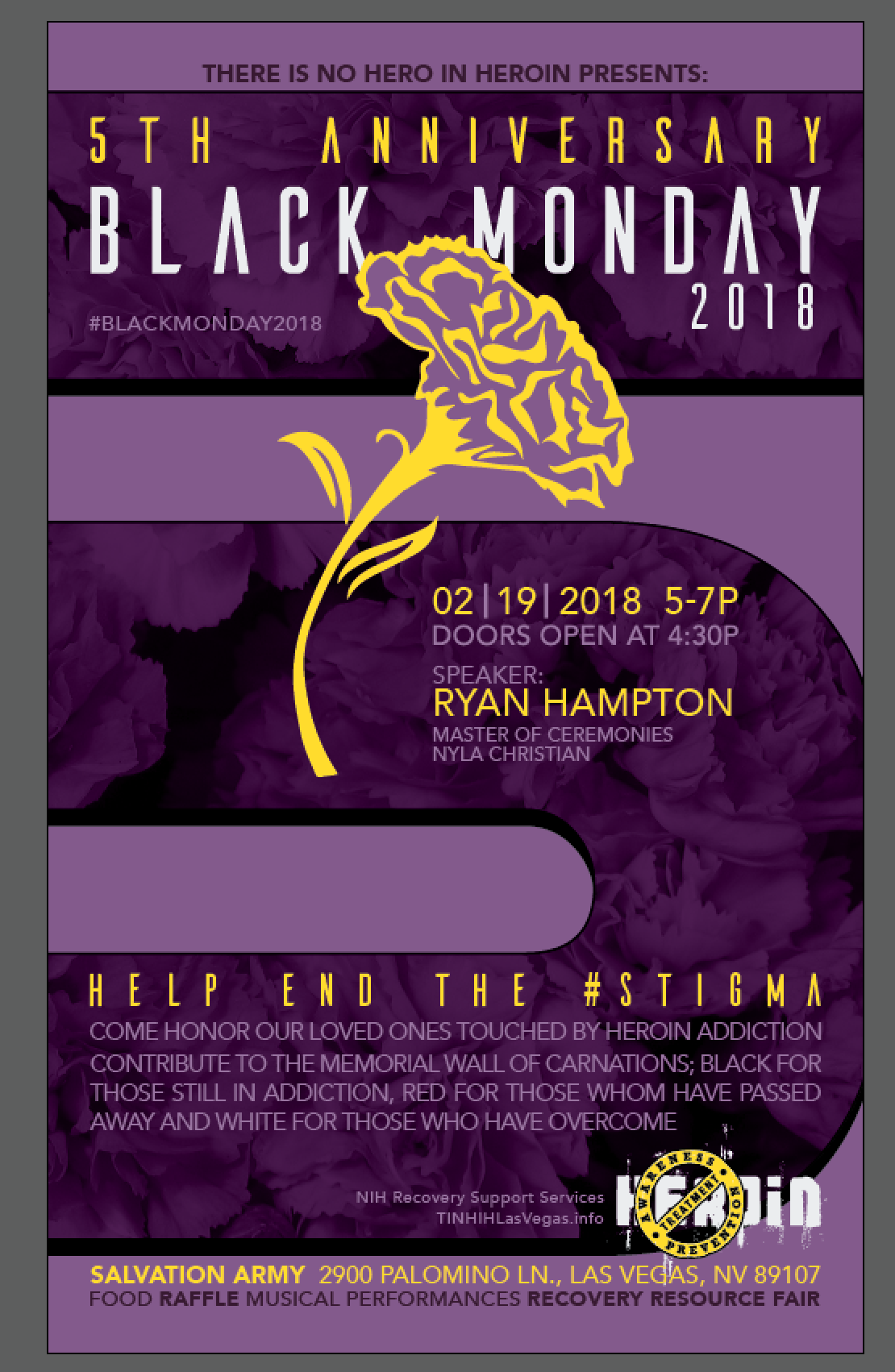 #BlackMonday2018 is part memorial/part fundraiser/part celebration of life for all who suffer from the disease of addiction and those who love them.
There is No Hero in Heroin has committed to the Las Vegas recovery community for the past 5 years. Please plan on attending the recovery support services event of the year. With Facing Addiction's recovery advocate, Ryan Hampton as this year's keynote speaker. CLICK HERE for a list of Ryan's acheivements. TINHIH has made it their mission to combat the opioid epidemic in a variety of ways:
To date we have raised over $22,000 (through fundraising events such as golf tournaments, private donations, etc.) for sober living one-month scholarships to Las Vegas addicts new to their recovery.
Have held multiple layman trainings for the administration of NarCan/Naloxone in conjunction with City of LV Fire & Rescue.
Coordinated training for peer recovery support with the help of Foundations for Recovery and Westcare NV.
Held multiple recovery support services symposiums that involved professionals, non profits, treatment providers, sober living residences and faith community all associated with addiction.
Was a driving force upon the opening of the 1st in the nation ALL public recovery high school, Mission HS, for adolescents suffering from substance use disorder.
Have opened an Alternative Peer Group (in association with Freedom House) at Mission HS to fortify the recovery tools being taught in school. This helps promote healthy time management skills driven by peer mentors.
Motivated a community towards lessening the stigma associated with addiction.
Provided a safe place for those greiving the loss of a loved one.
One of the ways we honor our loved ones is through our memorial video. We celebrate those who have ovecome addiction, honor those still in the throes of addiction and memoralize those we have lost to addiction.
CLICK HERE to watch previous year's videos.
If you would like to add your loved one to this year's video, please email a photo to:
info@tinhihlasvegas.info
(Please write MEMORIAL VIDEO in the subject line)
As always, there will be a recovery resource fair, so please attend if you'd like to see what services are available. The key to overcoming addiction is providing a community of love and support.
"There is No Hero in Heroin, only those who overcome!"-Jan Nargi