Blackmagic Design DaVinci Resolve Workshop

Wednesday, November 16, 2011 from 8:00 PM to 10:00 PM (CST)
Event Details
A FREE DaVinci Resolve workshop will be offered between 8:00 pm and 10:00 pm on Wednesday, November 16, 2011.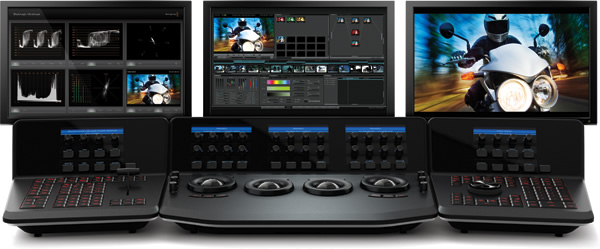 - WHO SHOULD ATTEND: Anyone who has ever considered using color correction in their workflow. This workshop will introduce Blackmagic Design's DaVinci Resolve and detail its features and capabilities, as well as proper set up and integration with other tools. With Blackmagic Design's recent introduction of the FREE DaVinci Resolve Lite, this is the perfect opportunity to learn more about the world's highest performance color correction solution.



- INSTRUCTOR(S):Alexis Van Hurkman divides his time working as a writer, director, and colorist. Based in St. Paul, Minnesota, he's graded programs that have aired on The History Channel, The Learning Channel, and BBC Four, features and shorts that have played at the Telluride and Sundance film festivals, and video art pieces that have been exhibited at the NYC Museum of Modern Art, the Whitney Museum of American Art, and San Francisco's Yerba Buena Center for the Arts.
He has also written widely on the subject of color correction in columns, books that include The Color Correction Handbook and The Encyclopedia of Color Correction, as well as software documentation including the Apple Color User Manual.
When not grading (or writing about grading), he writes and directs works of fiction; his first feature, "Four Weeks, Four Hours," screen at festivals internationally, and he's hard at work on his followup project, "Starship Detritus." For more information about Alexis, visit www.alexisvanhurkman.com.
- PRODUCTS MENTIONED: Blackmagic Design's DaVinci Resolve, DaVinci Resolve Lite, DeckLink HD Extreme 3D


- DESCRIPTION: Blackmagic Design's DaVinci Resolve is the world's highest performance color correction solution for Mac OS X and Linux computers. DaVinci Resolve supports more real time color correction than any other system because it's not limited by the performance of the computer it's running on. DaVinci Resolve eliminates this performance barrier because it's based on a cluster of high performance GPU cards, so all processing is always real time. DaVinci Resolve has the power of a true real time performance solution so handles complex color grades even when using dozens of primaries, secondaries, Power Windows™, multi point tracking, blurs, and more. DaVinci Resolve provides incredible performance in a low cost solution can then easily upgrade by adding extra GPU's for supercomputer power to handle 4K resolutions, stereoscopic 3D and real time grading direct from raw camera files such as ARRI raw and RED raw R3D files can be handled with ease.

When & Where

The Flying Saucer: Hollandsworth Hall
815 W. 47th Street
Austin, TX 78751


Wednesday, November 16, 2011 from 8:00 PM to 10:00 PM (CST)
Add to my calendar
Organizer
Blackmagic Design
1551 McCarthy Blvd, Suite 106
Milpitas CA 95035
Telephone: +1 408 954 0500
Fax: +1 408 954 0508
http://www.blackmagic-design.com/