Description
Blackmagic Design DaVinci Resolve 15 Night!
Join us Wednesday, May 23 as we devote the night to the brand new, just announced, DaVinci Resolve 15.
Paul Saccone amd Mary Plummer will tell and show all, including Fusion and Fairlight.
Plus a VERY special presentation from Director/DP Lukas Colombo and Director/Producer Jacob Mann who will talk about their use of Blackmagic Design's newest line of Broadcast solutions and how they were used in their latest live production for Cirque Du Soleil's Mystere!
Also the BMD team will be bringing an assortment of cameras and other gear to show off in the lobby.
Plus Stump the Gurus and World Famous Raffle. Going to be huge!
---
Agenda (subject to change and availability)
6:45- 7:15PM - Stump the Gurus
Join Resolve Gurus Paul Saconne, Mary Plummer, Jason Bowdach and Lukas Colombo as they will attempt to answer all of your questions and solve all of your problems concerning DaVinci Resolve. Or provide feedback and feature requests if you want. If they can't solve your problem or answer your question, then you go home with a problem, but you still got out of the house, so that's not a bad thing.


7:20PM - 8:30PM - Everything You Need to Know and Should Know about DaVinci Resolve 15 - Paul Saccone and Mary Plummer
Paul Saconne and Mary Plummer return to lacpug to show and tell all about the brand new,still in Beta, DaVinci Resolve 15. Including Fusion and Fairlight. Plenty of time for questions and feedback.
About Paul Saconne
Paul Saccone is the Senior Director of Marketing at Blackmagic Design and has been working in the post production industry for over 20 years. From 1998 to 2013 Paul worked at Apple and was the Product Manager for Final Cut Pro version 2 through 7, including Final Cut Studio. He is well known as an editorial workflow specialist, public speaker, demo artist, and educator around the world for his dynamic and witty presentations. In addition, Paul has engineered and built multi-user studios and sound stages, complete with large scale data center and dozens of edit, color and audio suites. Paul is also the author of "The Definitive Guide to DaVinci Resolve 14", which is available in English, Japanese, Chinese, Spanish, German and French from Amazon. Paul is based out of San Francisco, where he lives with his husband Ryan and their dogs, Chloe and Gracie.



About Mary Plummer
Mary Plummer is a professional video editor, audio artist and composer with over 25 years experience in video and film production. She has worked on wide range of productions from coast to coast including shorts, PSAs, trailers, music videos, documentary and independent feature films. Between projects, Mary has been a trainer and presenter at major industry trade shows and written over a dozen industry training books including; Apple Pro Training Series: GarageBand (all versions), Apple Pro Training Series: Soundtrack, Apple Pro Training Series: Soundtrack Pro, Apple Pro Training Series: Getting Started with Final Cut Studio, Media Composer 6: Part 1 – Editing Essentials (Avid Learning), and created over 24 hours of online Logic Pro X videos for Ripple Training. Mary has recently joined the marketing and training team at Blackmagic Design and is currently writing a new book focused on audio in DaVinci Resolve 14.

8:30PM- 8:55PM - Break
This is the most important part of the show. It's networking time. This is a great opportunity to not only ask questions and get problems solved, but to meet people that just might change your life. Edit5 Consoles will be in lobby showing off Editing tables and chairs. Get to the Gallery early for this one. Snack bar wil be open for sodas, water, wine, chips and beer.

9:00PM - 9:55PM - Cirque Du Soleil's Mystere and Blackmagic Design - Lukas Colombo and Jacob Mann
Director/DP Lukas Colombo and Director/Producer Jacob Mann will talk about their use of Blackmagic Design's newest line of Broadcast solutions including the URSA Broadcast Camera, Fiber Converters, ATEM 4 M/E Broadcast Studio 4K, and ATEM 1 M/E Advanced Panel and how they were used in their latest live production for Cirque Du Soleil's Mystere!
About Lukas Colombo
Lukas Colombo is a multi-award winning film director and cinematographer with a strong passion for his craft. Raised in Santiago, Chile, Lukas is a widely traveled individual, fluent in both the Spanish and English languages, and fervently committed to excellence, innovation, and integrity. He is the Founder and Director of Moai Films, a production company that has produced numerous projects from commercials and music videos to feature films and documentaries, receiving over a dozen international and national awards for his narrative work. He has had the privilege of working with major artists and his music videos have been viewed millions of times online. In 2016 Lukas began collaborating closely with digital cinema company and manufacturer, Blackmagic Design, testing their latest camera technology and speaking internationally on the subject of cinematography. In 2017 he completed a 20 episode TV series which was broadcast across the globe. He is currently collaborating with Dolby Laboratories to push the boundaries of high dynamic range cinematography and storytelling. Lukas continues to Direct, DP and Produce feature films, TV series, and commercial content all over the world. His latest original TV drama series was sponsored by Sigma and Angenieux. As the head of Moai Films, he has seen the successful completion of over 200 client projects in the last 5 years and currently resides in the Greater Los Angeles Area with his loving wife and 3 kids.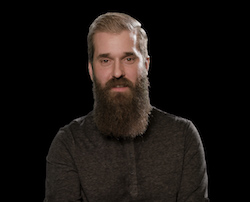 About Jacob Mann
Jacob Mann is a mixed media director and cinematographer who specializes in creating unique audience experiences. Growing up in South America, Jacob was immersed in the skate and music culture and began directing shorts as young as 10 years old. This grab and and go minimalistic approach to filmmaking has carried over to his professional career; capturing moments in unconventional ways to fully tell the right story.

As a multi-cam director, Jacob has taken the standard approaches and flipped them upside down by immersing himself in the performers artistic expression. Instead of tired cuts and standard framing, Jacob cuts live to music and encourages his crew to not be afraid of being creative on spot. The result has been a growing demand from festivals and artists alike. Some notable projects include; Coachella, FYF Fest, Will Ferrell and Chad Smith drum off, BET Experience, Air and Style, and much more.
Jacob is the co-founder of the newly founded Mixed Media Design Studio, Los Nativs, which specializes in live event coverage, multi-cam, and storytelling.
Jacob is based in Huntington Beach with his wife and two kids.
-10:00 - World Famous Raffle