Screening + convo on climate justice w/ Love The Everglades Movement The Smile Trust, Imagine Water Works. Please donate directly to them.
About this event
Join Maha Chielo and The Black Femme Supremacy Film Festival for a screening of the Blacklight pilot table read and conversation on climate justice with Rev. Houston R. Cypress, co-founder of Love The Everglades Movement, Valencia "Vee" Gunder, founder of The Smile Trust, and Klie Kliebert co-founder of Imagine Water Works. We encourage attendees to donate to these orgs in place of a ticket admission to support the organizations' work for land protection, education, and disaster relief.
Please make donations directly to the one or both of the organizations by clicklig these links:
The Smile Trust Mutual Aid Fund
Imagine Water Works Hurricane Relief Fund
*Thank you to Keisha Rae Witherspoon and Helen Pena for their support in connecting with Miami orgs. You can find Helen's work on her IG and website.
As artists living on the Gulf Coast, Maha Chielo and Rev. Houston R. Cypress will discuss ways that Black and indigenious communities can use the arts to educate the public on environmental issues, and to preserve culture and stories. Klie Kliebert is currently doing Hurricane Ida disaster relief in New Orleans and Southern Louisiana. Valencia Gunder is currently doing mutual aid for Hurricane Ida and disaster relief for Haiti. All panelists will discuss work being done across the coast to address climate injustice, provide disaster relief, and protect land/ communities.
Maha Chielo co-created the dark comedy series Blacklight, based on her experience as a Katrina survivor and her life as a sex worker and organizer in post-Katrina New Orleans.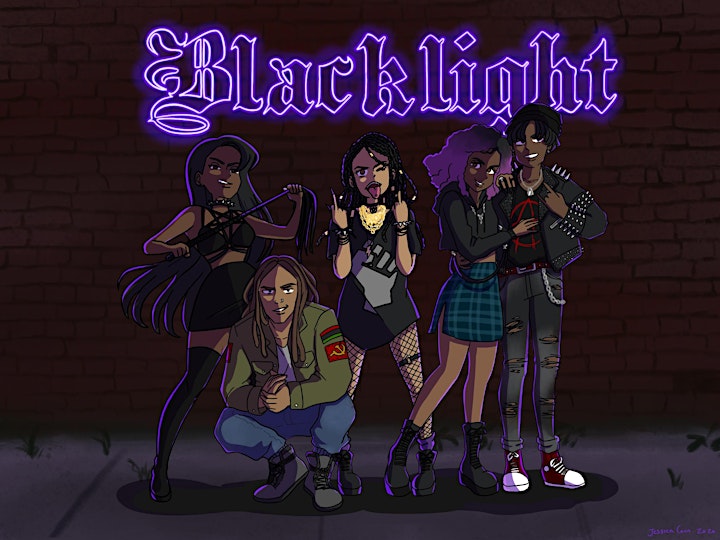 Logline:
Brianna, a soft-spoken Black goth in her early 20s, enters the absurd world of sex work much to the dismay of her family and activist community. Blacklight explores the fantasies and nightmares of Brianna, her family, comrades, and fellow sex workers as they struggle to survive and thrive during New Orleans' post-Katrina revitalization efforts.
Table read cast (in order of appearance):
Punkie Johnson, Cipha Sounds, Dylan Maldonado, Shermane Cowans, Nick Brooks, Deric Augustine, Wilson James Randall, Charles Kelley, Felonious Monk, Dawn Jefferson, Rotisha Geter, Kerry McCormick, LeBaron "LB" Thornton, Katy Madzar, Tamara Syed, Kevin Fard, Sable Mongold, Teddy Ray, Honey Ma.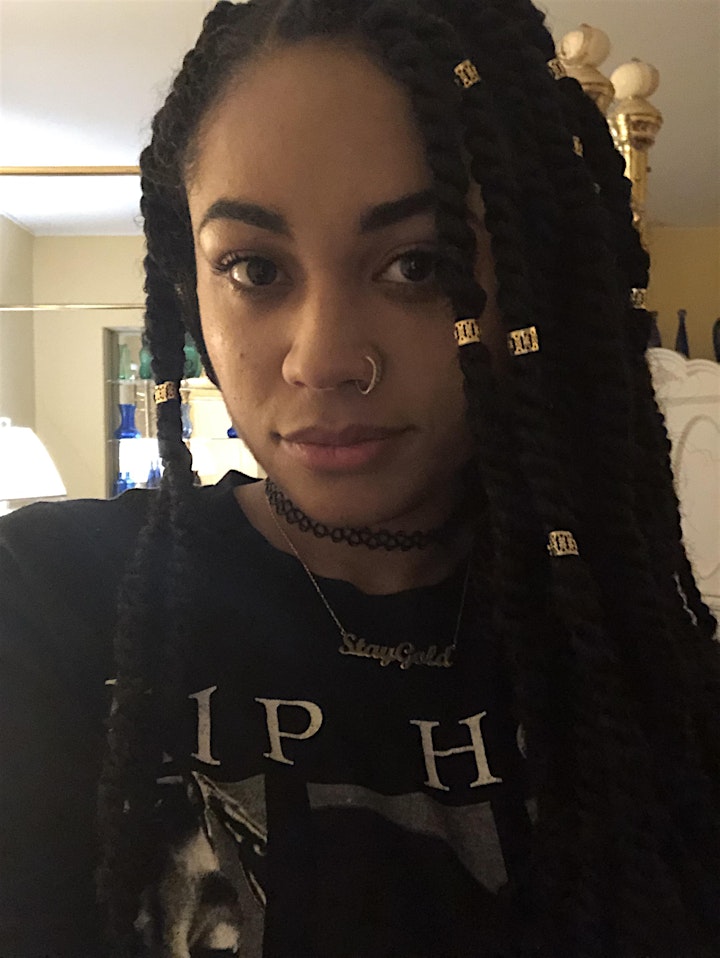 Pronouns: She / Her
Maha Chielo is a sex worker, filmmaker, and community organizer from New Orleans. She is a founding member of B.A.R.E. (Bourbon Alliance of Responsible Entertainers) which fights against discriminatory labor laws affecting sex workers. She has also been a member of Socialist Alternative and Justice Committee/Cop Watch. She's an avid fanfiction reader, Eazy-E enthusiast, and lover of all things dark and gloomy.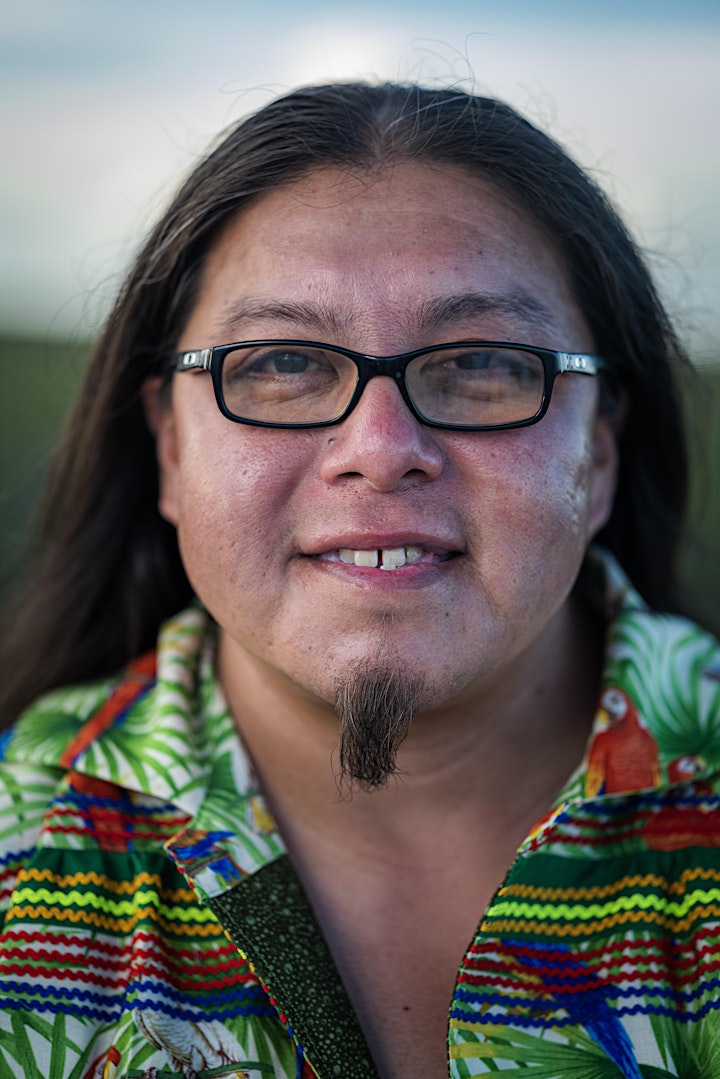 Rev. Houston R. Cypress, Otter Clan, Miccosukee Tribe of Indians of Florida
Pronouns: He / They
Co-Founder of Love The Everglades Movement
Rev. Houston R. Cypress grew up in the River of Grass region of the Greater Everglades – a place of refuge for his ancestors and the source of traditional plant medicines. He experiments with strategies for engaging communities and inspiring action around this World Heritage Site.
Art, conflict management, facilitation, multimedia communications, gender diversity and spirituality are some of the disciplines & priorities that he contributes through his collaborations with the following organizations: Miccosukee Magazine TV; Film, Recording & Entertainment Council; Medicine Signs Spiritual Center; Natural Resources Leadership Institute; Miccosukee Environmental Advisory Committee; FIU's Global Indigenous Forum; Florida Interfaith Climate Actions Network; Unity Coalition / Coalicion Unida; AIRIE's National Advisory Committee; Sunkeeper Environmental Solutions; and the Love The Everglades Movement.
He finds inspiration for his contributions to the Cinema in the words of Patricio Guzman of Chile, who says, "A country without documentaries is like a home without photo albums."
Houston is committed to supporting his society of clans by assisting in cultural preservation, environmental protection, community outreach, art collaborations, event and media production, business development, and strengthening sovereignty.
Rev. Houston R. Cypress is a Two-Spirit Poet, Artist, Filmmaker and Environmentalist from the Otter Clan of the Miccosukee Tribe of Indians of Florida. He resides on the Miccosukee Reservation located west of Miami, Florida; and he maintains a number of traditional villages located on tree islands scattered throughout Water Conservation Area 3A – the area known as the historic River of Grass, and called by his community: KAHAYATLE, which can be translated as "Shimmering Waters."
He invites you to join him in creating portals between worlds.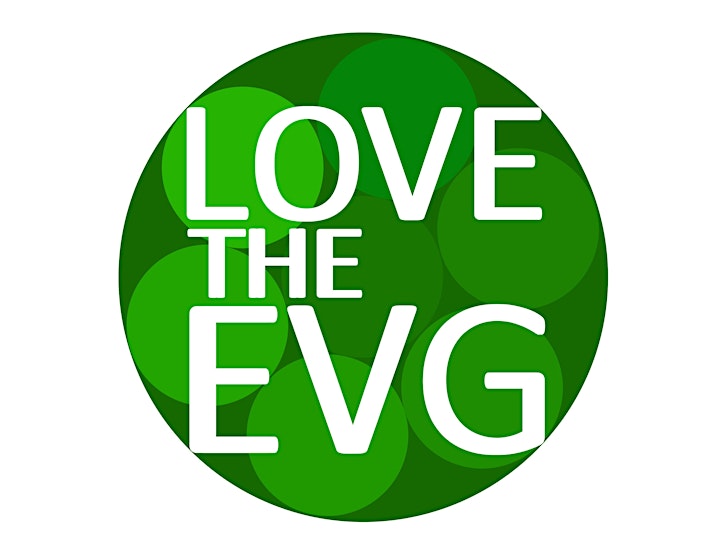 Love The Everglades Movement is a nonprofit organization that experiments with social practice by creating a forum for coalition-building, integrating indigenous solidarity with the arts, direct action, spirituality, and science and research, all of which is in service to the Greater Everglades. LTEM is honored to do this work amidst the homelands of the Miccosukee and Seminole peoples.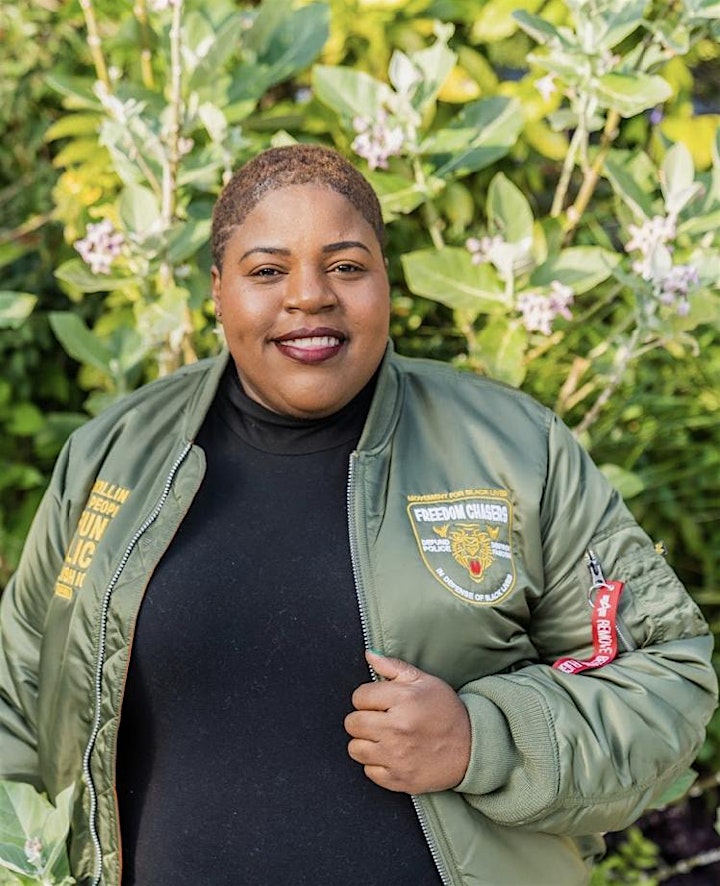 Valencia "Vee" Gunder
Pronouns: She/ Her
Co-Director, The Smile Trust and National Organizing Lead, RBG New Deal at M4BL
Valencia Gunder or as most recognize her, "Vee", is an enthusiastic, self-motivated and driven community leader who has been branded as the "Modern Day Fannie Lou Hamer". A Miami native, Valencia is the Founder/Co- Director of the Smile Trust Inc., formerly known as Make the Homeless Smile Miami/Atlanta, Co-Founder of The Black Collective and National Organizing lead of the RBG New Deal at M4BL and Advocate in Residence at Florida Memorial University. Valencia assists many community based organizations with a variety of strategies around Florida to ensure that the community feels the impact in a positive way. Though she is not an environmentalist, Valencia has lead conversations around climate awareness in many communities on topics including sea level rise, emergency preparedness, and climate gentrification, food safety and housing she is apart of the Steering Committee for Greater Miami, 100 Resilient Cities and has spoke around the country on her work around Climate Gentrification. She is the founder of the Community Emergency Outreach Center that assisted over 23,000 residents after Hurricane Irma. After Hurricane Dorian, Valencia and the Smile Team expanded their emergency response outreach to the global south with their "One Bahamas" programs, providing over 3 tons of supplies to the islands of Bahamas in less than a week, building coalition with local Bahamian Orgs and assisting Bahamians that were seeking refuge in South Florida. After experiencing the tragedy of losing her goddaughter Jada Page to gun violence, Valencia worked through her grief and pulled her community together to fight against the status quo, receiving the Soros Justice Fellowship, Valencia created a Rapid Response toolkit "LIFT" to help decrease Police and inter community violence in Miami. Valencia, who is a returning citizen, was a leader on passing Amendment 4 in Florida which restored the right to vote to 1.4 million Floridians and works alongside over 80 Formerly incarcerated Black Women (Dignity Florida) to change legislation to assist with de-carcerating women in the State of Florida. Valencia has been a faithful advocate fighting alongside the residents of her community to ensure they receive fair and just treatment.

The Smile Trust have taken on the task to provide resources, education, jobs, and housing to combat poverty and homelessness.
The Smile Trust, Inc. is an International Nonprofit Organization that Fights against homelessness and works toward fixing food insecurities. Our programming includes: Smile Day, The Community Emergency Operations Center, and Agrihoods. These programs are the vehicles that drive us to our goals.
Since February 2014, The Smile Trust formerly known as (Make the Homeless Smile) has served over 100,000 meals between Miami, FL and Atlanta, GA. We have provided disaster relief in Flint, MI after the Water Crisis, across the state of Florida, and internationally by spearheading disaster relief efforts during the aftermath of Hurricane Dorian in The Bahamas.
We have an obligation to ensure that the population we service feels welcomed and understands that a lack of physical address does not negate their dignity as a human being. The experience of displacement is filled with depression, safety concerns, and a lack of access to resources—leaving many feeling broken. We strive to revive, reinvigorate, and heal every individual we service while doing so with a Smile!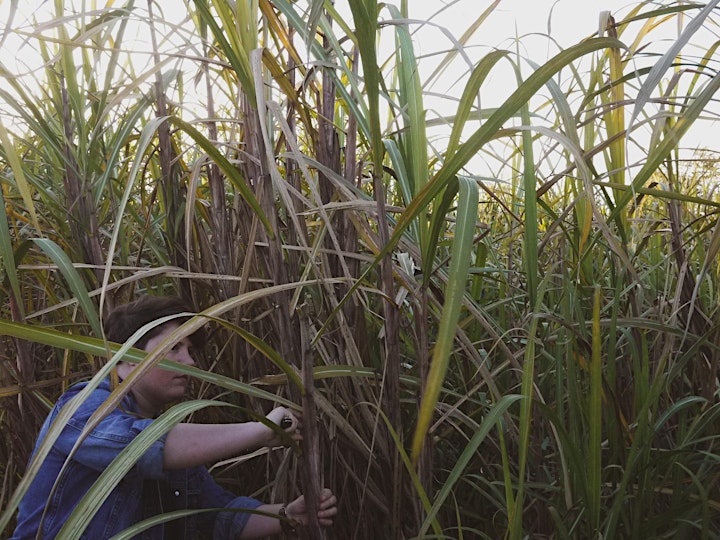 Klie Kliebert
Pronouns: They/ Them
Co-Director and Executive Director of Imagine Water Works
Klie Kliebert joined Imagine Water Works in 2015 and became its Executive Director in early 2019. Klie is a native New Orleanian with deep, multi-generational family ties to St. James Parish who brings a unique blend of experience in communications and grassroots organizing, social and community science, and nonprofit management to the team. As a mixed Cajun, Creole and Chitimacha person, Klie also has a passion for telling the story of Louisiana, in particular with an intersectional racial and gender analysis. In their role at Imagine Water Works, Klie not only leads the organization's daily work, but is also the lead organizer for the Trans Clippers Project and the Mutual Aid Response Network.
While at the Foundation for Louisiana, Klie supported efforts toward climate justice, immigrants' rights, criminal justice and bail reform, housing justice, and more. Prior to joining IWW, Klie worked for the Public Laboratory for Open Science and Technology, an open source international community of scientists and resident activists focused on using simple DIY tools to collect data about our local environments. In an effort to eliminate stigma for their community, Klie also served as the Communications Director for Transilient, a storytelling project that documented the everyday lives of transgender, non-binary and two-spirit people. Knowing that we are so much more than our oppressions, Klie created the #MoreThanTrans campaign and implemented a digital strategy for Transilient's Deep South Tour that engaged millions of people globally as the project was featured by Buzzfeed, HuffPost, OUT Magazine, the Human Rights Campaign, the National Center for Transgender Equality, and more throughout 2017.
Klie is a member of the Baton Rouge Immigrants Rights Coalition; a Fellow with Project South's first BAM (Building A Movement) Institute for Disaster Preparedness, Response, and Recovery (2019-2021); a Grantmakers United for Trans Communities Leadership Fellow (2019); a Loyola University Institute for Environmental Communications Fellow (2016); and was the first Safety Officer for the Gathering of Open Science and Hardware (2017). Klie has co-written multiple Codes of Conduct specifically within science and tech spaces, and they are a contributor to the Global Open Science Hardware Roadmap: an actionable plan to make science hardware open and accessible to everyone by 2025. Klie is a volunteer programmer for the New Orleans Film Society in the "Louisiana Shorts" category (2018-present) and an Administrator for the "Nonprofit Happy Hour" (2016-present), an online peer learning group of over 50,000 non-profit professionals.
Sometimes a writer and sometimes a photographer, Klie was accepted as a 2019 Artist In Residence with Works On Water in NYC, exploring concepts of consent with our bodies and with nature — and how these relationships drive our current water management practices. In their spare time (?!) Klie enjoys being outside with friends and family (usually with crawfish), casting net, reading everything, and working on their mini-farm.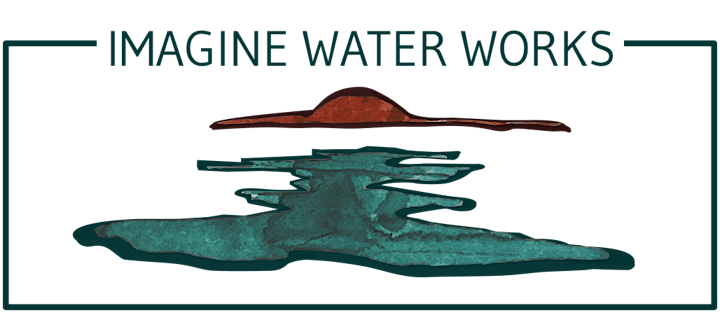 Who We Are
We're reimagining the future through art, science, and human connection. We hold space for tough conversations, for creativity, and for existing fully as ourselves both in the present and in the future.
Imagine Water Works is place-based with a global vision. Since 2012 we've helped lead the changes we've seen locally in how we think about living with water, working in an intersection of reducing risk from flooding, pollution, and natural hazards. We knew that the best solutions were multidisciplinary, and so we integrated science, history, identity, and art into our work.
We've worked with residents, neighborhood associations, nonprofits, artists, families, scientists, academics, architects, small business owners, and government agencies to create various resources for our community, to hold space for conversation, and to develop hazard mitigation plans in Louisiana and nationwide. But our work doesn't stop there.
Where The World Is
The combination of climate change, sea level rise, environmental pollution, and systemic oppression is something we can no longer ignore. In fact, we know that our communities are reaching a tipping point. We know the strategies that have gotten us to this point have not worked. And we know that if you want fundamentally different results, you need to do things in a fundamentally different way.
With this in mind, we honor the fact that people who have been pushed to the margins are the exact same people who know how to build a better future for themselves and their communities, even when the future feels uncertain. As such, we hold space for those of us who are too often pushed out: Indigenous people, Black and Brown folks, LGBTQ and nonbinary people, two-spirits, farmers and artists, immigrants, young people and the elderly, disabled people, poor people, those with less formal education, and everyone living at the intersections of these identities. There must be a fundamental shift in who is centered in conversations about our shared future.
What We Do
Our core focus areas are climate justice, water management, and disaster readiness and response. With the issues we're facing today, we know that our communities need immediate support and the ability to work toward a better future, at the same time. We support these efforts by providing resources that keep people more safe before, during, and after both natural and manmade disasters. We create opportunities to connect with others and merge art with science in a deeply authentic and personal way. And we create freedom spaces where everyone has the opportunity to explore, imagine, and share their solutions for our future.
Some of our current projects include:
The Trans Clippers Project, the Mutual Aid Response Network, an "Anonymous Storm Prep Q&A" on Instagram, The Queer/Trans Guide to Hurricane Season, Working With Water: An Art/Science Symposium, The Little Library of Water, and Watermark: A Monthly Water and Climate News Briefing.