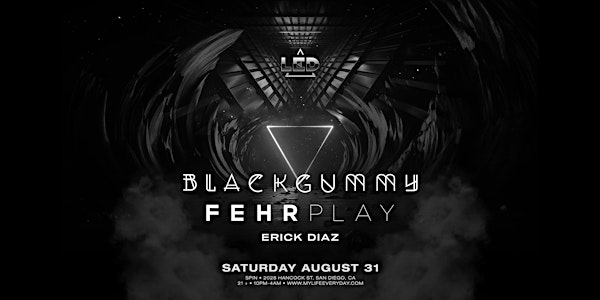 BLACKGUMMY + FEHRPLAY
BLACKGUMMY + FEHRPLAY AT SPIN NIGHTCLUB
When and where
Location
Spin Nightclub 2028 Hancock St San Diego, CA 92110
Performers
Headliners
More Performers
About this event
LED presents
BlackGummy
Fehrplay
BlackGummy
BlackGummy began as the brainchild of Los Angeles-based producer Iman Marouf. Marouf discovered the entity called "BlackGummy" in 2013 during a trip to the Middle East and Asia, and instantly formed a unique and inseparable bond with the alien-like idol. Since their first meeting, the producer and the entity have virtually conjoined into an indivisible whole, never leaving one another's side.
Soundcloud: https://soundcloud.com/blackgummy
Fehrplay
What do Billboard and the sleepless city of New York hold in common? For one, they have all bowed to the uplifting talents of Norwegian breakout Fehrplay. With his name cemented to the lifeblood of progressive house and the global club circuit adding to his 360-degree explosion, 2013 has set the young European trailblazer into one of his most prolific streaks to date.
http://smarturl.it/fehrplayonbeatport
- - - - - - - - - - - - - - - - - - - - - - - - - - - - - - - - - - - - - - - - - - - - - - - - -
Spin Nightclub
www.spinnightclub.com/
www.twitter.com/spinnightclub
www.instagram.com/spinnightclubsd
For VIP/bottle service inquiries please contact Chance at (858) 205-9604
- - - - - - - - - - - - - - - - - - - - - - - - - - - - - - - - - - - - - - - - - - - - - - - - -
LED presents
www.myLifeEveryDay.com
www.twitter.com/LEDpresents
www.instagram.com/LEDpresents