About this Event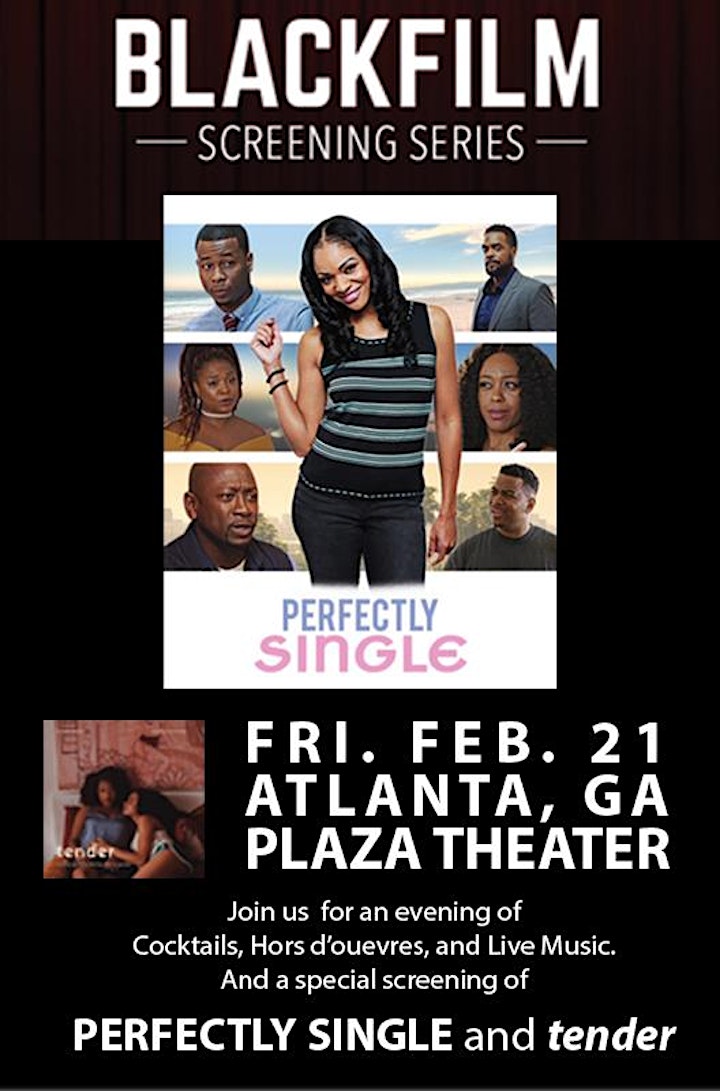 Event Information:
Friday, February 21, 2020
Plaza Theatre | 1049 Ponce De Leon Ave NE, Atlanta, GA
7:00pm | Reception: Cocktails provided by Tito's Vodka. Hors d'ouevres and Live DJ Music.
9:00pm | Film Screenings: tender and PERFECTLY SINGLE
11:00pm | Q&A: Felicia Pride, Director; Van Elder, Director with Cast member Erica Hubbard.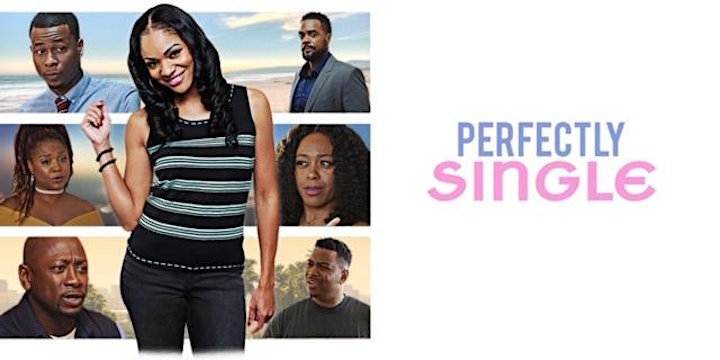 About the Film:
PERFECTLY SINGLE synopsis
A conservative and socially awkward optometrist decides to take a leap of faith on quest for fulfillment in a male companion at the urging of her friends as a last ditch effort to find happiness. Her arduous journey leads her to a potential younger suitor, but more important down a path to self-discovery.
Cast:
Erica Hubbard | (Lincoln Heights, Akeelah and the Bee)
Torrei Hart | (Dear Frank)
DomiNque Perry | (HBO's Insecure)
J. Alphonse Nicholson | (BET's Tales, Netflix's Madame C.J. Walker)
Omar Gooding | (Smart Guy, Baby Boy)
Joe Torry | (Poetic Justice, Tales from the Hood)
Crew:
Van Elder | Writer/Director/Producer
About the Director:
Van Elder is a native of Compton, CA. He has written, directed, produced, and edited four feature films, "Perfectly Single" (2019), "DWB: (Dating While Black)" (2018), "Divine Intervention" (2007), and "Issues" (2006). "Divine Intervention" and "Issues", received limited theatrical releases and were subsequently released on DVD and cable television. He also wrote, directed, and produced the super natural comedy series "Spook Hunters", released on Amazon Prime Video.
Van's work has spread into other visual areas; including directing music videos, a sketch comedy television series, a Variety Television show, multiple Web and digital series, a documentary and many other media related products. He received his Master's Degree in Communication Studies, with an emphasis in Film and Television from Cal State Los Angeles and previously, a Bachelor's Degree in Criminal Justice from Cal State Long Beach. In addition to his production work, Van has authored and optioned numerous screenplays.
About the Film:
tender synopsis
tender is a simple story, close to Felicia's heart, about the bonds between women, black women. She's fascinated and fortified by the bonds that she has with black women and aimed to capture that power, but between seemingly strangers.
Cast:
Farelle Walker | "Kiana"
Trishauna Clarke | "Lulu"
Crew:
Felicia Pride | Writer/Director
Regina Hoyles | Producer
Ivy Grant | Associate Producer
About the Director:
Felicia Pride is a writer on Ava DuVernay's QUEEN SUGAR and is currently developing the feature DEEPER with Universal Pictures and Will Packer Productions. She sold a drama pilot to NBC's Universal Cable Productions and is the co-writer and executive producer of the film REALLY LOVE, produced by MACRO, which will premiere at SXSW. She recently made her directorial debut with tender, a short film she also wrote. Felicia is a Film Independent Screenwriting Lab Fellow and a graduate of NBC's Writers on the Verge program as a comedy writer. Prior to, she worked as a film distribution executive and an impact producer, and is the author of six books. Felicia holds an M.A. in writing from Emerson College and runs The Create Daily, a resource for underrepresented storytellers that she founded in 2012.
About the Blackfilm Screening Series:
The Blackfilm Midnight Screening Series is a nationwide program that highlights Black filmmakers and artists of color. The goal of the series is to build audience awareness as well as funding opportunities for Black independent filmmakers.
About Blackfilm:
Blackfilm is an entertainment services company that provides news and information on Black movies, television, theatre and digital media. We bring a unique focus to content creation, distribution, and engagement for the radically under-served Black and Black-friendly audience.
Sponsors:
African-American Film Critics Association
Tito's Vodka
Mann Robinson Productions
Legend Roofing
The Graham Law Firm
Media Sponsors:
UrbanFilmReview.com
Arrington & Phillips, LLP
Press:
For press information, please contact:
Bullzeye Productions - Bullzeyeprods@yahoo.com
Blackfilm - contact@blackfilm.com