BlackBerry & T-Mobile Hackathon

Saturday, May 11, 2013 from 9:00 AM to 9:00 PM (CEST)
Event Details
Najlepsza okazja, aby zmienić Twoje pomysły w rzeczywistość właśnie nadeszła, dzięki BlackBerry & T-Mobile Hackathon - serii konferencji organizowanych przez polski oddział  BlackBerry przy współpracy z operatorem T-Mobile!
Zaplanuj swoją aplikację, stwórz ją w 10 godzin, poznaj innych programistów, ekspertów, baw się i wygrywaj fantastyczne nagrody!
Czym jest BlackBerry & T-Mobile Hackathon? = Super Hackathon
Hackathon jest wydarzeniem, na którym możesz opracować swój pomysł na aplikację w kilka godzin. Właśnie tutaj spotykają się najlepsi programiści i eksperci, tworząc aplikacje w jeden dzień. To najlepsza okazja, aby zamienić przeczucie "to może zadziałać", w coś prawdziwego, działającego i ekscytującego. Na koniec, sędziowie wybierają zwycięzców każdej kategorii, którzy wracają do domu z torbami pełnymi nagród.
BlackBerry & T-Mobile Hackathon to jednak o wiele więcej niż zwykły Hackathon, robimy wszystko, aby te spotkania były NAJLEPSZYMI Hackathonami na świecie.
Dlaczego najlepszymi? Ponieważ słuchamy Was, wiemy czego potrzebujecie i staramy się za każdym razem zapewnić Wam absolutnie wszystko co niezbędne.
Przyjeżdżamy do Was, umożliwiamy bezpośredni kontakt z ekspertami, oferujemy napoje, pizzę, nagradzamy specjalnymi prezentami, ale jesteśmy tutaj w rzeczywistości po to, aby nawiązać z Wami kontakt. Jesteśmy tutaj przede wszystkim dla Was, bo chcemy, abyście odnieśli sukces. Wszystkie spotkania trwają często dłużej niż 10 godzin. Będą Waszą szansą na to, aby nauczyć się czegoś nowego, przećwiczyć swoje umiejętności i stworzyć aplikacje z pomocą, jakiej jeszcze nigdy nie doświadczyliście.
Tematyka Hackathonu
W związku ze zbliżającą się Polską premierą telefonu BlackBerry Q10 tematyką tej imprezy będą aplikacje stworzone dla pierwszego smartphonu opartego o system BlackBerry 10 wyposażonego w fizyczną klawiaturę czyli BlackBerry Q10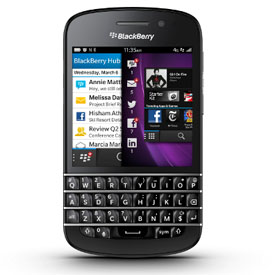 Więcej informacji na temat wyżej wymienionego modelu można znaleźć pod adresem - BlackBerry Q10
Podczas trwania imprezy dodatkowo punktowane będą aplikacje wykorzystujące Open API firmy T-Mobile. O protokole możesz dowiedzieć się pod adresem - Open API.
Dlaczego warto uczestniczyć?
Dlaczego warto uczestniczyć? Powodów jest naprawdę wiele. Tak wiele, że nie sposób je wszystkie wymienić, tym bardziej, że wiedza zdobyta podczas takich konferencji, wspólna praca z innymi programistami czy możliwość spotkania się z innymi osobami zainteresowanymi programowaniem czy po prostu BlackBerry jest często bezcenna.
Postanowiliśmy jednak przygotować dodatkowy zestaw "motywatorów", wśród których znajdzie się m.in.:
Smartphony marki BlackBerry

 

Tablety BlackBerry PlayBook

 

Koszulki BlackBerry Dev 

Startery T-Mobile

Zestawy nagród od partnerów 

Wiele, wiele więcej!
When & Where

Siedziba - Polska Telefonia Cyfrowa S.A.
181 Aleje Jerozolimskie
00-001 Warsaw
Poland


Saturday, May 11, 2013 from 9:00 AM to 9:00 PM (CEST)
Add to my calendar