Blackbaud Supporter Journey Tour - San Francisco

Tuesday, June 14, 2011 from 9:30 AM to 5:30 PM (PDT)
Event Details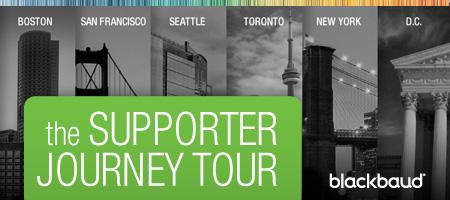 DREAM BIG. The Supporter Journey Tour is your answer. It's a free, all-day event created to help you drive your organization towards mission success.
Join industry leaders and nonprofit experts for tracks encompassing analytics, the Internet, social media and eMarketing, fundraising and supporter management, and finance and reporting.
Plus, participate in certification and innovation workshops to keep your skills sharp and knowledge at its best – allowing you to better target, communicate, and cultivate your supporters while driving your organization to new heights.
Finally, cap off your day by networking one-on-one with industry colleagues, Blackbaud partners, experts, and customers.
Immediately following the Supporter Journey Tour, Blackbaud is proud to host TechSoup's NetSquared Event. Stick around to listen to speakers on technology and social impact, share your ideas, learn from one another, and collaborate on projects for real world impact. Don't miss out on this great day, register today!
Breakout Sessions with Special Guests to include:
Bill Connors, Author
David J. Neff, Author
Heller Consulting
Sageworks
Zuri Group
TechSoup 
Agenda At-a-Glance
For a list of session descriptions, please click HERE.
9:30 – 10:00

Registration & Coffee

10:00 - 10:20

Introduction to the Journey

10:30 – 12:20

Breakout Sessions

 

 

Track 1

Track 2

Track 3

Track 4

 

 

 

Prospect Research & Analytics

 

Internet & Social Media

Fundraising & Supporter Management

Finance & Reporting

10:30 – 11:25

Breakout Session 1

Finding Diamonds – Putting the Power of Analytics to Work for You

 

Keith Heller,

Heller Consulting

A New Frontier: Why the Social Web is Your Future

 

David J. Neff, Author

The Role of the DBA in the Development Shop

 

Bill Connors, Consultant & Author

Identifying and Measuring KPIs

 

Liz Marenakos

 

11:35 – 12:20

Breakout Session 2

Your Data Goldmine: It's Closer Than You Think

 

Page Bullington

Creating an Interactive and Engaging Website

 

Raheel Gauba

Why Email is Still King

 

Pamela Snyder, Zuri Group

 

Fundraising vs. Accounting – Quelling the Family Feud

 

Keith Heller,

Heller Consulting

12:30 – 1:20

Lunch & Networking

1:30– 2:25

Skill Lab Breakouts

 

 

How to Identify and Ask for That Next Major Gift

 

Kristin Ludwig

Page Bullington


Making Your Web Presence Social: Top 10 Tips You Can Do Now!

 

Chad Norman

Frank Barry

 

Essential Steps to an Effective eMarketing Campaign

 

Pamela Snyder, Zuri Group

 

Dashboards for Comptrollers, CFOs, and Reporting to your Board

 

David Kilmer

 

Innovation Breakouts

2:30 – 3:30

Customer Innovation and Expert Spotlight: Using the Internet to Drive Fundraising and Communication Excellence

Don't miss this engaging and inspiring panel combing customer success stories with industry expertise. Facilitated by industry specialists in internet and fundraising strategy, this panel will discuss best practice and real life examples that may kick-start programs and solutions of your very own.  

3:45 – 4:40

Blackbaud-Led: Come hear about our newest Blackbaud innovations to hit the streets, including: 

 

 

The Raiser's Edge Night Vision: The Giving Score

 

Kristin Ludwig

 


Up Close and Personal: Social Media Innovation in Friends Asking Friends

 

Ian Gruber 

 

NetCommunity Grow. Integrated Technology + Strategy = Impact 

Zach Anderson

Pamela Synder, Zuri Group

 

Make the Most of your Journey: Fundraising on the Go with eTapestry

 

Mike Kierce

 
Peer-To-Peer Networking Event
4:45 pm - 5:30 pm
Connect with peers, mingle with innovative customers, talk to industry experts and partners, and check out cool solutions from Blackbaud that will help drive your success into the future. And don't miss the chance to win the Supporter Journey Tour Vespa! Every registrant who enters the doors of the networking event will be automatically entered to win. Refreshments will be served.
Net Tuesday Event
5:30 pm - 9:00 pm
Immediately following peer-to-peer networking, Blackbaud is excited to join forces with TechSoup to bring you Net Tuesday, a program of TechSoup Global and produced by NetSquared. Net Tuesday is a network of grassroots-organized communities across North America, South America, Asia, Australia and Africa who meet regularly to explore technology tools for social change. In tonight's event, join Bay Area Net Tuesday participants and guest speakers from a variety of organization types and diverse disciplinary backgrounds to explore how technology is being leveraged for social impact projects.
To register for the Net Tuesday Event, please click HERE.
* You'll need to return to this registration page to register for the actual Journey Tour.
When & Where

Hyatt Regency San Francisco
5 Embarcadero Center
San Francisco, CA 94111


Tuesday, June 14, 2011 from 9:30 AM to 5:30 PM (PDT)
Add to my calendar