Blackbaud Supporter Journey Tour - Boston

Tuesday, June 7, 2011 from 9:30 AM to 5:30 PM (EDT)
Event Details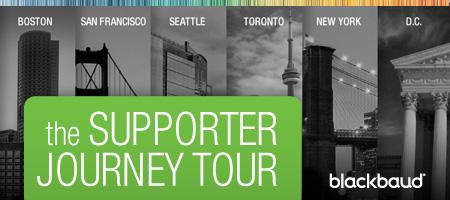 Blackbaud Presents The Supporter Journey Tour – an event to facilitate the journey between your organization and supporters and drive your organization towards mission success.  
Agenda At-a-Glance
For a list of session descriptions, please click HERE.
9:30 – 10:00

Registration & Coffee

10:00 - 10:20

Introduction to the Journey

10:30– 12:30

Breakout Sessions

 

 

Track 1

Track 2

Track 3

Track 4

 

 

 

Prospect Research & Analytics

 

Internet & Social Media

Fundraising & Supporter Management

Finance & Reporting

10:30 – 11:25

Breakout Session 1

The Art of Listening: Are You Really Leveraging What Your Donors Are Telling You? 

Chuck Longfield

A New Frontier: Why the Social Web is Your Future

 

David J. Neff, Author

Top Five Trends in Online Fundraising

 

Steve MacLaughlin

Fundraising vs. Accounting – Quelling the Family Feud

 

Smita Vadakekalam, Heller Consulting

11:35 – 12:30

Breakout Session 2

Your Data Goldmine: It's Closer Than You Think

 

Page Bullington

Creating an Interactive and Engaging Website

 

Raheel Gauba

Why Email is Still King

 

Howard Horowitz, Zuri Group

 

Identifying and Measuring KPIs

 

Liz Marenakos

12:30 – 1:20

Lunch & Networking

1:30 – 2:25

Skill Lab Breakouts

 

 

How to Identify and Ask for That Next Major Gift

 

Kristin Ludwig

Page Bullington

Making Your Web Presence Social: Top 10 Tips You Can Do Now!

 

Chad Norman

Frank Barry

 

Essential Steps to an Effective eMarketing Campaign

 

Howard Horowitz, Zuri Group

 

Dashboards for Comptrollers, CFOs, and Reporting to your Board

 

Liz Marenakos

 

Innovation Breakouts

2:30 – 3:30

Customer Innovation and Expert Spotlight: Using the Internet to Drive Fundraising and Communication Excellence

Don't miss this engaging and inspiring panel combing customer success stories with industry expertise. Facilitated by industry specialists in internet and fundraising strategy, this panel will discuss best practice and real life examples that may kick-start programs and solutions of your very own.  

3:45 – 4:40

Blackbaud-Led: Come hear about our newest Blackbaud innovations to hit the streets, including: 

 

 

The Raiser's Edge Night Vision: The Giving Score

 

Kristin Ludwig

 

Up Close and Personal: Social Media Innovation in Friends Asking Friends

 

Amy Braiterman 

 

NetCommunity GROW.  Integrated Technology + Strategy = Impact

Jenny Matheney

Howard Horowitz, Zuri Group

 

Make the Most of your Journey: Fundraising on the Go with eTapestry

 

Courtney Kramer 
4:45– 5:30
Networking Event
Connect with peers, mingle with innovative customers, talk to industry experts and partners, and check out cool solutions from Blackbaud that will help drive your success into the future!
Want to tell us what type of journey you want to take your supporters on? Write down your thoughts or shoot a video! No matter your creative medium, we want to hear from you!
All Journey submissions will be entered in our drawing to win the Blackbaud Vespa, to take place at the last Journey Tour event in October in Washington, DC.
When & Where

Omni Parker House
60 School Street
Boston, MA 02108


Tuesday, June 7, 2011 from 9:30 AM to 5:30 PM (EDT)
Add to my calendar
Blackbaud Supporter Journey Tour - Boston