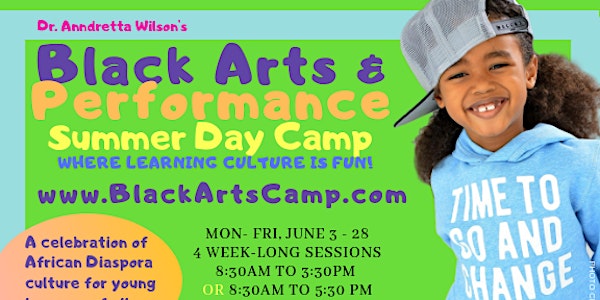 BlackArtsCamp.com - Black Arts & Performance Summer Day Camp - Los Angeles
Visit www.BlackArtsCamp.com for registration. Our Summer Day Camp is a celebration of Black culture for young learners ages 5 to 12.
When and where
Location
Alpha Phi Alpha Community Space 3712 W 54th Street Los Angeles, CA 90043
About this event
Please visit www.BlackArtsCamp.com for registration.
Black Arts Summer Day Camp students are coached by Dr. Anndretta Wilson and her team to dramatize works by notable Black writers and explore artistic expression across the African diaspora historically. Students are grouped by ages 5 to 8, or 9 to 12 years old. Minimum registration for 1 week (one session) starts at $250. The camp venue is in South Los Angeles in the Leimert Park area.
Session 1: HARLEM RENAISSANCE (June 10-14)
Session 2: MOTOWN and STILL I RISE (June 17-21)
Session 3: MLK, FREEDOM SONGS, and FUNK MUSIC (June 24-28)
Session 4: YOUNG GIFTED AND BLACK EXCELLENCE ALL STARS (July 1 -3)
Black Arts Summer Day Camp participants will…
Demonstrate thoughts and feelings using movement and sound
Work with coaches and peers to memorize their favorite lines of poetry
Practice public speaking and precise diction
Listen to stories written by prominent Black writers
Collaborate to create props and wardrobe pieces
Learn and practice The Black National Anthem (Lift Every Voice and Sing)
Perform together on Friday at 3pm to share what they explored during the week with parents and friends
Black Arts Summer Day Camp runs from 9:00am to 3:30pm and students are expected to bring their own lunches. Camp provided meals and extended care hours including 8:30am drop off can be arranged with an additional fee per child.
Black Arts Summer Day Camp Founder and Director Anndretta Lyle Wilson, PhD earned her doctorate from the University of California, Los Angeles (UCLA) in Theater and Performance Studies with an emphasis in African American history and culture. During the academic year, she teaches Black Studies in the Ethnic Studies department at California State University, East Bay.