Event Information
Location
The Ardmore Music Hall
23 East Lancaster Ave
Ardmore, PA 19003
About this Event
Blackalicious
Throughout a career that has stretched near two decades, Blackalicious has earned their respect the old-fashioned way; rising through honesty, commitment, and true artistry.
Blackalicious is an American hip-hop duo from Sacramento, CA made up of MC Gift of Gab (born Tim Parker) and DJ/producer Chief Xcel (born Xavier Mosley). Internationally acclaimed for the sublime combination of Gift of Gab's verbal dexterity and lyrical eloquence and Chief Xcel's bracing beats and distinctive soundscapes, Blackalicious has gained widespread recognition both in and out of the hip-hop community for the wildly inventive and personally charged innovations of their brilliant first three albums, 1999's Nia, 2002's Blazing Arrow and 2005's The Craft. Their latest release, Imani Vol. 1 (2015), was perhaps Blackalicious' most ambitious and accomplished effort to date, maintaining the spirituality, introspection and positivity that are the duo's trademark.
Members:
Gift of Gab (born Timothy Parker): raps
Chief Xcel (born Xavier Mosley): DJ, producer
Reef the Lost Cauze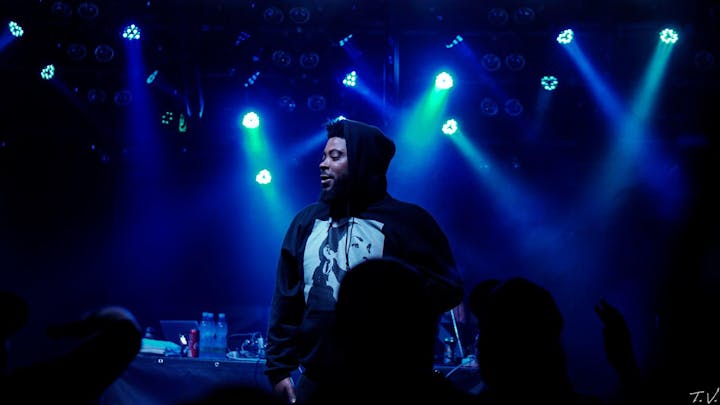 Reef The Lost Cauze is a Philadelphia emcee with his sights set on the top of the hip hop game. While some emcees are strictly studio and basic battle cats, Reef brings well-rounded talent to the table with formidable stage presence, skills of the pen and a ferocious freestyle ability. His impressive new solo LP, A Vicious Cycle, was released November 4th, 2008 on Well Done Entertainment in association with F.U. Pay Me Records, featuring guest appearances from Termanology and King Magnetic, as well as production by Stress The White Boy, Marco Polo and Eyego/Direct. With a world tour currently under way, Reef The Lost Cauze is blazing a path to becoming one of Hip Hop's elite.
Having spent a great deal of his childhood acting in plays and performing, Reef fell in love with Hip Hop at the age of eight and has been rhyming ever since. By the time he reached high school, Reef earned a reputation as a deadly battle emcee -- jumping in any and every cipher he came across. It was not until his acceptance to Philadelphia's University of the Arts with a film scholarship that he began to visualize a serious career on the mic. It's here that he began to hone his songwriting skills, and worked on perfecting his stage presence.
Realizing that he found his true calling, Reef departed the academic world at age 19 to focus on his first love-- music. He connected with Philadelphia producer Sleep E in 2001 to begin recording his first solo project, The High Life. The 10-track album opened doors for Reef, and he soon began performing at local venues, generating consistent praise from both fans and the media.
In February 2003, Reef released Invisible Empire, a blazon 18-track album; self-distributed via a national schedule of shows. Before long, Reef won various battle competitions such as the Mic Check Battle in Philadelphia in 2003, after which he traveled to Oakland, California to take 2nd place in the Blaze Freestyle Battle. Reef took his freestyle skills to another level early in 2004 with a rousing performance at the Beat Society Production Competition in New York, and a fierce win in the Riddle Records Mic Check Battle. He was also the End Of The Weak (EOW) Challenge Champion at the Rock Steady Crew 27th Anniversary in July of that year, and went on to take the EOW Grand Championship title in 2005. Titles and battle accolades aside, Reef focused his well-rounded artistry into his third solo project, Feast Or Famine, the globally distributed seminal hip hop album that lead to his inclusion in the December 2005 issue of XXL where Reef stated "I want to take people on a journey through my life. I'm always going to make stuff that covers the spectrum, because there is so much to talk about". Over the years since Feast Or Famine, Reef has continued acending through his inclusion in tours all over the world as well as an innumerable amount of collaborations.
Having recently worked with mainstream artists, Gym Class Heroes, as well as underground hip hop's elite, Jedi Mind Tricks, and hip hop rising star, Termanology, Reef has demonstrated his chameleon-like ability to stand out on a wide array of tracks. He places a determined emphasis on balance with his songwriting and performance abilities.
"I love the rush of the crowd," explains Reef. "I love to be on stage and have a place full of strangers being amazed at what I'm saying. I'm much more at home and relaxed on stage performing my music."
Reef continues to incorporate his life and business experiences into his projects, and his range of expression will allow fans the opportunity to truly identify with him. As he grows in the world of entertainment, it is certain that Reef stands to become one of this year's breakthrough artists, en-route to solidifying his spot as hip hop's next superstar.
Performers
Date and Time
Location
The Ardmore Music Hall
23 East Lancaster Ave
Ardmore, PA 19003
Refund Policy