BLACK XXXMAS

Saturday, December 7, 2013 at 10:00 PM

-

Sunday, December 8, 2013 at 6:00 AM (PST)
Event Details
Have you been a bad BOY? Hot Santa is ready to whip you, into a dance frenzy!  Don't miss San Francisco's largest annual Winter dance event. BLACK XXXMAS is back, and so is the legendary DJ ABEL!  
BLACK XXXMAS is true gathering of the tribes... Men, Leather, Tribal beats, and Santa hats! Reinforced sound system, full scale dark Christmas decor, and hundreds of The City's hottest MEN. Tickets are on sale NOW!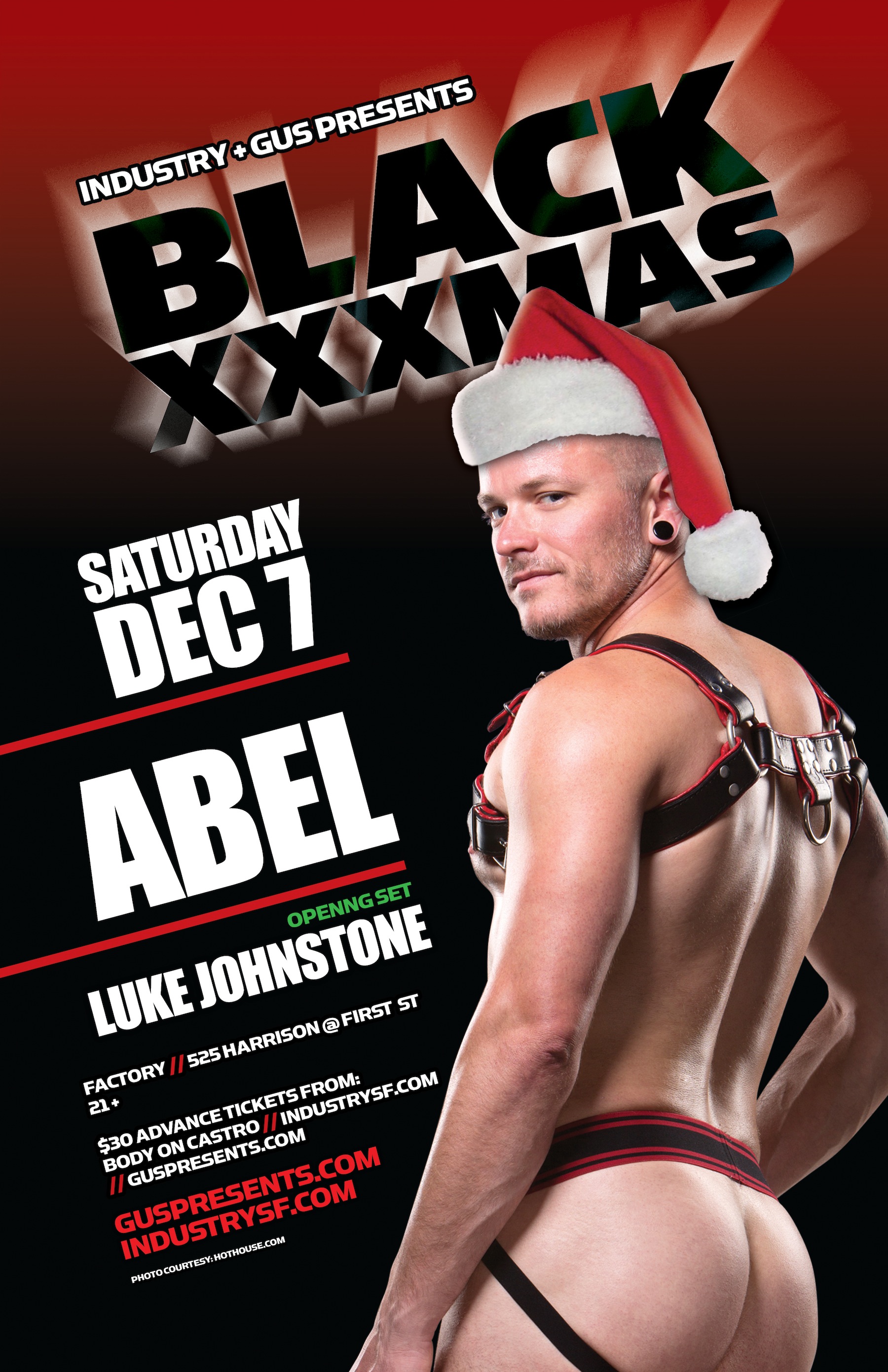 When & Where

Factory
525 Harrison St
San Francisco, CA 94105


Saturday, December 7, 2013 at 10:00 PM

-

Sunday, December 8, 2013 at 6:00 AM (PST)
Add to my calendar
Organizer
IMPORTANT NEWS FROM THE SF PRIDE COMMITTEE andvlad Mansingh, Cecil, Myself, Evan, + Sergio: 
The safety of ALL Pride revelers, including of course our very own beloved party patrons continues to be our TOP PRIORITY. 
Kudos to the Pride committee for the obviously difficult task and and cautious optimism that our very special 50 year anniversary celebration and all the epic Pride Weekend events will continue as planned. 
Fingers crossed, and a FIRM commitment to the very real very crucial Shelter in Place mandate be uphold by each and EVERYONE of us. Social Distancing, (limiting / elimimating any 'hook-ups, ample hand washing, and sincere respect and compassion towards those (incl. a few personal friends) stricken with Coronavirus. 
Pride is about community, celebration, and our of course being proud. Let's all use the proud part of our psyche to treat ourselves and others (from a distance) with the utmost care, gentleness and love that will surely see us through this nightmare. Again, the Pride Committee is taking public safety and health very seriously, lets all do the same.
(Daddy PULLING FILES + hopping up on the soapbox for a moment!) Those that truly know me know that I NEVER call anyone out on social media, but damn you certain bar owners, club 'promoters' and DJs that simply laughed in the face of the early SF mandate limited social gatherings to under 100 persons a few weekends ago. To pull your self-entitled greed and decadence sound + dance... that's called profit before safety, easily spreading the virus to even one unsuspecting ('stay away' order ignoring patron?) is straight up irresponsible, 'we are somehow invincible' and screw your Im place you very pertinent' mandate.
'Dancing in the face of disease" and making money off it to boot I hope it was worth it. Big props to The Cafe, Beaux, Midnight Sun, and a handful of others for stepping up and doing the right thing by closing. It was never even a question to postpone my own March 15 'Circuit Sunday's party, and as hard as it may be financially, all Gus Presents events are all hold until further notice. Ok, pissed-off diatribe done here!
Optimism and a positive mantra to the end of this madness is firmly in my morning meditations + journaling. May we return to the dance floor asap, but ONLY once the ever-rapidly spreading COD-VID19 pandemic is completely under control. 
While no one wants a very special June 26 - 28 Pride Weekend postponed, if its to be, please rest assured that Mansingh Chouhanm XOXO Gus Presents, Gus Bean, Cecil Russell, Sergio Turbay, Evan J-sun and a handful of other responsibility and consciousness promoters will readily and obviously honor all (and there are many!) ticket holders for our top-notch productions and Main Events should Pride Weekend be postponed. 
We love you guys and cannot wait to see you back on the dance floor, healthy, happy and ready to PARTY! 
-Gus | @Gus Presents
⛔️
PUBLIC HEALTH COMES FIRST.
CIRCUIT SUNDAYS | MARCH 15
POSTPONED due to COVID-19 concerns.
In the face of the current 
Coronavirus pandemic, Gus Presents has 
elected to postpone our Sunday March
15 party at The Cafe. The health and safety 
of our valued patrons is top priority, thus
we are taking a short break until the
virus and the fear surrounding it are 
under control, #SafetyDance!
A new party date will be announced soon.
✅Ticket holders will receive prompt refunds. 
Thank you,
Gus
___________________________________________________________________________________
GUS PRESENTS..   Locked, loaded + ready to bring the 2020 CIRCUIT FUN!  
SCROLL DOWN for TICKETS to SAN FRANCISCO'S HOTTEST CIRCUIT PARTIES
___________________________________________________________________________________
GUS PRESENTS SANCTUARY SF PRIDE SUNDAY @ 1015 FOLSOM
SCROLL DOWN FOR TICKETS!
This is THE  Pride Sunday MAIN EVENT Closing Party. 
SANCTUARY x WE PARTY | 6PM - 6AM CIRCUIT MARATHON @ SAN FRANCISCO'S BIGGEST + BEST DANCE VENUE, 1015 FOLSOM
 3 DANCE FLOORS | 8 DJS | 12 HOURS | 18 DANCERS!!
MICKY FRIEDMANN | PHIL ROMANO + We Party DJs BEN BAKSON | SR. EDU | ALAM WERNIK and SF local stars Andrew Gibbons, Pumpkin Spice, Bugie
___________________________________________________________________________________
BOY BAR RENO a smash HIT!
we are back and ready to takeover Reno again soon! 

SF's legendary Circuit Party Squad invades Reno!..  Gus, DJ Tony + hottest GoGos crushed it at our premiere party in October. Jam packed, sexxy af, killer music..  The town had never seen anything like it! Stay tuned for info on our next massive BOY BAR RENO.
___________________________________________________________________________________
GUS PRESSENTS | SAN FRANCISCO'S HOTTEST CIRCUIT PARTIES! 
For nearly THIRTY FIVE YEARS Gus Presents has held it all down with the most vanguard musical genres (FIRST EVER to play House Music in SF!) Most epic events (Gay Day @ Great America, Sundance @ Russian River, Mass and Sanctuary @ 1015 Folsom, The legendary BLACK XXXMAS WEEKEND, Colossus, Boy Bar, The Crib, Underworld)... As well as our ALL NEW seriously fun CIRCUIT SUNDAYS @ The Cafe in the Castro!
Over the years Gus Presents has brought simply the biggest + best talent to The City including LADY GAGA, GRACE JONES, PETER RAUHOUFER, FRANKIE KNUCKLES, MARKY MARK, ABEL, ERIKA JAYNE, KELLY ROWLANDS, WYNTER GORDON, ALEXIS JORDAN, NINA FLOWERS and MANY more!
All powered by #REDBULL | #COLTmen | #DEEPEDDYVODKA | #SWISSNAVYLUBE