Description
Are you as excited as we are? Lit Crawl is a unique event that allows readers and aspiring creatives to connect with their favorites from literature to film.
SCHEDULE:
Saturday, June 8, 2019
11:00am-7:00pm LitCrawl (various locations)

12:00pm-6: 00 pm | Urban eBook Fair | Features a dozen authors at Annex Bookstore, For Keeps Books, & HQ Auburn

1:00pm-3: 00 pm | Wine & Writing | Wine and candid conversations with Tamika Newhouse, moderated by Michael Gillespie at Annex Bookstore

3:00pm-5: 00 pm | Trap Diaries | Features your favorite legendary urban fiction authors such as Erick S. Gray, T. Styles, Sevyn McCray, and Danielle Santiago at Annex Bookstore

5:00pm-7: 00 pm | Love Is... | features your favorite romance writers such as Daaimah S. Poole, Briana Cole, Dr. Alduan Tartt, Shanora Williams, and Candice Dow, moderated by Brittany Miller at Annex Bookstore.
7:30 pm Urban Legends Gathering

10:00 pm Urban Book Bash | 90s Edition
Sunday, June 9, 2019
1:00 pm AAMBC Awards Live
ACCESS:
As an attendee of Lit Crawl, you will have access to all Lit Crawl Panels as well as the Urban e-Book Fair and We Lit Social Mixer on that Friday.
ADDITIONAL EVENTS & INFORMATION
Black Writers Weekend is a weekend full of unique opportunities to connect with creatives, authors, and the entertainment industry experts. With so many opportunities to network and learn, why limit yourself to one day? Here are a few events we encourage you to take part in:
In two weeks, you will have the opportunity to learn, network, inspire, and be inspired. We look forward to seeing you there.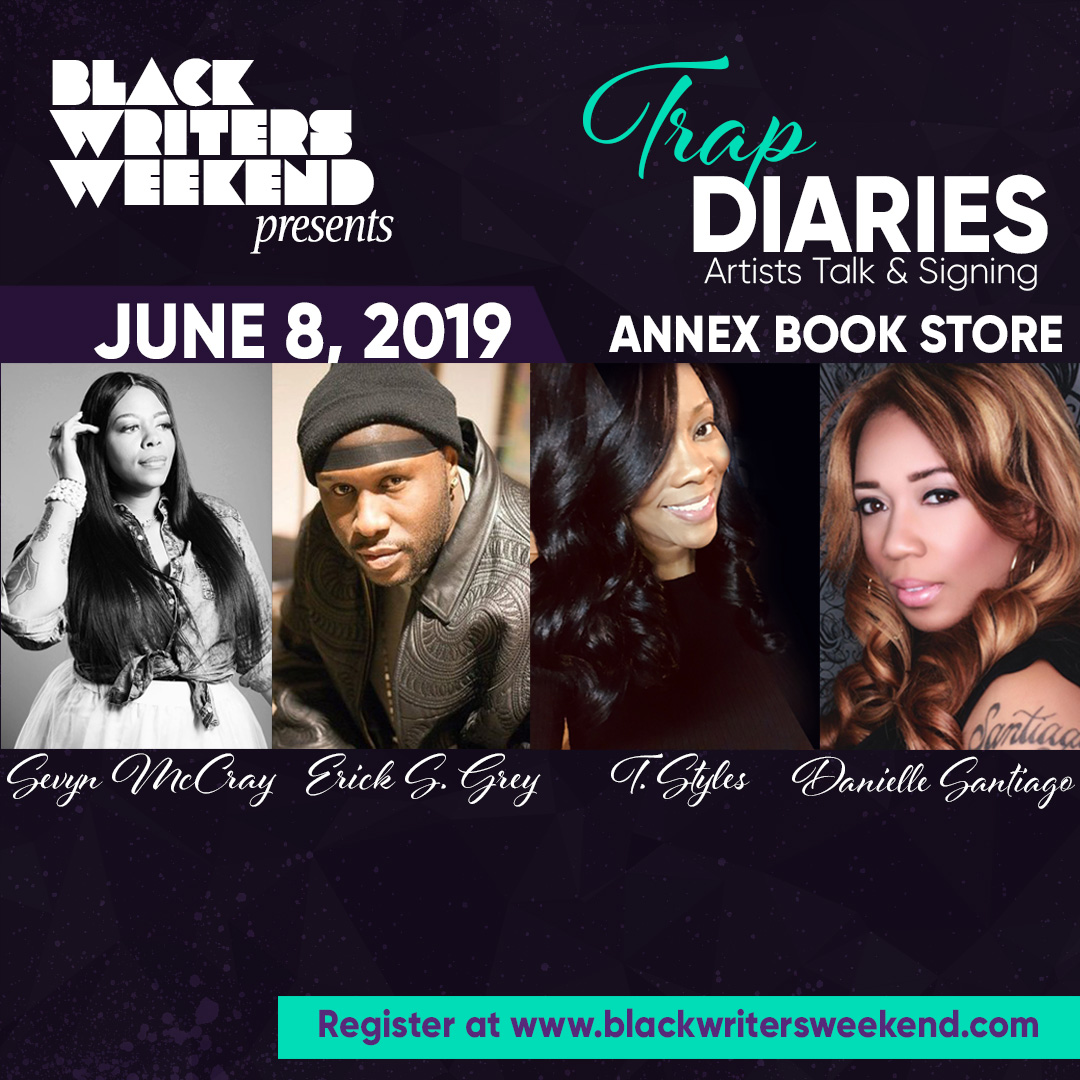 Pick up passes at Hotel Indigo Downtown
230 Peachtree St, Atlanta, GA 30303