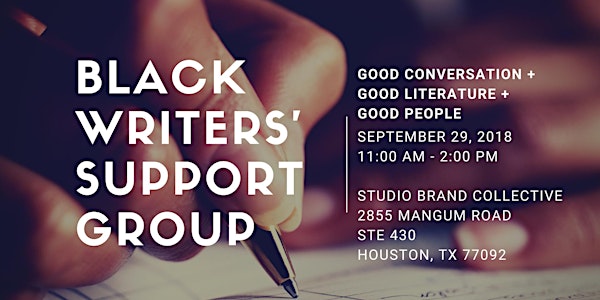 Black Writers' Support Group
When and where
Location
Studio Brand Collective 2855 Mangum Road #ste 430 Houston, TX 77092
Description
The Black Writers' Support Group is designed to help black and minority writers, write, develop and publish literature across all genres. As it stands black writers make up just 5% of published authors in the US with Asian writers coming in at 4.5% and Native American writers coming in at less than 1% in 2017. We need more equity and representation in literature across all genres.
If you a writer (or wishful writer) and need some support, please consider attending BWSG! We are welcoming and supportive. You will have the resources and guidance to get you from your wild thoughts to a final draft.
The organizer of the event, Nnenna Umelloh, is a published author herself. She understands the challenges that come with writing and finishing a piece you can be proud of. She, as well as other participants in the support group, will welcome you with open arms and no judgment. We're here to support one another.
It doesn't matter where you are in the writing process, you're more than welcome to attend. (Bring a friend who you feel needs some extra support to get started).
If you get lost or need help finding the location the day of the event, please feel free to call me at 469-732-0359.

I look forward to seeing you there!
THIS EVENT IS COMPLETELY FREE! (Please RSVP so we can have an accurate headcount.)