Sales Have Ended
Ticket sales have ended
Thank you for registering for the Black Women & Youth Mental Wellness Expo! We look forward to seeing you in July.
Sales Have Ended
Ticket sales have ended
Thank you for registering for the Black Women & Youth Mental Wellness Expo! We look forward to seeing you in July.
Description
The Black Women & Youth Mental Wellness Expo is a community event that is the first of its kind in Chicago! The Black Women & Youth Mental Wellness Expo seeks to address the need of connecting Black women and youth to quality providers and empowering them to take charge of their mental health. The Expo will showcase a wide range of mental health & wellness resources in Chicago that provide quality services to Black women and youth. We will have inspirational speakers, engaging workshops, resources, food, giveaways, and much more!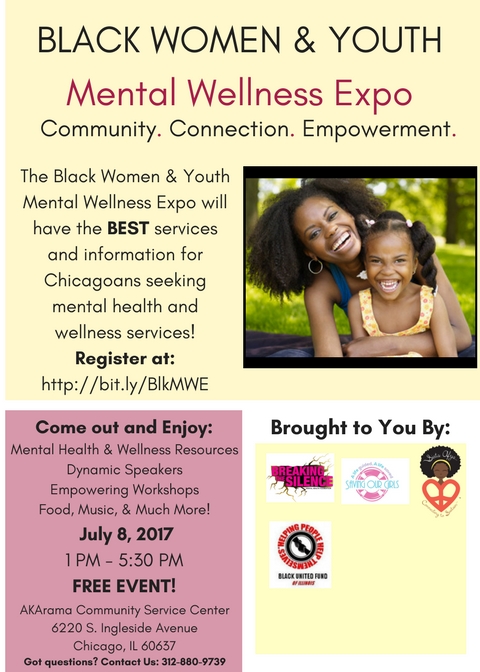 Seeking Vendors! Deadline to Register: June 28th, Vendors click 'Tickets' to register.
If you are a provider of mental health and wellness services in the Chicago area, sign up to be a vendor. You'll be able to share your practice or organization's information with expo attendees who could end up utilizing your services! We are seeking vendors from the following practice areas to join our expo:
Therapists

Social Workers

Substance Use

Counselors

Holistic Healers

Fitness Coaches

Clinics
*Vendors that service low-income clients are encouraged to sign-up.
We hope that you will join us for this amazing event!
This event is brought to you by:
Breaking the Silence
Saving Our Girls
Sista Afya
FAQs
Why should I participate in the Black Women & Youth Mental Wellness Expo?
Our expo will be the first of its kind on the southside of Chicago where we will bring vital information and resources focused on mental health and wellness. There are disparities in Chicago for Black people seeking and securing mental health and wellness services. Our expo will address this disparity by providing quality resources, workshops, and general information abour mental health and wellness to an underserved community.
Why is there a fee for workshop facilitators and vendors?
We charge a small fee for workshop facilitators and vendors to help us cover costs for the expo.
Can I be a workshop facilitator AND venfor for the expo?
Yes, you can be a workshop facilitator and vendor at the event. You need someone to stay at your vending table while you are facilitating the workshop.
Do I have to pay a fee to be a workshop facilitator AND a vendor?
Yes.
What does facilitating a workshop entail?
Workshops are 50 minutes long and entail providing interactive activities and/or a presentation that focuses on a topic in mental health and wellness. Workshops are not mini speaking engagements. After signing up to be a facilitator, you will be sent a form so we can learn more about the details of your workshop.
What does being a vendor entail?
A mental health and wellness vendor will have a table where they will provide general information about their practice, business, or organization to attendees. Vendors will have the opportunity to interact with expo attendees directly as they participate in the expo.
Do I have to stay at the expo all day if I am a vendor or facilitator?
If you are a facilitator, you only need to be at the expo 30 minutes prior to your workshop, during your workshop, and 30 minutes after your workshop. If you are a vendor, we expect you to stay during the entire expo. If you will need to leave early, please let us know.
Are people who are non-black welcome to attend the expo?
Absolutely! Anyone is welcome to attend the expo. Our primary target for this event are Black people because of the disparities they experience in accessing mental health and wellness care. However, anyone can benefit and take advantage of our expo.
How can I financially support the expo?
We are looking for sponsors for the expo. Send us an e-mail at info@sistaafya.com so we can provide you with information about how you can give.
How can I contact the organizer with any questions?
You can contact us at info@sistaafya.com or contact us at: 312-880-9739.
Organizer of Black Women & Youth Mental Wellness Expo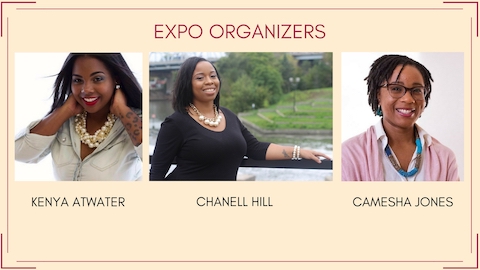 Kenya Atwater is the Founder of Breaking the Silence.  Breaking The Silence is a movement and mental health foundation that encourages women & youth to speak out on things they typically never talk about. The Breaking the Silence movement encourages fighting for a mental health, being mouthy, speaking up and out, & getting the healing you deserve. Breaking the Silence provides resources for individuals that are seeking mental health services, assist people in funding their mental health services, support groups that support the process & journey of healing. Kenya is an advocate for women, youth, mental health, & having a peace of mind.
Chanell Hill, MSW is a social worker, mentor and community advocate. Chanell began working in the youth development and social services work at the young age of 18 and is very passionate about working with adolescence especially minority girls. Originally born and raised in California, she moved to Chicago, Illinois the summer of 2012 to pursue her graduate degree in social work from Dominican University. While growing in leadership, Chanell silently battled depression, insecurities, rejection and more. With the support of great mentors and her faith, Chanell was able to overcome while breaking the silence on many of the issues we don't speak about. During the trying moments in her life she would write her thoughts in numerous journals she has collected throughout the years. Never considering herself a writer, she decided to step out on faith and started sharing her thoughts "Chanell's Journal". Her blog was officially released in honor of her 29th birthday October 2016, via her website www.chanelldenea.com . Understanding she isn't alone, Chanell seek to share her thoughts, trials and triumphs in hopes they find purpose and healing as she has. 
Chanell received her Bachelor's in Sociology and Minor in Health Sciences from California State University East Bay and her Master's in Social Work from Dominican University School of Social Work. She is the founder of Saving Our Girls- an organization that focuses on addressing and educating the public on the trauma our young girls face daily. She is currently employed as a social worker with Chicago Public School District. Chanell is preparing and anticipate obtaining her LCSW and opening her own clinical therapeutic practice in the future.
Camesha L. Jones, MSW is the Founder and Mental Wellness Director of Sista Afya. She has lived with Bipolar disorder for over 3 years and was able to overcome many challenges to achieve optimal mental wellness. Camesha created Sista Afya to help other Black women experiencing mental health challenges to get the information, community support, and the connection to resources necessary to be mentally well.  She is a radical Social Worker with an A.M. in Social Service Administration from the University of Chicago and a B.A in Sociology from Spelman College. She focuses on clinical and systems change in mental health and interpersonal violence prevention in African- American communities.