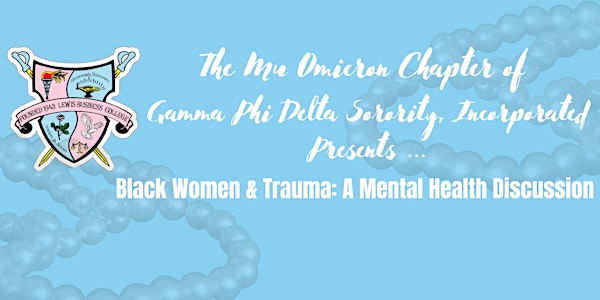 Black Women and Trauma: A Mental Health Discussion
A discussion on mental health, trauma, and its effects on emotional stability and relationships.
About this event
The Mu Omicron Chapter of Gamma Phi Delta Sorority, Inc. invites you to attend our second Level Up: Goals, Plans, and Dividends Event: Black Women and Trauma. Dr. Bridgett Whitehead,PhD, LPC, Licensed Professional Counselor/Clinical Supervisor, will present on the specific relationship between trauma and black women, highlighting the importance of identifying trauma and addressing it, as it could lead to depression, anxiety, and patterns of unhealthy relationships.
About Dr. Bridgett Whitehead, PhD, LPC
Dr. Bridgett Whitehead has a passion for providing therapeutic support and outreach to underserved populations and educating communities about the benefits of counseling and psychological services. She is an advocate of acknowledging barriers to access and how a history of trauma intensifies that exclusion, especially with Black women. She has made educating and empowering her clients for more than 20 years her focus and commitment. Dr. Whitehead earned her bachelor's in psychology and master's in education & human development with a concentration in community agency counseling from George Mason University. She also has a doctorate in psychological & counseling studies with a concentration in trauma from Regent University. She is a Licensed Professional Counselor and a Clinical Supervisor. Her ultimate joy is spending time at home with her three boys,husband, and dog while trying out new from scratch recipes.
About Gamma Phi Delta Sorority
Gamma Phi Delta Sorority, Inc., was founded in 1943 at the Lewis College of Business in Detroit, MI, as a sisterhood of distinguished business and professional women. Through our talents and qualities, members aid and cultivate higher scholastic and ethical standards, provide social and recreational outlets, implement enrichment programs for youth and administer services to people in need.
The Mu Omicron chapter was chartered on May 24th, 1997 in Arlington, Virginia. Seven phenomenal women envisioned the power of sisterhood, professionalism, community outreach, academic achievement and the longevity of this great organization, Gamma Phi Delta Sorority, Inc.
To learn more, please visit Mu Omicron chapter at: https://www.gpdmuomicron.org/
NOTE: Gamma Phi Delta Sorority, Inc. is not affiliated with the National Pan-Hellenic Council (NPHC)/ "Divine Nine". Therefore, we welcome women who are members of an NPHC sorority.