A celebration of music & artistic expression, peace, and discussions centered around Social Activism, Financial Literacy, & Entrepreneurship
About this event
6th Annual Black Women 4 Positive Change Virtual Youth Summit
Join over 100+ youth from eight cities — Washington D.C., Birmingham, Los Angeles, Pittsburgh, Washington, Phoenix, Norfolk, and Houston — for an incredible 2-day celebration of music and artistic expression, peace, and conversations centered around Social Activism, Financial Literacy, and Entrepreneurship. The event is facilitated by Black Women for Positive Change in collaboration with the California State University Dominguez Hills NCRP Peace in Education Initiative.
2-Day Event Agenda:
Friday, October 29 • 5pm–7pm ET // 2pm–4 pm PT • Performances:
Featuring: Grindmode Music's Dion Dupree
Saturday, October 30 • 12pm–3pm ET // 9am–12pm PT • Youth Summit:
Guest Speakers: Nate Williams • Leon Ford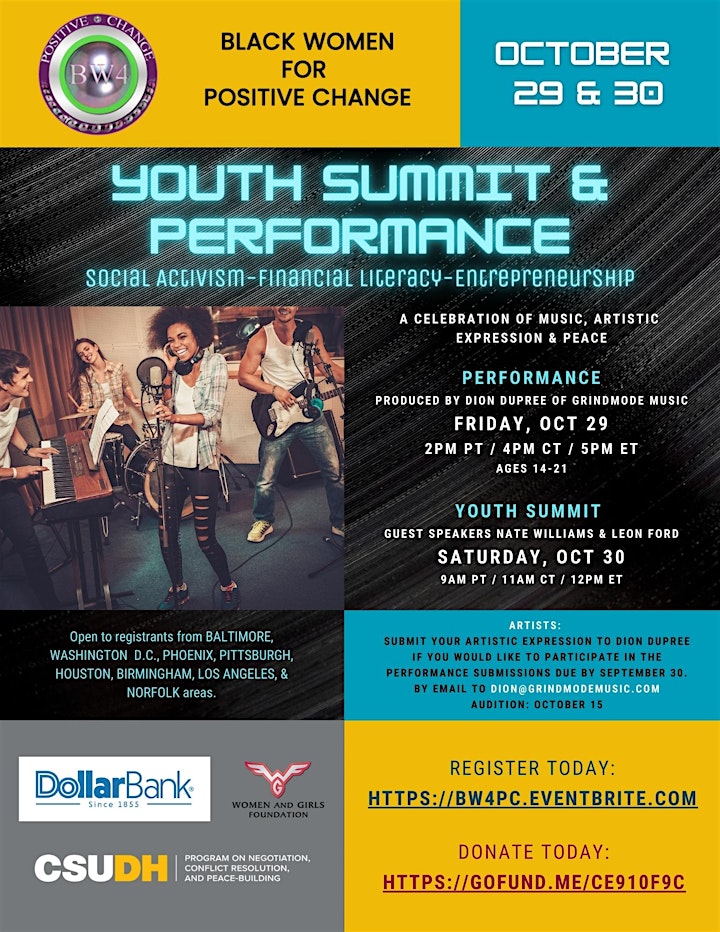 CSUDH Media Release Form:
Organizer of Black Women 4 Positive Change Virtual Youth Summit
he College of Extended and International Education at CSUDH fosters lifelong learning, the application of technology to instruction, and local, regional and international partnerships. Through customized programs, nontraditional formats and distance learning, the College of Extended and International Education addresses a wide spectrum of educational needs.