Black Wings Still Fly is a poetic journey to restoration designed by Ebony King.
About this Event
Something like a Black Butterfly,
From the ghetto, she began to fly.
In isolation she began her transformation.
Many tend to find it interesting
That she continues to rise with Black Wings...
Welcome to the flight club! Black Wings Still Fly is a poetic journey designed by Ebony King, for anyone who has ever felt like their adversity was too heavy for them to rise. Allow Ebony's vulnerability in print to remind you there is purpose in your pain.
Look back over your story and see God in the details! Find peace in knowing your journey was accepted and approved by God before you ever had an opportunity to know how He would use it to elevate His name. God is glorified in your transformation.
Embrace it.
Share it.
Fly.
Pre- order your signed copy today and join Ebony online for the official book release on 12/12/2020. During the live event Ebony will share more of her story and answer any questions you may have.
Learn more about Ebony at EbonyNKing.com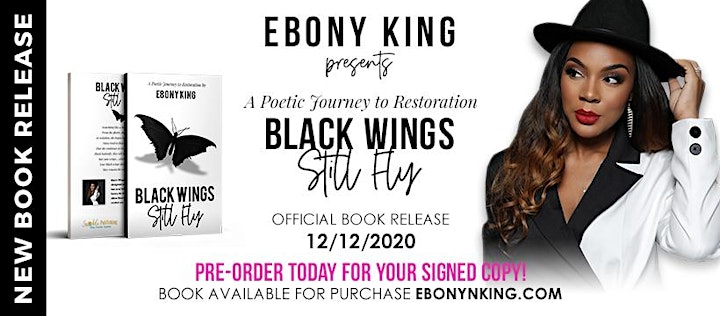 Date and Time
Location
Refund Policy