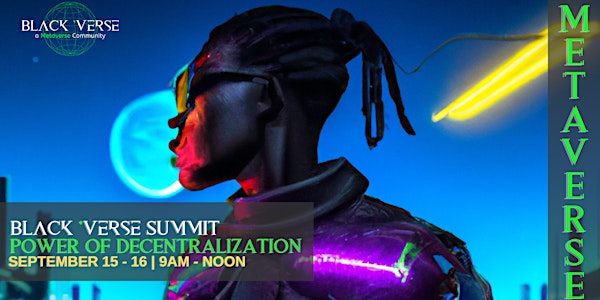 Black 'Verse Summit '22 | Power of Decentralization
Black 'Verse Summit Presents the Power of Decentralization. A two day Metaverse Experience
About this event
Just released, DAY 2 ONLY Tickets - price drop $50.00
The Day 2 only tickets help suppor the Black 'Verse Community and Day 2 Speakers. Day 2 ticket holders are eligible for participation in the afterparty. We will have a few giveaways and
Dr. Tammy Francis
Nnenna "NesRox" Onwudiwe
William & Aida Jackson
Najah Roberts [Keynote]
Kristopher Webster
Fred Brandon
Kwame Symbolik
Ira Revels
Renaissance
BLACK 'VERSE SUMMIT | "POWER OF DECENTRALIZATION"
Black 'Verse Metaverse Community is hosting our first Black 'Verse Summit and you are invited to jump in!
The theme for our first summit is the 'POWER OF DECENTRALIZATION". It will be a virtual community get together to remember. We will hone in on the blockchain, Web3 and the Metaverse as we progress towards a decentralized future.
We will be present in various Metaverse communities and streaming those that are not browser based.
[a VR HEADSET IS NOT REQUIRED TO ENJOY THIS EVENT]
Updates will be provided August 15th when the call for speakers closes.
Ticket Pricing:
Black 'Verse Community Members (check Discord for instructions)
July 15th - August 15th - $50 (black)
August 15th - August 31st - $75 (gold)
September 1 - 15th - $100 (green)
This is the First Annual Black 'Verse Summit as we head into the Metaverse. The event will feature many of our Metaverse community members and thought leaders. The Black 'Verse Summit is an event that will include interactive community engagement, METAVERSE style. Our speakers will present their favorite metaverse experiences and talk about why its important to embrace decentralization as we head into the future. We will work not only to provide insights, but also to provide potential solutions to address issues from both thought leaders and enthusiasts.
VIRTUAL ONLINE EVENT (and in the METAVERSE)
SEPTEMBER 15th and SEPTEMBER 16th, 2022
TICKETS ON SALE JULY 15th
9AM to Noon EST
SPECIAL NFT COMMEMORATIVEs!!!
Speakers will showcase use cases, share in experiences and tips, and most of all educate how the Metaverse will serve as a key component in all of our decentralized futures. It will also be an excellent networking event for all, we will offer the opportunity to network and engage with owners, business owners and creators from around the globe.
SPEAKER LINE UP:
Showcasing the Black 'Verse community:
Najah Roberts, Crypto Blockchain Plug
Artsy, Artsy in VR, Creating the Metaverse
Dr Eric Kelly III, Black Business Network
Kristopher Webster, Avatar Convention Center
Dr Tammy Francis, Catalyst for Change Global
GRAND WOO, Music on the Blockchain
Jiminica Jet, Play to Earn and Win
Sonia Kumi, Koss Preneur (Phygitals)
Nes Rox, African Museum of the Metaverse
Kwame Symbolik, TechMisfits
Ira Revels, Black Tech Futures Media
Wiliam & Aida Jackson
Sheera Sabur, Afrofuturism
Fred Brandon, Flames Foundation
Marcus Carey, Tribe of Hackers
ATTN BLACK 'VERSE METAVERSE COMMUNITY MEMBERS (As of July 15th):
You will receive special pricing and a special NFT for your experience. Please ensure that you are registered per Discord sign up by no later than August 15th, 2022
SPEAKERS
Our Metaverse experience panelist will offer fireside chats, intimate portrayals and keynotes from people who actually know what it means to be in and enjoy the Metaverse. The call for speakers closes on August 15th.
To Join Us as a SPEAKER email: info@blackverse.io OR sign up at https://blackverse.io/speaker
[Our speaker sign up as ended as of August 31st. ]
WHO SHOULD ATTEND:
You, your friends, your kids, your coworkers, your guildmates, your friends, Metaverse Curious, Metaverse Enthusiasts, Metaverse World Builders, Gamers, Crypto Conscious, Community Leaders, Virtual Real Estate Agents, NFT Creators, NFT Artists, NFT, DAO Community Members, Technical Innovators, AR / VR / MR / XR Innovators, Investors, Decision-makers, Founders, Business Executives, Entrepreneurs, Analysts, Project Managers, ICO Companies, Data Analytics Managers, Marketing Specialists, Engineers, Developers, Architects, Students, Professional Services, QA, Pre Sales, Technical Marketing, PM, Teaching Staff, Delivery Manager and other line-of-business executives
WHAT YOU WILL LEARN
The possibilities of decentralization, the concepts of Web3 in action. You will be able to experience what some of the greatest minds in this space are doing to build and secure their position in the Metaverse. You will also be exposed to different Metaverse experiences that may not even be on your radar.
REFUND POLICY
No refunds will be given for cancellations except in the event of total event failure to render.
Please note: Ticket prices are time driven and increasing over time. Agenda will be locked and finalized no later than September 1st, 2022. All appearances are subject to speaker availability on September 15th and 16th, 2022.
TERMS & CONDITIONS
Refunds are not applicable