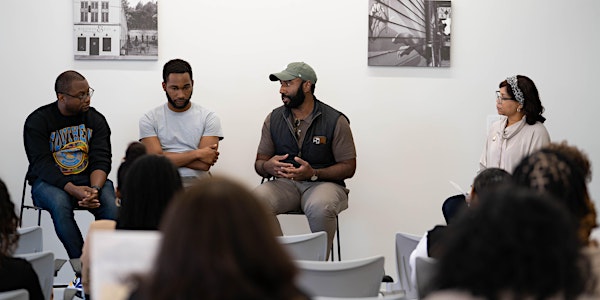 Black Tech Lunch & Learn: The Culture of Web3
FREE Lunch & Learn at the Black Tech Lab on Web3, Crypto & NFTs. Explore the future of Black tech and why equity and access is important.
When and where
Location
612 Andrew Higgins Blvd 612 Andrew Higgins Boulevard New Orleans, LA 70130
About this event
We had such a great Lunch & Learn in November, we decided to do one every month! Join us for a convo on Friday, December 9th, 12pm-1pm at the Black Tech Lab for all things Web3, NFTs and Crypto. Optional tour following.
As the world gears up for the future of tech through art and music, what does it mean for Black and Brown creators in that space. Let's talk about what's real and what isn't. We will be speaking with our special guest Tara Hernandez, investor, entrepreneur and Web3 superstar and Lou Hill creative, musician and producer. Refreshments provided.
There is Premium Parking across the street on Camp near the CAC & WWII Museum and metered street parking in the area. There is free parking under the bridge near the French Truck Coffee with about a 5 minute walk. Consider catching the street car which stops one block from the building at "The Circle". Enter at the Andrew Higgins entrance ask reception for the 4th Floor.
Tara Hernandez Bio:
Tara Hernandez is President of JCH Properties+, a real estate investment, consulting and development company that specializes in delivering urban lifestyle experiences through the conversion of underutilized real estate into "cool", creative spaces.
Tara is also actively involved in the technology investment community, as an investor and Fund Manager of Reform Ventures, LLC, a member of First Round Capital's Angel Track 6 cohort, a member of NOLAAN (New Orleans LA Angel Network), and board member of the Idea Village, a New Orleans technology accelerator program. She was named as one of "100 rising-star VC's in 2020, who represent the future of venture capital" by Business Insider.
She spearheaded a regional initiative, NOME-New Orleans Music Economy, to attract the business side of the music industry to New Orleans, while Chair of Greater New Orleans, Inc, and remains a member of the Steering Committee.
Lou Hill Bio:
Born and raised in the city of New Orleans, Lou Hill has been in the music industry for more than 20 years. Trained as a professional musician, Lou Hill has had the opportunity to work on multiple sides of the music business. As Founder, songwriter and drummer for the Billboard Top 20 charting band Water Seed, he has the proven experience to understand the ever-changing music market. Formerly the head of marketing for Louisiana Red Hot Records, he is now heavily involved in helping the growth of the New Orleans' music industry.
He is the CEO of Moonrise Entertainment, LLC and the Water Seed Music Group. Moonrise Entertainment is a company designed to support all things music, production and media. Staffed with a team of music professionals, Moonrise Entertainment has worked on projects such as the Water Seed(the band), HaSizzle the King of Bounce, Louisiana Philharmonic Orchestra's Suite Sundays, the television show Geaux Live Tonight and the music app Band Wallet.
Contact us at thelab@nolavateblack.com for more information.
About NOLAvate Black
NOLAvate Black is committed to shifting power toward racial equity and inclusion by building a sustainable and accessible technology talent pipeline in the Greater New Orleans Region.