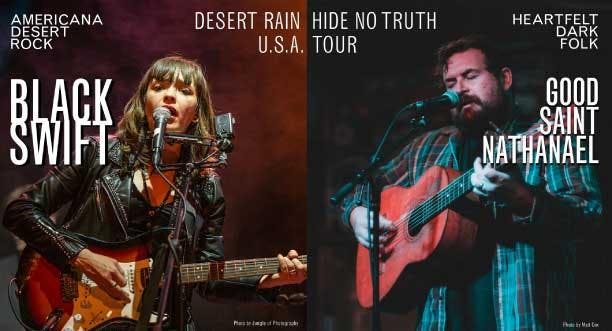 About this Event
Good Saint Nathanael (KC), Black Swift (Germany) Kat Jones (TN),  Black Swift (Stuttgart, Germany)
Post-punkified Americana n' Roll.  
If Tom Waits and Nick Cave had a daughter and that daughter were raised by gypsies in narrow back alleys and secret woodland glades and taught the ragtag music of vagabonds and wondering sailors then she might sound something like Black Swift. And that's not to mention plain old rock and roll which Black Swift keeps tucked away in their traveling bags, to be used as needed. The world of Black Swift is a steam-punk world, of rusty chains and dead pirates, the lord god almighty bringing us home and a whole lot of mixed up busted up love.  
Good Saint Nathanael (Kansas City) 
A gently moving, broken gospel project
Nate Allen is a husband, father, friend, mystic, and songsmith (Destroy Nate Allen / Nate Allen & The Pac-Away Dots) based in Kansas City, Missouri. His latest project, Good SaintNathanael, is a quiet musical processing of spiritual grief and hopeful possibility. Good Saint Nathaniel's debut album, Hide No Truth has been hailed by critics as "an introspective masterwork" (IDIOTEQ), "a treasure worth reflecting upon time and time again" (A Diverse Sound), and "an earnest, melancholic, and impossible to forget album" (SpinDitty).