Black Stone Cherry + Ayron Jones
Performers
Black Stone Cherry, Ayron Jones
Location
Club L.A.
34876 Emerald Coast Pkwy
Destin, FL 32541
99 Rock Presents Black Stone Cherry & Ayron Jones at Club L.A. in Destin, FL on Friday, April 22nd!
About this event
99 Rock, Steve Hall Productions, & Club L.A. Present
BLACK STONE CHERRY + AYRON JONES
at Club L.A. in Destin, FL on Friday, April 22nd
Doors 7:00p | Show 8:00p | Ages 16+ (Under 16 w/parent)
BLACK STONE CHERRY
Official Website | Facebook | Instagram | YouTube | Twitter | Spotify | Amazon Music | Apple Music | Pandora
As the world plummeted into the COVID-19 pandemic, the four members of Black Stone Cherry were nestled deep in the woods of Kentucky, scrambling to complete their 7th album. There, they could feel the disease closing in as they watched the news daily, and it became apparent the album they were finishing featured lyrics that were eerily prescient. The resulting 13-track record is broadly emotive, and anthemic. It was finished just before the global lockdown was imposed, and it's aptly titled, The Human Condition.
"There was a real urgency and fear of the unknown during those sessions—it was a scary time," recalls drummer, John Fred Young. "Every song on this album tells a story of the experiences we all go through—our happiness, our struggles, and how we have to adapt." Sonically, The Human Condition is also one of BSC's most visceral and hooky albums. Adds guitarist/vocalist Ben Wells: "With this one, we cranked up the amps, the drums are in your face, and there are some really heavy riffs. After 19 years and 7 albums, we wanted to prove that we still kick ass. This album feels like a rebirth."
In the past two decades, Black Stone Cherry has set a new standard for Southern rock, revitalizing the tradition with burly riffs and stirring rock hooks. Since their formation in 2001, the four-piece brotherhood has remained Chris Robertson, vocals/guitar; Ben Wells, guitar/vocals; Jon Lawhon, bass/vocals; and John Fred Young, drums. Though not blood relatives, the guys grew up together, immersed in the culture of shit-kicking rock n' roll. Young's dad Richard, and his Uncle Fred, are two founding members of the iconic country-fried rock n' roots band The Kentucky HeadHunters, and the high school-aged boys came up bashing away on their instruments in the group's notorious Practice House, a 1940s bungalow.
The four-piece band have blazed their own way in establishing a legacy. In the US, BSC's last album, Family Tree, debuted at #8 in the Current Rock Albums, #4 at Current Hard Music, and #21 Top Current Album. The band's 3 previous studio albums have cracked the Top 10 in the UK. Family Tree hit number 11 in Germany's album charts, the highest position ever for the group in the country. Onstage, Black Stone Cherry has both headlined and rocked 12,000-cap arena shows and shared the stage with a diverse roster of superstars, including Alter Bridge, Theory of a Deadman, Def Leppard, Gov't Mule, Nickelback, Lynyrd Skynyrd, Bad Company, Mötorhead, and ZZ Top. In 2018, BSC performed in front of 100,000 people at Download Festival as main support to Guns N' Roses. The guys also have the added distinction of being the musical spokespeople for the Professional Bull Riders Association, they have recorded the organization's theme song, and members of BSC frequently appear at PBR events.
The Human Condition was self-produced and tracked in bassist Jon Lawhon's recording facility, Monocle Studios, in March 2020. The guys went in with 4 songs, wrote new songs, and recorded some beloved unreleased favorites. The production and performances on the album are some of BSC's fiercest and finest. For the first time, the band opted to not record basics live and instead meticulously multitracked. Each member endured grueling sessions to ensure the collective studio mindset of achieving "epic performances." The results are stunning—the grooves feel organic, the riffs are mountainous, the performances are urgent, and the hooks shine through gloriously.
The album's opening lyrics are: "People, people your attention please, I need to tell you about a new disease." These words come via the muscularly melodic "Ringin' In My Head." The song was written 4 years ago, but it powerfully captures the hysteria around the COVID-19 outbreak. Heightening the drama here is a dexterously explosive fleet-fingered guitar solo. On "Push Down & Turn," BSC masterfully use space to achieve crushing swamp-metal dynamics. The stirring song is truly a human condition track as it talks about mental health, boldly advocating for getting treatment if you're struggling. "I suffer from manic depression, and I have severe anxiety. I want to convey it's okay to go to a doctor and talk about these issues. There is no shame or stigma there," Chris Robertson shares.
The Human Condition is rounded out by a pair of goose-bump inducing, Southern-fried ballads. "In Love With The Pain" conjures the late-night longing balladry of 38 Special. "If My Heart Had Wings" vibes the grandeur of late 1980s/early 1990s Aerosmith. One other Human Condition highpoint is the guys' raucously rocking rendition of ELO's "Don't Bring Me Down." Here, the song's hooks and strutting groove are perfectly paired with BSC's inimitable Southern rock swagger. The album concludes with the anthemic "Keep On Keepin' On," a song that's every bit as uplifting as its title promises.
"When I listen back to this record, I feel all these different emotions," Jon Lawhon says. "We started when we were teens, and life has taken its course, especially now. Through it all, your heart and your perspectives change, but one thing that hasn't changed is our connection as friends." Chris affirms: "This is a brotherhood. It's been amazing to stick around with all four original members and still be inspired. Here's to 7 more albums and another 19 years!"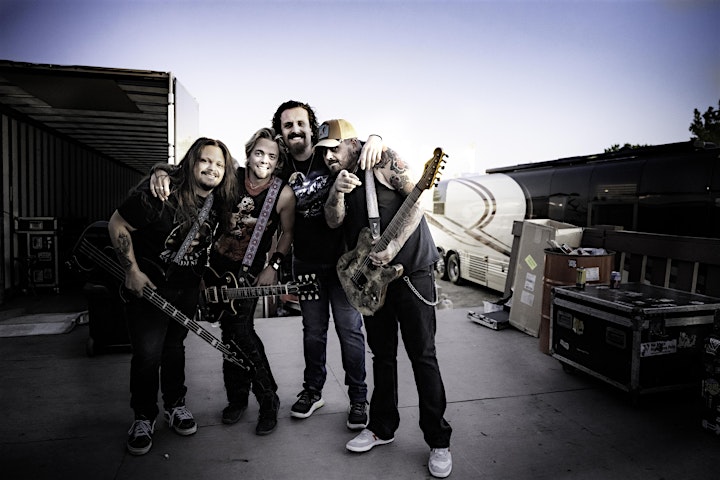 AYRON JONES
Official Website | Facebook | Instagram | YouTube | Twitter | Pandora | Spotify |
When Ayron Jones wrote the haunting lyric, "Got me on my knees / too much smoke, can't breathe," heard in his new single "Mercy," he meant the words quite literally. It was August of 2020 when he penned the song along with Marty Frederickson and Scott Stevens, and by that point, during one of the most tumultuous years in recent American history, the whole world appeared to be on fire.
"I just felt like the line epitomized where we were in America," Jones says. "It was like taking a telescope and giving people a perspective of America from an outsider and what it felt like to experience this time. It was a rough story about what was really going on here in this country—and particularly for me, as a Black man." Full of charged lyrics and melodies, "Mercy" strongly captures a collective consciousness of the time. It is also, though, underscored by a vision of hope and endurance: through it all, we persevere.
Jones' own personal story—from the streets of Seattle to full-blown rock star—is no less rough, yet also one filled with perseverance and determination. His parents both battled drug addiction, and at a young age Jones was taken in by his aunt and uncle. Money was tight, and Jones struggled to understand both his place in the world and how to overcome his tumultuous youth. Yet, these very elements became the fuel to drive his early career.
Doubling down on his uniqueness with an album that harkens back to Jones' beginnings, CHILD OF THE STATE is slated for release on May 21 via Big Machine / John Varvatos Records. "Having faced the abandonment I did as a child, and how that affected me in life, is really what this album is about," he explains of the title. "It's the triumph of overcoming all of that and still being that person. I'm the same kid looking for his parents, that longed for the love and support. A lot of people have faced adoption and abandonment, but it's not really talked about as to how that affects people and I thought it was important to be a beacon of hope for those people. To stand for something and prove not everyone has to be a stereotype or statistic."
Jones was 13 when he first picked up the guitar that belonged to his friend—one that he began visiting more frequently just so he could spend more time with the instrument. Recognizing his raw talent, his aunt and a neighbor eventually gifted him guitars, and all the while he taught himself to play, picking and strumming until the strings felt like a second skin. "I had a lot of conflicting emotions about my identity and my childhood," explains Jones, "and until I found the guitar, I didn't have an outlet. Writing and playing became a channel to express everything that I had been feeling, and then it just became my obsession."
That self-sufficient tenacity continued to buoy Jones when, at the age of 19, he began releasing music independently. His talent and diligence earned him opportunities with iconic artists such as BB King, Guns N Roses, Janelle Monae, and many more; he forged a path to continuously widen his audience, and broke barriers as a Black artist in the Rock industry. Jones tells "in the early days, we would walk into clubs and be treated poorly because we didn't look like the usual Rock band; but, after leaving the stage we had won over the hearts and minds of the crowd. We knew that we were doing something to open the door for other artists like us, not just in Seattle but across the world. Fast forward to today, and Seattle has become a Black rock city - prominent Black artists are leading the scene. I'm proud to have endured the hardships and challenges that I did as a performer, in order to open the door for those coming next."
Jones cultivated a robust following in the Pacific Northwest, earning the embrace of the city's musical royalty including Duff McKagan, Mike McCready, and more. His independent rise allowed him to hone his creative vision, and the partnership with Big Machine / John Varvatos Records was the next step in his musical and creative journey. Jones explains: "Had I stayed independent, I don't think I would've had the opportunity to be where I am now, as a chart-topper and moving into my first major record," he says.
CHILD OF THE STATE will feature "Mercy" as well as his Top 5 debut "Take Me Away," which proved that there's definitely a market for Jones' genre-blending sound. His life is sprinkled throughout the full album, with lyrics tackling controversial subjects, and stories that listeners can relate to.
Jones weaves together complex issues of addiction and relationships, in "Spinning Circles" – You're the want that I need / Like that cough from good weed / And those lines that you toe / That slow drip down your throat. For him, the song is autobiographical in the sense that "we have all been in relationships that were very unhealthy, where we couldn't get rid of the person and there was something there that kept drawing us back and forth, going in circles."
"Supercharged" stands as an anthem for his love for female energy and past muses. Jones admits, "I love love and for better or worse the abandonment in my childhood has fueled that emotion." Masterfully upending preconceived notions of music and lyrics, the album also feeds on a palpable passion: from the bluesy "Baptized In Muddy Waters," evoking Muddy Waters both literal and figurative, to the stripped-down and pensive "My Love Remains," and the hard-driving soulful melody of "Boys From the Puget Sound."
From one song to the next on the album, Jones' love affair with the guitar and his versatility on the instrument shines through. He also played a heavy role in production on Child of the State, collaborating with producers to craft his sound and vision. "The experience of working with various individuals on the project both allowed me to express myself and my experience in the studio, plus to further my own knowledge of production."
"I'm this cat that is playing Rock, and I probably look like I came from the hood—which I did," Jones adds. "But I'm not the stereotype, and I want people to be taken aback. I want people to think about what CHILD OF THE STATE means. And when they open up this record by a hoodie-wearing Black man from the worst of circumstances who's creating this sonically gorgeous music, I want people to think about that, too."