Black Speculative Arts Movement Toronto 2018 Convention #BSAMToronto2018
Description
Toronto, Ontario - Black Speculative Arts Movement Toronto 2018 (#BSAMToronto2018)
Following the success of 2018 films like Marvel's Black Panther and and the Canadian first Afro-Caribbean Sci-fi thriller Brown Girl Begins, this one day convention focuses on a Black Canadian centered dialogues around the improvement of Black and Afrocentric presence in Speculative, Fantasy and Science Fiction in all creative forms and outlets. This year's theme is around limitless re-imagining for liberation and equality and Blackness through the lens of Afro-Caribbean carnival and science.

All are welcomed to enjoy and experience art, science, technology, a cosmic market with local vendors, supernova of live performances, intergalactic conversations, spices of Afro-Caribbean Carnival and everything afrofuturistic and about Afrofuturism with the The Merril Collection of Science Fiction, Speculation and Fantasy at the Lillian H. Smith Toronto Public Library (239 College St - South East of College street and Spadina Avenue).

It is encouraged to also wear a cosplay or carnival inspired costume. The space is a family friendly inclusive space welcoming all positive and respectful humans species, mutants, meta & beta humans, cyborgs, extraterrestrials and otherwise to attend and participate.

INVITE YOUR ENTIRE GALAXY ON FACEBOOK
https://www.facebook.com/events/267035727185451/

and feel free to visit
https://www.torontopubliclibrary.ca/detail.jsp?Entt=RDMEVT356696&R=EVT356696

This event is being sponsored by the Toronto Public Library, Friends of The Merril Collection, LabFundr, Sci Comm Toronto, Stolen From Africa, and NubiaMancy, Hear 2 Help
CosParty To, Science Everywhere Toronto, All African People Revolutionary Party. Tabono Institute, Global African Community Network
Zero Gun Violence Movement, Black Artists' Network Dialogue Gallery and Cultural Centre, A Different Booklist Bookstore and Cultural Centre, Black Sun Comics.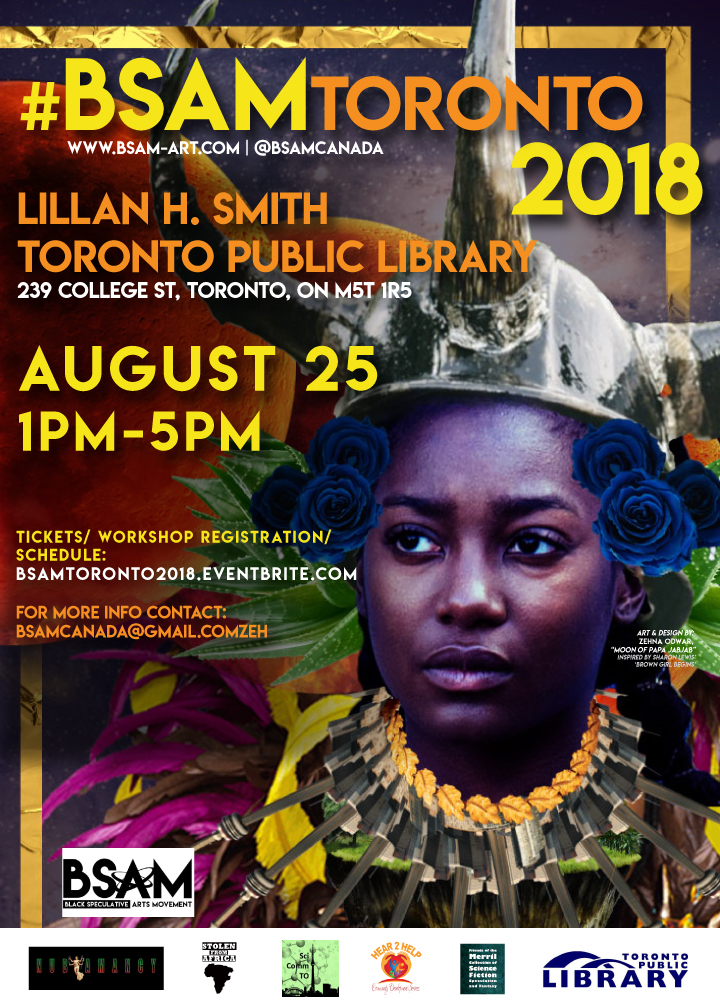 ------------------------------------------------------------------------
BSAM Toronto 2018 #BSAMtoronto2018 PROGRAM

Locations:
OA ◆ Open space atrium rotunda located on the lower level of the library
R1 ◆ Community meeting room located on the lower level of the library
R2 ◆ 3rd Floor, Merril Collection of Science Fiction, Speculation and Fantasy
OA ◆ All day - cosmic - market with artist and local vendors
OA + R3◆ All Day Art Installation - Expanding Black Thought Project Art + Science Display, Baobab Project Youth Exhibition with Stolen From Africa + The Inkwell Project - A display of Afrofuturistic technologically innovated Caribbean Carnival Costume in collaboration with SugaCayne Designs
Vendors -
STOLEN FROM AFRICA - http://stolenfromafrica.org
FRIENDS OF THE MERRIL COLLECTION - http://friendsofmerril.org/
SCIcommTo - https://www.scicommto.com
BLACK SUN COMICS - https://blacksuncomics.com
NAoRI'S Bijoux - NAoRI's Bijoux
Hear2Help - http://hear-2-help.com
+ MORE TBA

R1 ◆ 1pm - Welcome, Libation & Land Acknowledgement + Expanding Black Thought, Round Table Discussion
Performance by Osobe Waberi


Black Artists and Scientist from From Toronto worked together to create theory based conceptual creative products. Collective art display connected to the this panel will be in the Rotunda and in the auditorium

Anthony Morgan - Science Teacher, Special Assignment Researcher
Monique Johnson - MSc in Forensic Science, Research Technologist, SickKids Hospital
Margaret Ikape - Department of Astronomy and Astrophysics
Camille Williams
Rehabilitation science and biomedical engineering
Osobe Waberi - Spoken Word Artist
Kalmplex - Painter + Photographer
Zehna Odwar - Fashion Designer
Arthur Tanga - 3D + 2D Graphic Designer and visual artist
R2 ◆ 2:00pm ~ IndigoInk - Afrofuturism in Carnival Mas, presentation by SugaCayne Designs
REGISTRATION NEEDED! Space is limited.
A workshop by Sugah Cayne Designs (Comprised of Candice and Dwayne Dixons, designed for Venom Carnival part of the Caribana band) who will share a hands-on experience demonstrating there process, inspirations and discovery of using technology and African ideology to make advance and meaningful and futuristic aesthetic Carnival costumes for the road and for experimental purposes.
They will also shed light on the true spirit of carnival and her-story and how it relates to the creative spirit and resilience in the Caribbean and Africa along with the symbolism in the costumes as they relate to the various Afro-fantasy, folklore,mythologies and speculations.
Display will be in the basement rotunda, main floor and in the Merril Collection.
OA ◆ 3:00pm ~ Meet and greet featured Afro-Cosplayer & Artists + Dr.Reynaldo Anderson & Tajah Olson book siging session

R1 ◆ 3:30pm ~ Moving Forward Together: The Cosmic Underground Northside & The 2nd Wave of Afrofuturism - RoundTable Discussion

Performance by Borelson


Discover what is the Afrofuturism 2.0 and the perspective of curators, writers and artists

Dr.Reynaldo Anderson (Founder of BSAM, Author)
Borelson (Photographer, Cosplayer, Music Artists)
Kmesha Maloney (Visual Artist)
Queen Kukoyi (Multi-disciplinary Artist, youth worker, writer)
Assante Massawa of NubiaMancy (Producer, Curator, writer)
Thandiwe Chimurenga of Tabono Centre and AAPRP (community organizer, activist, writer)Meighan Morelson (Visual Artist)
Abena Essien (Photographer, Health Practicioner)
MORE DETAILS COMING...
*Program is subject to change without notice*
For more info and media inquiry contact - Abena Essien, BSAM Canada Executive at < BSAMCanada@gmail.com >

https://www.bsam-art.com/
https://www.facebook.com/pg/Afrofuturism2/
www.facebook.com/bsamcanada/
www.instagram.com/bsamcanada/
www.twitter.com/bsamcanada/