BLACK SPECULATIVE ARTS MOVEMENT MONTREAL #BSAMmontreal2017
Description
Black Speculative Arts Movement - Montreal 2017
#BSAMmontreal2017
Saturday, September 23, 2017, Concordia University/
Samedi le 23 septembre 2017, Université Concordia



For Immediate Release/ Pour Diffusion Immédiate :
Contact:
Quentin "Di Astronautty" VerCetty
Black Speculative Arts Movement Canada
Executive Director/Directeur exécutif
BSAMCanada@gmail.com
Maia "CROWN" Williams
Black Speculative Arts Movement
Co-founder, Executive Assistant/ Co-fondateur, Assistant exécutif
(313) 451-0297, BSAMstaff@gmail.com

Banner art by 2016 National Champion Art Battle Canada / Bannière d'art d'ici 2016 Champion nationale Art Battle Canada Allan Andre (@Andre8seven | www.allanandre.com/)
[English/ Anglais]
Montreal, Quebec - Black Speculative Arts Movement Montreal 2017 convention is a one day multi-disciplinary art focused event happening Saturday September 23 at Art History Building of Concordia University. This event is being put on by BSAM in partnership with BAND Gallery, the Fine Arts Student Alliance (FASA) and African and Caribbean Students' Network of Canada (ACSioN) along with various departments of Concordia University.
BSAM Montreal is a community gathering focused on a Montreal/ Canadian centered dialogue on the improvement of Black and Afrocentric presence in speculative arts and science fiction. It is a unique opportunity for professional and up and coming creatives' who work within the speculative field to come together to share their work, ideas, and gain professional and social connections with other artists, as well as the general public.
In loom of Canada 150, this year BSAM Canada is working with the theme "Moving Forward Together" having black women and black queer voices amplified, along with adding Indigenous futurities to the convention conversation. Dialogues will include sovereignty allyship, decolonization, and collectively sharing of hopes, visions, and the seeds that are being planting for the next 150 years. The convention will also be acknowledging and paying homage to the up and coming 50 year anniversary of the 1968 Black Congress of Writers and it's significance to Canada's landscape.
The convention will include keynote speakers, panel discussions, interactive installations, film screenings, vending from a vast amount of comics, artisans, and art merchants, live performances, social activism, comic centered seminars, and hands on workshops.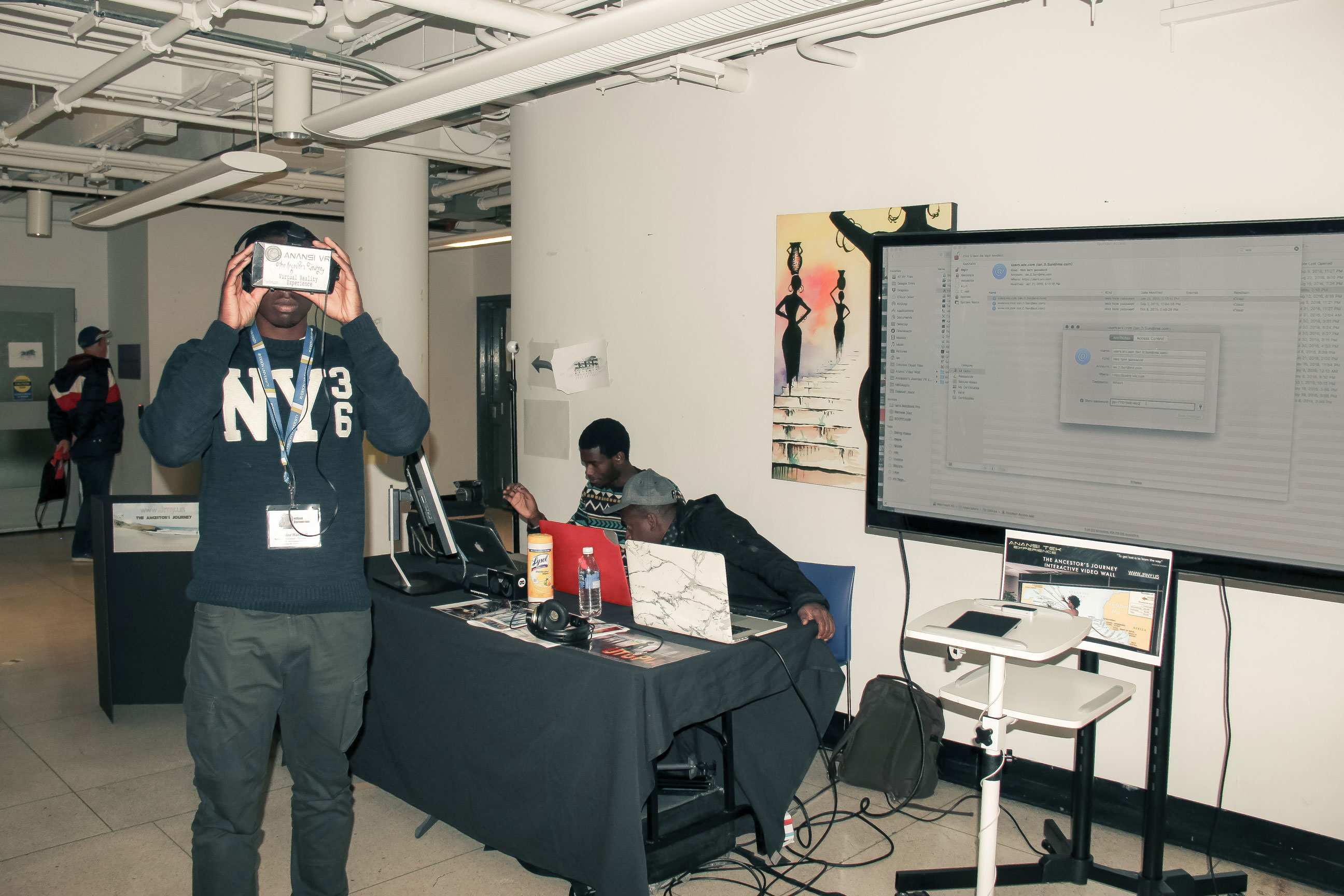 About BSAM
The Black Speculative Art movement emerged out of the Unveiling Visions exhibition co-curated by John Jennings and Reynaldo Anderson at the Schomburg Center for the Study of Black Culture in New York City. Black Speculative Art is a creative aesthetic practice that integrates African diasporic, metaphysics, science, and technology. The movement seeks to interpret, engage, design or alter reality for the re-imagination of the past, the contested present, and act as a catalyst for the future. The BSAM convention was co-founded by associate professor and chair of the Humanities Department at Harris-Stowe State University, Dr. Reynaldo Anderson, and founder of Midwest Ethnic Convention for Comics and Arts - MECCA, Maia Crown Williams. BSAM travels across the nation and abroad throughout the year. Locations have included St. Louis, Detroit, the Bronx, Los Angeles, Philadelphia, Toronto, Israel, and many more.
BSAM Canada is the northern branch of the movement, founded by Quentin VerCetty, who coordinated and directed the first international BSAM event at OCAD University (BSAM Toronto) in 2016. The event was featured on the CBC news among other notable media outlets internationally. BSAM Canada's focus is to create a collaborative and supportive platform that can empower, elevate, and evolve Black creatives and organizations who work within the respective field of the speculative arts.
BSAM is an umbrella term represented for different positions or basis of inquiry: Afrofuturism, Astro Blackness, Afro-Surrealism, Ethno Gothic, Black Digital Humanities, Black (Afro-future female or African centered) Science Fiction, The Black Fantastic, Magical Realism, and The Esoteric. Although these positions may be incompatible, in some instances they overlap around the term speculative and design; and interact around the nexus of technology and ethics.
Notable Articles about BSAM Canada:
http://www.cbc.ca/arts/marvel-s-black-panther-is-just-the-start-why-a-new-movement-in-black-art-is-coming-to-canada-1.3815988
http://apt613.ca/visual17e-ottawa/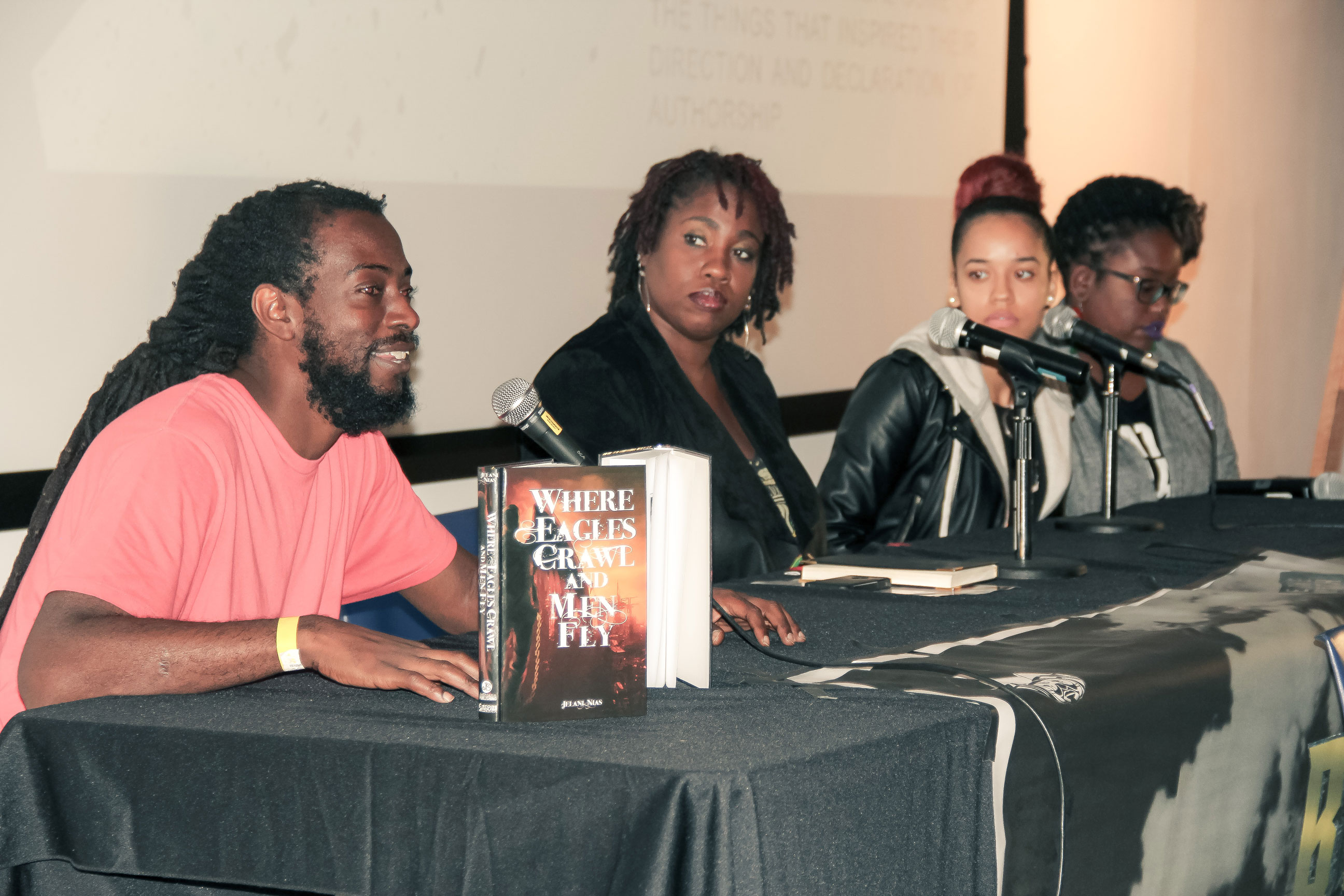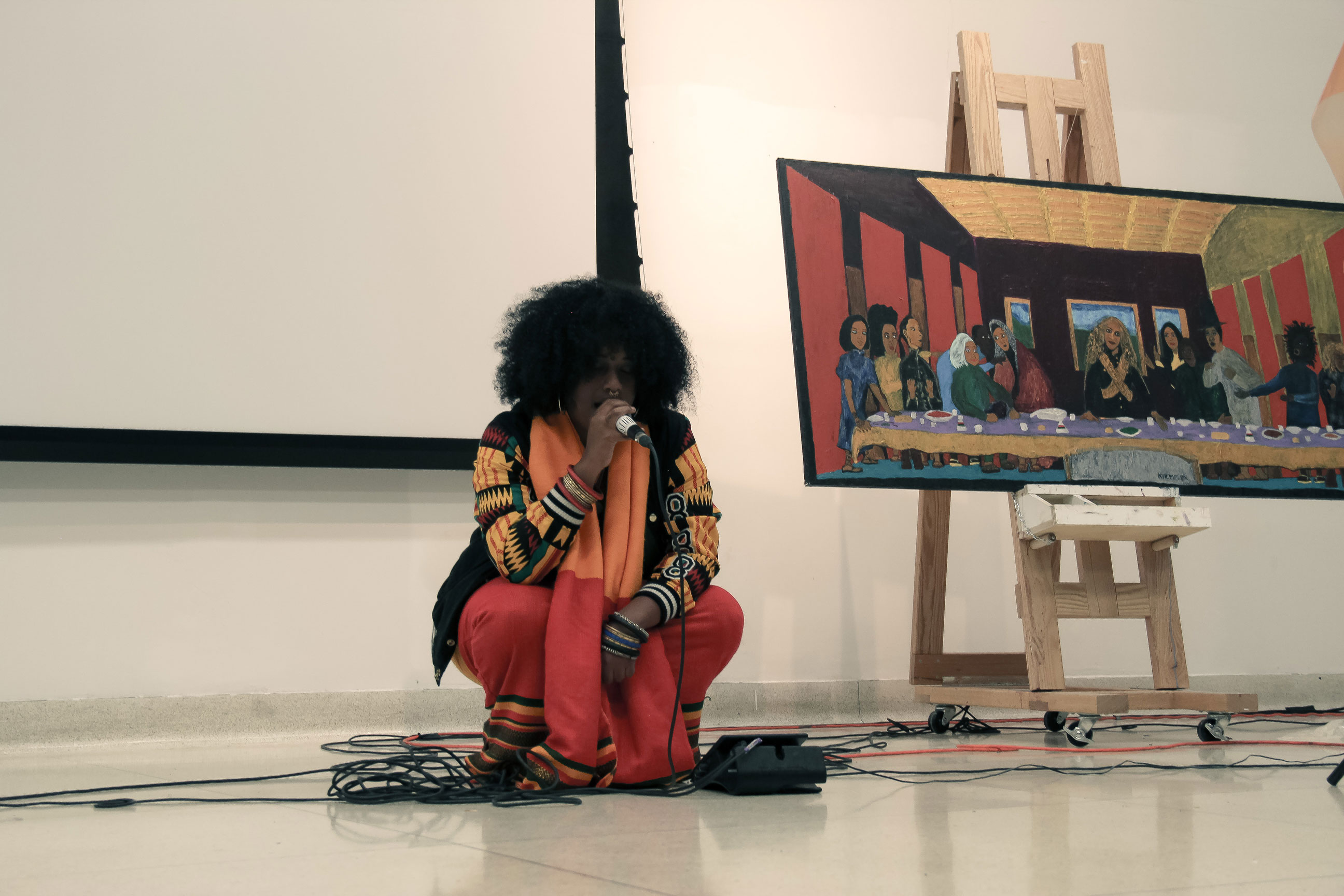 Guest and program schedule
(coming soon)


Purchase tickets now!
http://BlackSpeculativeArtsMovement.wordpress.com
http://facebook.com/BlackSpeculativeArtsMovement
http://instagram.com/BSAMconvention /
http://twitter.com/BSAMconvention
For convention inquires, please contact BSAM Canada executive, Quentin VerCetty, at
BSAMCanada@gmail.com [ENG/Fr]
For media, press, and other BSAM inquires, please contact BSAM co-founder Maia Crown Williams at
BSAMstaff@gmail.com
, +13134510297 [ENG]
------------------------------------------------------------------------------


[français/ French]
Montréal, Québec - Le symposium du Black Speculative Arts Movement de Montréal 2017 sera un événement d'art multidisciplinaire qui aura lieu le 23 septembre dans l'édifice de l'Histoire de l'art à l'université Concordia. Les organisateurs de l'événement sont le BSAM en collaboration avec la galerie BAND, le Fine Arts Student Alliance (FASA), le African and Caribbean Students' Network of Canada (ACSioN) et maintes départements de l'université Concordia. BSAM Montréal est une rencontre communautaire qui promeut un dialogue montréalais/canadien centré sur l'avancement du 'Black et Afrocentrique' dans les arts spéculatifs et la science fiction. C'est une opportunité de réunir les créatifs, aspirants et professionnels, qui oeuvrent dans le domaine spéculatif afin de partager leur travail et leurs idées, ainsi permettant d'établir des contacts professionnels et sociaux entre artistes, également avec le public.
A l'occasion de la fête des 150 ans du Canada, cette année BSAM Canada travail avec le thème "Moving Forward Together(Un Pas Devant Ensemble)" pour amener au premier plan les voix des femmes noires et des individus de la communauté altersexuelle, en plus d'inclure au dialogue les potentialités indigènes. Les discussions porteront sur l'amitié du pouvoir souverain, la décolonisation et incluront le partage collectif des plans et ambitions, voire semer les graines pour les 150 ans à venir. Le symposium compte aussi souligner le prochain 50è anniversaire du Congrès d'Écrivains Noirs de 1968 en rendant hommage au rôle critique qu'il joua dans le tableau du Canada.
Le symposium sera composé de séances avec des principaux orateurs, des tables rondes, des installations interactives, projection de films, kiosques pour une grande variété de bande dessinées et roman graphiques, artisans, et marchands d'art. Il s'y trouvera aussi des performances en direct, l'activisme social, des séminaires portant sur la production des bandes dessinées et aussi des ateliers pratiques.
A propos de BSAM
Le Black Speculative Art movement est né de l'exposition Unveiling Visions organisée conjointement par John Jennings et Reynaldo Anderson du Schomburg Center for the Study of Black Culture in New York City. L'Art Spéculatif Noir est une méthode esthétique qui fusionne le diasporique africain, la métaphysique, les sciences et la technologie. Le mouvement vise interpréter, engager, façonner ou transformer la réalité pour la réinvention du passé, le présent controversé et servir comme déclencheur d'un
futur prometteur. Le symposium BSAM fut fondé par le professeur associé et président du département des Sciences Humaines à l'université de Harris-Stowe State, Dr. Reynaldo Anderson en collaboration avec le fondateur du Midwest Ethnic Convention for Comics and Arts - MECCA (Congrès Ethnique du Mid-West des Arts et Bandes Déssinés), Maia "Crown" Williams.
Le BSAM se déplace à travers le pays et à l'étranger tout au long de l'année. Des endroits visités seraient par exemple: St-Louis, Louis, Detroit, le Bronx, Los Angeles, Philadelphia, Toronto, Israel parmi plusieurs autres villes.
Le BSAM Canada est la branche du mouvement au nord, il fut créé par Quentin VerCetty, le coordonnateur et directeur du premier événement international BSAM à l'université OCAD (Toronto 2016).L'événement fut couvert par les médias internationales, particulièrement CBC news au Canada. BSAM Canada est motivé par la création d'un environnement collaboratif qui encourage la coopération pouvant outiller, élever et faire évoluer les créatifs Noirs et les organisations qui oeuvrent spécifiquement dans le domaine des arts spéculatifs.
BSAM est une expression générale qui représente différentes positions et bases de questionnement: Afrofuturisme, Astro Blackness, Afro-surréalisme, Gothique éthnique, Sciences Humaines noires numériques, la science fiction noire (Afro-future féminin ou Afro-centré*), le Black Fantastic, Réalisme magique et l'ésotérique. Malgré que ces positions pourraient être incompatibles, parfois redondantes en considérant les termes spéculatif et design, elles interagissent à travers le croisement de l'éthique et la technologie.
Articles sur BSAM Canada:
http://www.cbc.ca/arts/marvel-s-black-panther-is-just-the-start-why-a-new-movement-in-black-art-is-coming-to-canada-1.3815988

Horaire des invités et programme
(disponible sous peu
)


Acheter des billets maintenant!
Pour de plus amples renseignements pour le symposium veuillez prendre contacte avec le directeur du BSAM Canada, Quentin VerCetty, à l'adresse mail
BSAMCanada@gmail.com [ENG/Fr]
Média, presse et pour autres renseignements sur BSAM veuillez contacter la co-fondatrice Maia Crown Williams à l'adresse mail
BSAMstaff@gmail.com [ENG]
, +13134510297.
Date and Time
Location
York Ampitheatre
1515 Rue Sainte-Catherine O
EV Building, Concordia University
Montréal, Quebec H3G 2W1
Canada
Refund Policy