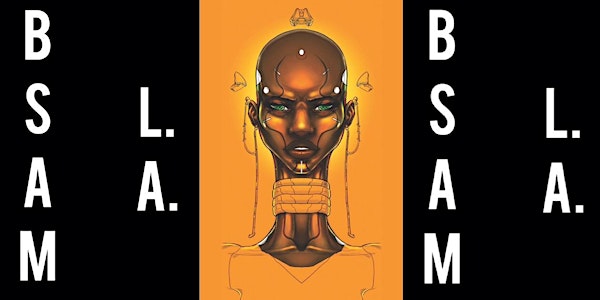 BLACK SPECULATIVE ARTS MOVEMENT L.A. #BSAMla2017
When and where
Location
Leimert Park Village 4343 Leimert Blvd Los Angeles, CA 90008
Refund Policy
Contact the organizer to request a refund.
Description

Illustration by @TheOneWillFocus


FOR IMMEDIATE RELEASE:
February 21, 2017
Contact:
Maia "CROWN" Williams
Black Speculative Arts Movement
Co-founder, Executive Assistant
(313) 451-0297, BSAMstaff@gmail.com
BSAM L.A. 2017 #BSAMla2017
Leimert Village
June 25, 2017
OFFICIAL schedule is BELOW! just scroll DOWN!

Los Angeles, CA -
Black Speculative Arts Movement is honored to be hosting our traveling afrofuturism and comic book convention at the historical Leimert Park Village in Los Angeles this June. BSAM will be held in multiple spaces at the village, including The Vision Theatre, KAOS Network, and People's Street Park. The convention will be an official parnt of Art Walk.





Although we mostly focus on afrofuturism at our other events, BSAM L.A. is excited to focus primarily on film. The convention will include MECCAcon International Film Festival, aka MECCAcon IFF, QnA from multiple filmmakers and actors, workshops, and more. Our main films will be showcased at night at People's Street park.


Guests include::
Denys Cowan
Derek Dow
Nalo Hopkinson
Jackie J Stone
Carl Jones
Erika Alexander
Zo!
NIkkolas Smith
Pochino Press
Paul Lewin
Pavi Prasad
Underground Resistance (UR)
Evita Castine
Hannibal Tabu
Xavier l Burgin
Shawna Mills
kris ex (Christian Fabien)
Eric Dean Seaton
Korstiaan Vandivar
Jason Reeves
Supersikh Comics
Onyi Udeh
Yajaira De La Espada
Solomon Onita Jr
Donnie and Eric Seals w/ Zo!
Reynaldo Anderson
Maia "Crown" Williams
Quentin VerCetty
Obi Udeh
Ajani Brown
Steven Barnes
J.O. Bankole
Keithan Jones
Jay Connor/ The Extraordinary Negroes
Tony Puryear
Tanai Walker
V.R. McCoy
Marqueeda LaStar
Myshell Tabu
Marcel Williams
Zeal Harris
Ronda Brown

and MORE!





Afrofuturism, astroblackness, black comic books, speculative fiction, black cosplay, and social injustice will also be included. There will be many presentations from known scholars, artists, publicists, and professors from across the country.



Black Speculative Arts Movement, aka BSAM, is a monthly Afrofuturism, black comics, film, and arts convention held at multiple colleges, universities, museums, and other venues across the United States, Canada, and abroad.



Our annual conventions, co-founded by associate professor and chair of the Humanities department at Harris-Stowe State University, Dr. Reynaldo Anderson, and founder of Midwest Ethnic Convention for Comics and Arts - MECCA, Maia Crown Williams, will include vending from a vast amount of comics, art, and artisan creators and vendors, live performances, a full international film festival via MECCAcon, seminars, classes, hand on workshops, plays, and much more. Students are also welcome to submit proposals to participate as well.
Afrofuturism and astro blackness have been practiced in our community for years, especially thru literature, visual arts, and music. Artists like Sun Ra, Octavia Butler, Basquiat, Fela Kuti, George Clinton, John Coltrane, Alice Coltrane, Samuel Delaney, Jimi Hendrix, Paschal B. Randolph, Toni Morrison, Amiri Baraka, Tananarive Due, and the ZULU NATION are excellent examples.





Black Speculative Arts Movement is a loose umbrella term represented for different positions or basis of inquiry: Afrofuturism, Astro Blackness, Afro-Surrealism, Ethno Gothic, Black Digital Humanities, Black (Afro-future female or African Centered) Science Fiction, The Black Fantastic, Magical Realism, and The Esoteric. Although these positions may be incompatible in some instances they overlap around the term speculative and design; and interact around the nexus of technology and ethics.
BSAM is a continuation of the historical behavior within the Veil to engage the ideas of Dubois, Wright, Everett and others to pierce the Color Line, the Color Curtain, and understand the Digital Divide in the face of the challenges of the 21st century.
Links:
--------


OFFICIAL BSAM L.A. 2017 SCHEDULE ::



10a RED ORIGINS (childrens' animation screening/workshop)


11A EFF: DIGITAL SECURITY FOR ARTISTS & ACTIVISTS
11A 10A SUPERHERO 101: youth art workshop w/ MADTWIINZ (Blokhedz)

11A SEARCHING FOR WALTER DEAN MEYR'S LEGACY: Yajaira De La Espada
12P MEDIA OF THE FUTURE panel- kris ex, Jay Connor, Ajani Brown, Marcel Williams, moderated by Nay Marie/ Taji Magazine.
12P ARTISTS ON MINING STARDUST FOR THE ANCESTORS - Pavithra Prasad, Zeal Harris, Ronda Brown
12P LATINX FUTURISMO panel- Jess Castillo (Third Press), Sarah Rafael García (Barrio Writers and LibroMobile), Gustavo Alberto Garcia Vaca (chamavision), Norman Zelaya (Pochino Press). Moderator: Daniel D. Zarazua (Pochino Press)
1P-3P (outside)
BLESSING OF THE PARK/ AFRICAN DRUMMING PROCESSIONAL

ANCESTRIAL MASK FESTIVAL - LPV PEOPLE'S STREET

INTERGENERATIONAL WOMENS TALK - KAOS or VISION

LEIMERT PARK VILLAGE film w/ Ben Caldwell (Vision Theatre)
3P MECCAcon BLACK HOLLYWOOD panel - Erika Alexander, Eric Dean Seaton, Tony Isabella, Myshell Tabu, Richard Gant. Moderated by MECCAcon IFF founder, Maia Crown Williams
3P AFROFUTURISM 2.0: Reynaldo Anderson, Duane Deterville, Nalo Hopkinson, Ricardo Guthrie, Ajani Brown
3P UNDERGROUND RESISTANCE (UR) presentation w/ DJ Dan Z, DJ Dex Nomadico


4P BACK2BLACK panel - Denys Cowan, Nikkolas Smith, Jason Reeves, Erika Alexander, Keithan Jones, Shawna Mills, moderated by Hannibal Tabu.
4P THE AFROFUTURIST HUMANITARIAN lecture: Yajaira De La Espada
5P CONCRETE PARK presentation
5P MECCAcon BLACK ANIMATION panel - Denys Cowan, Carl Jones, Shawna Mills, Onyi/Obi Udeh, Mike/Mark Davis aka MADTWiiNZ. Moderated by Jay Connor/ The Extraordinary Negroes.
6P MECCAcon SHORT FILM panel - Korstiaan Vandiver, Evita Castine, Jackie J. Stone, Xavier L Burgin, Derek Dow, Solomon Onita, Jr. Moderated by Maia CROWN Williams
6P BATTLEDREAM CHRONICLE film (Kaos Network) - Alain Bidard
#MECCAconIFF2017 Film Festival : outdoors! Bring a blanket, lawn chair, etc!
8p THE BIG CHOP film - Derek Dow, QnA
9p ON TIME film - Xavier Burgin, QnA
10p SKYBREAK (Zo!) film - QnA w/ Zo!, Donnie & Eric Seals


more details to come, including room assignments, etc!





If interested in purchasing a vending table, performing, exhibiting, paneling, holding a workshop, volunteering, serving as press, etc, please contact co-founder,
Maia Crown Williams at
BSAMstaff@gmail.com, 3134510297.
Vending spaces are limited.