Actions and Detail Panel
BLACK SPECULATIVE ARTS MOVEMENT #BSAMoakland2017
Sat, May 13, 2017, 10:00 AM – 7:00 PM PDT
Description
FOR IMMEDIATE RELEASE:
December 1, 2016

Contact:
Maia "CROWN" Williams
Black Speculative Arts Movement
Co-founder, Executive Assistant
(313) 451-0297, BSAMstaff@gmail.com

Black Speculative Arts Movement #BSAMoakland2017

California State University- East Bay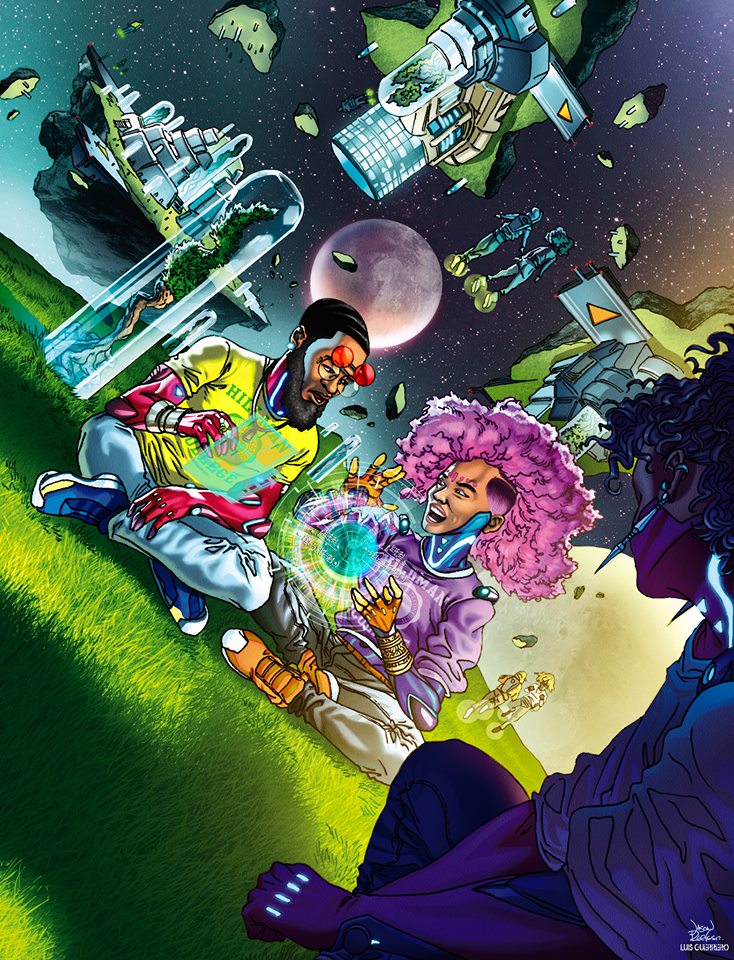 Oakland, CA -
Black Speculative Arts Movement, aka BsaM, is an annual Afrofuturism, black comics, and arts convention held at multiple colleges and universities thruought the United States and abroad.

Our annual conventions, co-founded by associate professor and chair of the Humanities department at Harris-Stowe State University, Reynaldo Anderson​, and founder of Midwest Ethnic Convention for Comics and Arts - MECCA​, Maia Crown Williams, will include vending from a vast amount of comics, art, and artisan creators and vendors, live performances, a full international film festival via MECCAcon, afrofuturism, social activism, and comic centered seminars, classes, hand on workshops, plays, and much more. Students are also welcome to submit proposals to participate as well. We also heavily encourage schools to attend in groups.


This event is largely sponsored by the Dr Lonny Brooks, associate professor of the Communications department at California State University- East Bay (CSUEB). California State University, East Bay is known for award winning programs, expert instruction, small classes, a highly personalized learning environment—and a choice of more than 100 career-focused fields of study. With two scenic campuses—one in the Hayward Hills overlooking San Francisco Bay and the other in the Concord foothills of Mt. Diablo—plus a professional center in dynamic downtown Oakland, Cal State East Bay is where all your possibilities come into view.
Cal State East Bay welcomes and supports a diverse student body with academically rich, culturally relevant learning experiences which prepare students to apply their education to meaningful lifework, and to be socially responsible contributors to society. Through its educational programs and activities the University strives to meet the educational needs and to contribute to the vitality of the East Bay, the state, the nation, and global communities.



-----

ARTIST ALLEY/ VENDORS
MULTIPLE PANELS, WORKSHOPS, SEMINARS, LECTURES
MECCAcon International Film Festival 2017

and MORE!!

Other future events with BSAM and MECCAcon include:

Black Speculative Arts Movement #BSAMtexas2017 - February 18, 2017, PRAIRIE VIEW A&M U

Black Speculative Arts Movement #BSAMfuturismo2017 - April 22, BRONX MUSEUM OF ARTS
Midwest Ethnic Convention for Comics and Arts #MECCAcon2017 - September 16, DETROIT PUBLIC LIBRARY

Israel, St Louis, Toronto, Barbados, Montreal, DC, Atlanta, Nova Scotia, Isreal, Naples - tba

Our official program for #BSAMoakland2017 is now being lined up. The purpose of this event centers on the California community, and will be heavily focused upon, but not limited to. We also will center it heavily on film, as well.

If you are interested in moderating a panel, workshop, and/or lecture, please contact us today.Vending (limited) is also available, starting at only $75/table. Split tables start at only $100.

Afrofuturism and astro blackness have been practiced in our community for years, especially thru literature, visual arts, and music. Artists like Sun Ra, Octavia Butler, Basquiat, Fela Kuti, George Clinton, John Coltrane, Alice Coltrane, Samuel Delaney, Jimi Hendrix, Paschal B. Randolph, Toni Morrison, Amiri Baraka,Tananarive Due, and the ZULU NATION are excellent examples.

Black Speculative Arts Movement is a loose umbrella term represented for different positions or basis of inquiry: Afrofuturism, Astro Blackness, Afro-Surrealism, Ethno Gothic, Black Digital Humanities, Black (Afro-future female or African Centered) Science Fiction, The Black Fantastic, Magical Realism, and The Esoteric. Although these positions may be incompatible in some instances they overlap around the term speculative and design; and interact around the nexus of technology and ethics.

BsaM is a continuation of the historical behavior within the Veil to engage the ideas of Dubois, Wright, Everett and others to pierce the Color Line, the Color Curtain, and understand the Digital Divide in the face of the challenges of the 21st century.

Links:
https://www.facebook.com/events/1820415634866316/
http://blackspeculativeartsmovement.wordpress.com/
https://www.facebook.com/blackspeculativeartsmovement

http://MECCAcon.wordpress.com/indiefilmfest


--------

If interested in purchasing a vending table, performing, having your film as an official selection for MECCAcon International Film Festival, exhibiting, paneling, holding a workshop, volunteering, serving as press, etc, please contact co-founder Maia Crown Williams at
BSAMstaff@gmail.com, 3134510297.

Tables are limited.

FAQs::

Are there ID or minimum age requirements to enter the event?
Absolutely not! ALL AGES ARE WELCOME AND HEAVILY ENCOURAGED.

How can I contact the organizer with any questions?
BSAMstaff@gmail.com, 313-451-0297. Also find us on Facebook!

What's the refund policy?
We don't refund any tickets and/or donations. All funds go towared the functioning of the event, and are very appreciated.

Do I have to bring my printed ticket to the event?
Nope! You can print the ticket, or just show it to us on your mobile device, and that is just as good.
Date and Time
Location
California State University, East Bay
25800 Carlos Bee Boulevard
Hayward, CA 94542