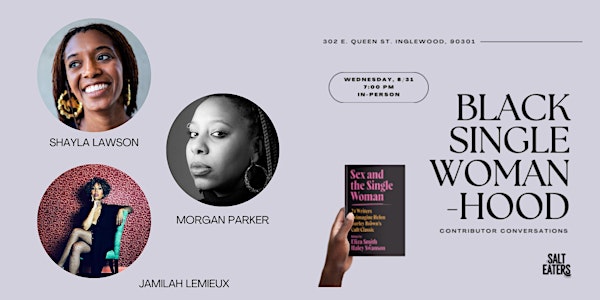 Black Single Womanhood: Contributor Conversation
Join us for a contributors conversation for SEX & THE SINGLE WOMAN, a feminist reimagining of Helen Gurley Brown's 1962 cult classic.
When and where
Location
The Salt Eaters Bookshop 302 East Queen Street Inglewood, CA 90301
About this event
Join us for an intimate conversation on Black single womanhood featuring contributors from the new anthology, SEX & THE SINGLE WOMAN, a feminist reimagining of Helen Gurley Brown's 1962 cult classic. We are thrilled to warmly welcome contributors Morgan Parker and Shalya Lawson and moderator Jamilah Lemieux to The Salt Eaters Bookshop Wednesday, August 31 at 7:00 pm. You can purchase SEX & THE SINGLE WOMAN online or in-store.
-
Shayla Lawson is that bitch. You can find more words at her regular column for Bustle magazineor in her 2020 essay collection This Is Major: Notes on Diana Ross, Dark Girls, and Being Dope (Harper Perennial, 2020).
Morgan Parker is a poet, essayist, and novelist. She is the author of the California Book Award–nominated young adult novel Who Put This Song On? and the poetry collections Other People's Comfort Keeps Me Up at Night, There Are More Beautiful Things Than Beyoncé, and Magical Negro, which won the 2019 National Book Critics Circle Award and California Book Award. Her debut book of nonfiction is forthcoming from One World. Parker's work has appeared in such publications as The Paris Review, The New York Times, The New York Review of Books, Time, Best American Poetry, and Playbill. She is the recipient of a National Endowment for the Arts Literature Fellowship, winner of a Pushcart Prize, a Cave Canem graduate fellow, and cofounder of the Other Black Girl Collective with Angel Nafis. Morgan lives in Los Angeles.
A renowned cultural critic and writer with a focus on issues of race, gender, and sexuality, Jamilah Lemieux is a leading millennial feminist thinker, influencer, and game-changing media maverick. Her written work has been featured via a host of print and digital platforms, including Vanity Fair, the Los Angeles Times, the Nation, Essence, Refinery 29, Playboy, Self, Wired, the Guardian, Colorlines, the Washington Post and the Columbia Journalism Review. She is also a weekly contributor to Slate's 'Care and Feeding' parenting column and co-host of the publication's Mom and Dad Are Fighting podcast. An important voice in the construction of the Black feminist blogosphere of the early twenty-first century, Lemieux formerly served as the Vice President of News and Men's Programming for iOne Digital and as the Senior Editor for EBONY magazine She penned the forward for the Verso anniversary edition of Michele Wallace's Black Macho and the Myth of the Superwoman and the 2017 re-release of Ann Petry's Miss Muriel and Other Stories. 
 A native of Chicago, Lemieux has provided news and cultural commentary for CNN, ABC, CBS, and MSNBC. She has been featured on Full Frontal with Samantha Bee, The Nightly Show with Larry Wilmore, The Daily Show with Trevor Noah and Desus and Mero, as well as Lifetime's critically acclaimed, Surviving R. Kelly and Surviving R. Kelly 2: The Reckoning. She is currently working on her first book, She Bad: Tales of Love, Hate and Baby Motherhood (Roc Lit 101/Penguin Random House.)