Black River Design Charrette with NPS/RTCA
2 day design charrette for the Black River Water Trail, South Carolina's newest state park! Spaces are limited.
About this event
Come be a part of this exciting project to help design the first state park in 20 years!
Join us for a two day design charrette for the Black River Water Trail, South Carolina's newest state park. Registration opens August 23, 2021. Spaces are limited and a waitlist will be available. Information about hotel accommodations for blocked rooms and reimbursement opportunities for SCASLA members will be emailed separately to registered participants.
When: October 22 - 23, 2021
Venue: Choppee Recreation Center, 8259 Choppee Rd, Georgetown, SC 29440
The ASLA South Carolina Chapter (SCASLA) was invited by the National Park Service to participate in a design charrette for the new Black River Water Trail. The goal of the charrette is to provide master plans for two parks located along the water trail. Participants in the charrette will work on designs for the Hinds Canada Tract (near Kingstree, SC) and the Rocky Point Community Forest (Georgetown, SC). These sites will be part of the new Black River Water Trail and the design programming will include a new state park visitor center, lodging, camping, kayak launches, trails, and boardwalks.
A regional master plan for the water trail is underway by Earth Design. The charrette for these two parcels will be included in the work presented for the regional plan.
The corridor is also being studied by a Clemson University third-year landscape architecture studio taught by Lara Browning. The students will be participating in the charrette alongside professional volunteers.
Charrette Agenda:
FRI: Meet at Choppee Recreation at Noon and break off for two site visits / information sessions (Hinds Canada - Kingstree meeting space; Rocky Point - Choppee Rec Center); reconvene at Choppee Rec Center for final presentation and evening social networking event
SAT: Both Charrette Teams meet at Choppee Rec. Center to continue charrette, snacks and lunch provided; finish charrette early evening on Saturday
Additional background project information:
- ASLA South Carolina website for the Black River Charrette
- Story map with more information about the project
- Video explaining the project
*Per SC DHEC and local guidelines, only attend if you are feeling well and urge those with any COVID-19 symptoms to please stay home. We highly recommend wearing masks indoors, and at all times by those not vaccinated.
Thank you to all these project partners and event sponsors:
National Parks Service - Rivers, Trails, and Conservation Assistance Program
ASLA South Carolina Chapter
SC Parks, Recreation, and Tourism
SC Department of Natural Resources
Winyah River Alliance
Georgetown County Parks
Williamsburg County
Town of Kingstree
Town of Andrews
Black River Cypress Preserve
Open Space Institute
The Nature Conservancy
Ducks Unlimited
Waccamaw COG,
Clemson University
American Rivers
College of Charleston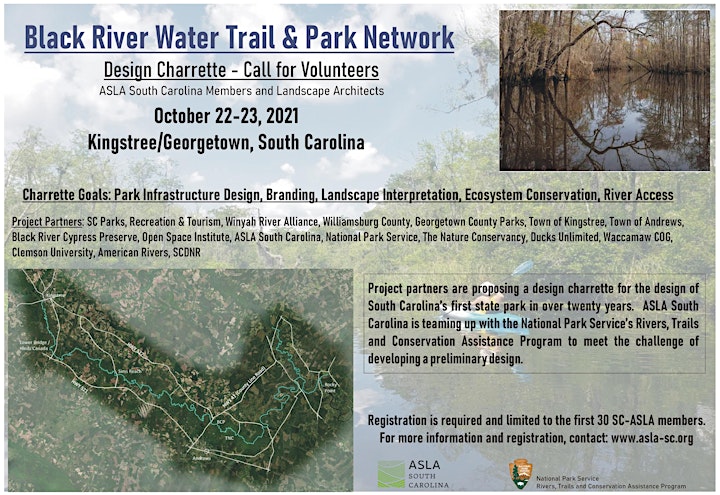 Organizer of Black River Design Charrette with NPS/RTCA