Description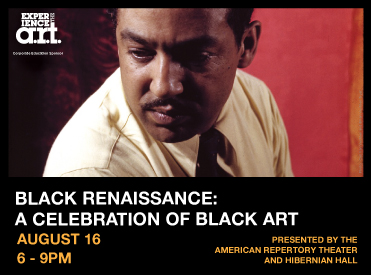 Black Renaissance: A Celebration of Black Art presented by the A.R.T. and Hibernian Hall.
In honor of influential Black voices and artistry that emerged from the Harlem Renaissance and beyond, Hibernian Hall and the A.R.T. community are joining to celebrate the arrival of "The Black Clown," a music theater experience that illuminates a Black man's resilience against oppression. Featuring Davóne Tines in the title role leading a chorus of twelve, and a new score by Michael Schachter, this production fuses vaudeville, opera, jazz, and spirituals to bring Langston Hughes' verse to life onstage.
"The Black Clown" will open conversations around the complexity of the black male identity, and the history of music, dance, literature and visual art in the black community.
Thursday, August 16 at 6 PM, join us for refreshments, special performances from Boston-based artists and a sneak peek of "The Black Clown." We will end the night in a discussion with "The Black Clown" company members and open the mic to the community for remarks on the importance of black art and culture.
This event is FREE and open to the public.
Agenda for the night:
6:00 PM Doors open with light refreshments
6:40 PM Performances by local artists Askia M. Toure (poetry & prose), Ashley Rose (poetry), Milkshaw Benedict (hip hop), Erica Telisnor (piano), Ant Thomas (hip hop)
7:30PM Performance and panel discussion with the cast of "The Black Clown," premiering at A.R.T. August 31-September 23
8:10 PM Community Open mic conversation, music, and mingling
9:00 PM End of Night
Organizer of BLACK RENAISSANCE: A Celebration of Black Art presented by the A.R.T. and Hibernian Hall
Hibernian Hall is a versatile facility with a grand ballroom and a separate meeting room.
It is an ideal venue for a wide range of civic and cultural events. Driven by our mission to offer arts and cultural programming, we make Hibernian Hall available as a flexible space for stage productions, artists' showcases, film screenings, and cultural celebrations. The ballroom is available for community presentations in music, dance, theater, film/video, and spoken-word performance art. The space accommodates audiences of up to 250 people.
The broader mission of Madison Park Development Corporation is supported through the use of the facility by other non-profit organizations. Hibernian Hall hosts fundraisers, community meetings, civic engagement forums, political events, award banquets, and business expositions.
In its third-floor setting, the historic ballroom has 3,600 square feet of useable space and retains its original architecture of high ceilings, hardwood flooring, and ten arched windows that offer a panoramic view of Boston's skyline. In addition to tables and chairs, amenities include a dressing room, adaptable staging and seating platforms, audio/visual equipment, Wi-Fi access, and window shades that can be opened and closed with the touch of a button.
You will find that Hibernian Hall is a true gem in the heart of Roxbury. An all-inclusive experience, any event at Hibernian Hall is indeed a choreography of arts, culture, community and economic development. Our value is unmatched.