Description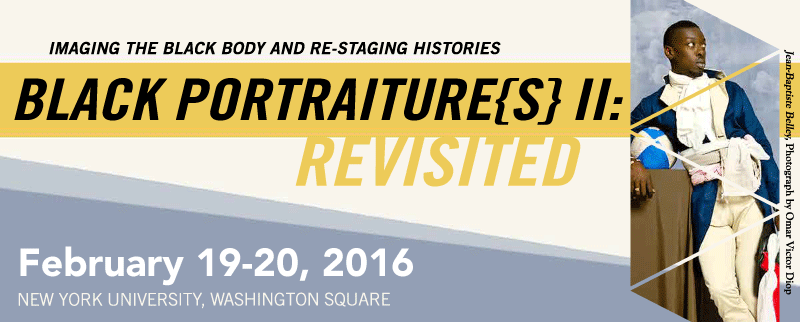 Join us for the Livestream starting at 9:00 AM, February 19th.
Continue the conversation online with #blackportraitures.
February 19 at Vanderbilt Hall - Tishman Auditorium
New York University School of Law
40 Washington Sq. South
February 20 at Vanderbilt Hall - Tishman Auditorium

New York University School of Law
40 Washington Sq. South
CLICK HERE FOR FULL CONFERENCE SCHEDULE
This two-day event reconstructs a selection of panels from the most recent conference in the series held at Villa La Pietra in Florence, Italy here at New York University's Washington Square campus.
"Black Portraiture[s] II: Imaging the Black Body and Re-staging Histories," explored the impulses, ideas, and techniques undergirding the production of self-representation and desire, and the exchange of the gaze from the 19th century to the present day in fashion, film, art, and the archives. Thus, the seventh conference will revisit that amazing experience that attracted over 800 attendees – an occasion that brought together artists and scholars from an assortment of disciplines and practices and offered comparative perspectives on the historical and contemporary role played by photography, art, film, literature, and music in referencing the image of the black body in the West.
Discussions will focus on aesthetics, style, history, and music in describing a sense of place and identity. The conference will also invite visitors to conduct a diverse visual reading of the notion of a black portrait while challenging conventional perspectives on identity, beauty, cosmopolitanism, and community in Africa and its diaspora. We hope you will join us in New York City!
There will be an abbreviated version of the exhibition ReSignifications, which interprets the "Blackamoor" trope in Western culture. The display will juxtapose selections of ornamental images in classical European art, with reinterpretations and counter-narratives of the black body from a spectrum of artistic angles. ReSignifications was exhibited with critical acclaim at Museo Bardini, Fondazione Biagiotti Progetto Arte, and Villa La Pietra in Florence, Italy.
Organized by NYU Tisch Office of the Dean, Allyson Green, in celebration of the 50th anniversary of the founding of the School of the Arts at NYU along with, Awam Amkpa (Tisch Drama, Social and Cultural Analysis; NYU), Ulrich Baer (Vice Provost for Arts, Humanities, and Diversity; NYU), Manthia Diawara (Institute of African American Affairs; NYU), Henry Louis Gates, Jr. (Hutchins Center for African and American Research; Harvard), Thelma Golden (Studio Museum in Harlem), Robert Holmes J.D. (NYU Alumni), Ellyn Toscano (Villa La Pietra; NYU) and Deborah Willis (Department of Photography & Imaging; NYU).
We hope that you will join us in New York City!
CLICK HERE FOR FULL CONFERENCE SCHEDULE