Description
-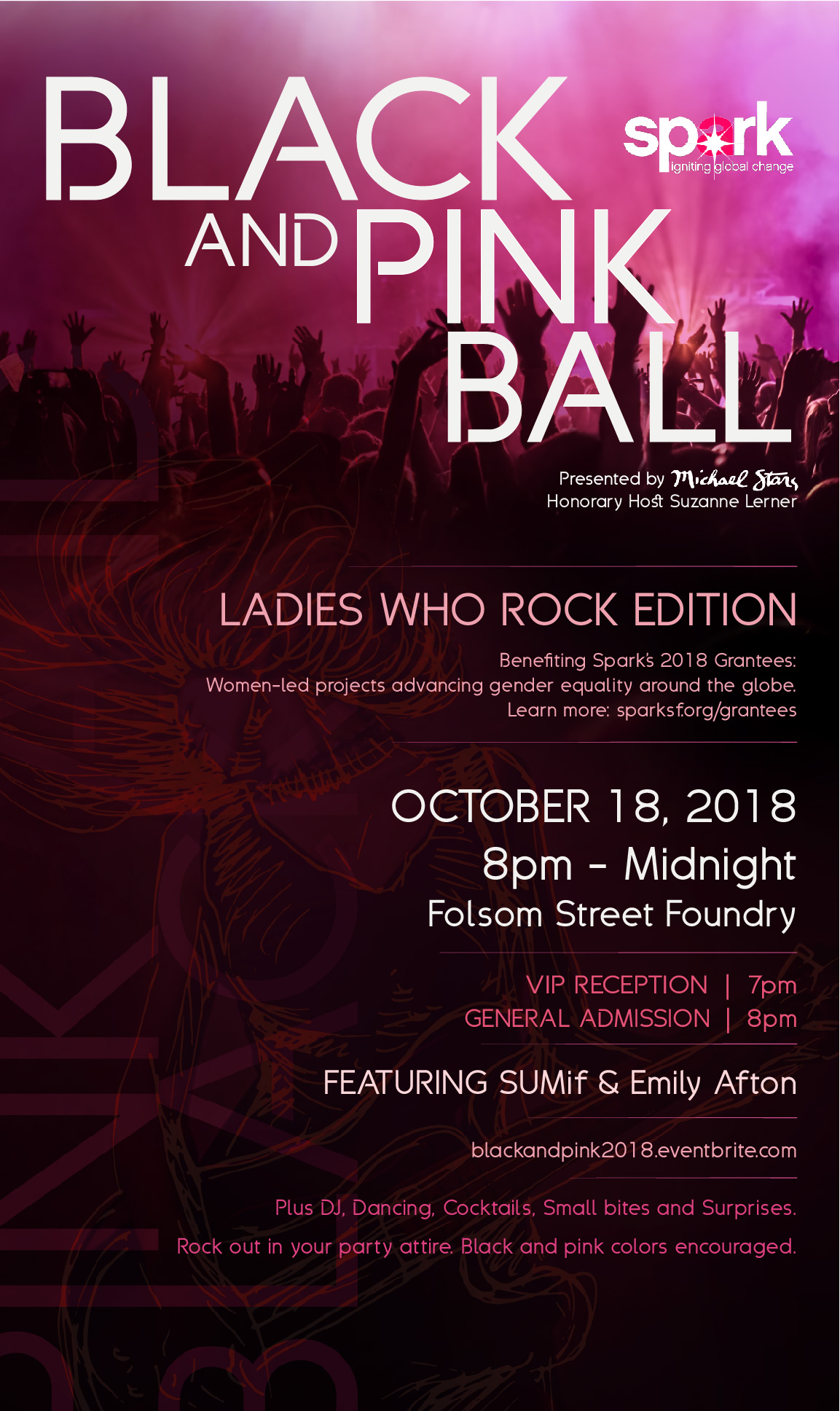 **General Admission Goes Up at Midnight Tuesday 10/16!**
Now more than ever before we need to support women. So, are you ready to ROCK?!

Join Spark on October 18th @ Folsom Street Foundry for the Black & Pink Ball: Ladies Who Rock Edition!
Proceeds support Spark's women-led projects serving 1,500 women & girls from Oakland and New York City to Armenia and Malaysia.
Black & Pink Ball Includes:
Concert featuring Bay Area rockers, SUMif & Emily Afton
- Open Bar!!
- DJ/Dancing
- Raffles
- Desserts
- Featured speakers (Michael Stars President, Suzanne Lerner & Spark Grantee, Frailty Myths)
_____
ATTIRE: Black & Pink Party Time Attire
Examples because you asked: Cocktail dresses, leather pants, nice jeans, button down shirts, pink ties, pink socks, jumpsuits, and whatever else you feel ready to rock in while looking good!
_____
TICKETS OPTIONS:
- General Admission includes Includes Open Bar (beer & wine), Concert, DJ, & small bites.

- Spark Joiner (Membership & GA Ticket) LIMITED SUPPLY! Learn more: sparksf.org/member-benefits

- [SOLD OUT] Backstage VIP Pass: Full open bar, dance floor lounge, private bar, private balcony overlooking concert. Early admission to Ball @ 7pm, champagne chat w/ Honorary Host at 7:30pm,

(Members get 15% off GA and VIP. If you are a member and have not received the code, email us!)

_____
HELP US SUPPORT WOMEN & GIRLS!

Proceeds support business training for refugee women from Myanmar, experiential workshops for marginalized communities in Oakland, feminist activism through street art in Southeast Asia, economic justice for survivors of domestic violence in Berkeley, Syrian women seeking asylum in Armenia, and more: sparksf.org/grantees.
_____
MORE ABOUT SUMif & EMILY AFTON:
SUMif's energetic live performance has been praised by key local press such as The Bay Bridged and SF Critic. By the end of 2017 SUMif had started making waves among key tastemakers with praise from NYLON, C-Heads, Go Magazine, Buzzfeed, Atwood Magazine, Damaged Magazine, High Clouds, and Indie Shuffle, and was added to Spotify's Metropolis playlist.
Emily's debut album, Archetype, has been called an indie-pop explosion from "an artist who is clearly on an ascent" (Pure Volume). The episodic debut LP, co-produced by David Earl and Lila Rose reveals a new edge and depth to the once sweet singer-songwriter's music. After touring most of 2017, Emily has returned to the Bay Area to record and release her next album. NEW VIDEOS
_____
PHOTOS FROM PAST SPARK EVENTS
2017 BALL, 2016 BASH, 2015 BALL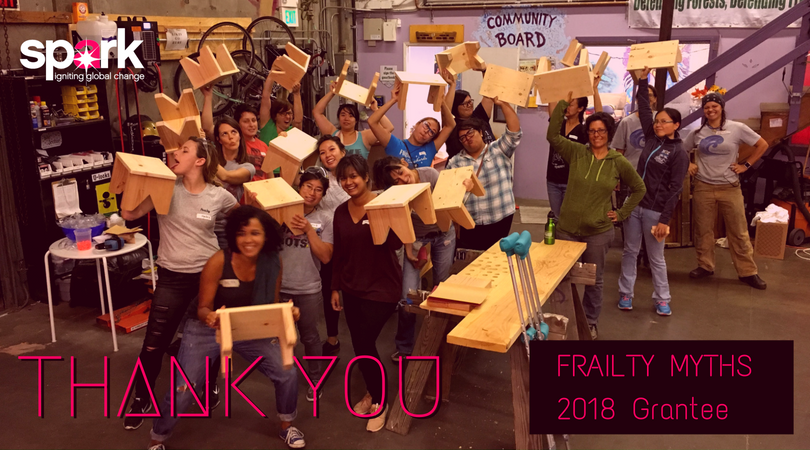 THANK YOU TO OUR BALL AMBASSADORS
Abigail Adu-Daako, Adam Swig, Amrita Sankar, Amy Hamblin, Anna Mimran, Blake Premer, Cara Hanelin, Carlo DaVia, Carolin Bachmann, Crystal Huber, Cynthia Beodihardjo, Dawn Powell, Joe Vasquez, Jonathan Neudorf, Julie Hall, Karen Datangel, Karolina Athanasopoulou, Kendra Hyett, Kirsty Burow, Krista Perez, Maria KisKis, Marina Rayman, Nick Spagnola, Prince Boucher, Raphael Tshitoko, Sarah Selim, Shreenath Regunathan, Steph Campos, Solomé Tibebu, Tiffany Yu, Urmi Chattopadhyay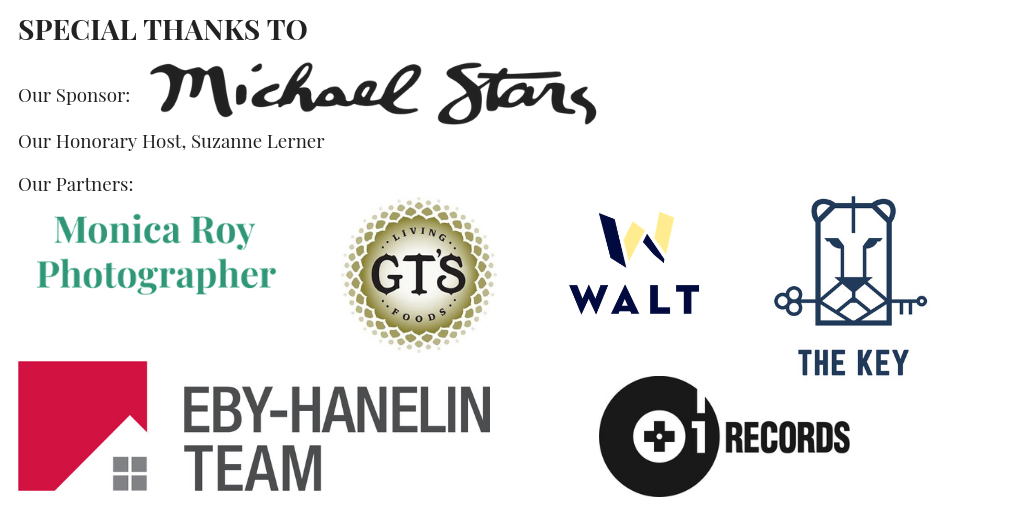 -----
FAQs
1. Do I get a discount if I am a current Spark Member?
Yes! Please insert the code we sent you by email in "Enter Promotional Code" section to get 15% off of tickets. If you cannot find your code, please contact us: meghan@sparksf.org.
2. How do I get a member discount?
Become a Spark Member - 15% off! Select the Joiner Ticket (limited Joiner tickets available) or Become a Member and support gender equality through our website. Once you become a member, we will send you an email with the Member discount code.
3. How do I become a corporate partner?
Download our Partnership Deck or direct partnership inquiries to programs@sparksf.org.
4. What do I wear?
Party attire to rock out in. Black and pink colors encouraged.
5. Is my ticket tax-deductible?
Spark is a registered 501(c)(3) nonprofit organization. The Fair Market Value of each ticket $25 for each GA ticket and $35 for each VIP. The amount of the ticket price less the Fair Market Value is tax deductible. Donations are greatly appreciated and highly encouraged but are separate from ticket purchases. Raffle ticket purchases are not tax deductible. Only a ticket purchase grants the ticket holder entrance to the event. Separate donations alone cannot qualify for entrance.
6. Are there ID requirements or an age limit to enter the event?
Please bring ID. The event is 21+.
7. Do I have to bring my printed ticket to the event?
No - your name will be on the list. Please bring your government-issued ID to present at the door. Guests must be 21+ to attend.
8. What do proceeds from the event support?
All proceeds from The Black & Pink Ball will benefit support women-led projects advancing gender equality around the globe plus Spark's programming to educate young people about issues affecting women and girls. Here are just a few examples. Learn more about our grantees: sparksf.org/grantees
Economic freedom for Burmese refugee women and their families through a fairtrade cooperative run by and for themselves (Tanma Federation, Malaysia)

Hands-on skills training in traditionally male dominated activities to empower women, trans, and gender non-conforming people in marginalized communities (Frailty Myths, Oakland, CA)

"Artivism" to create people-led narratives by underrepresented communities with the images and stories they choose (Fearless Collective, Southeast Asia)

Legal support for survivors of domestic violence suing their batterers. 8 represented so far with another 75+ receiving free legal advice (Alipato Project, Berkeley, CA)

Hundreds of women refugees seeking asylum in Armenia supported in their transition into their new home (Human Rights Common Platform, Armenia)