Description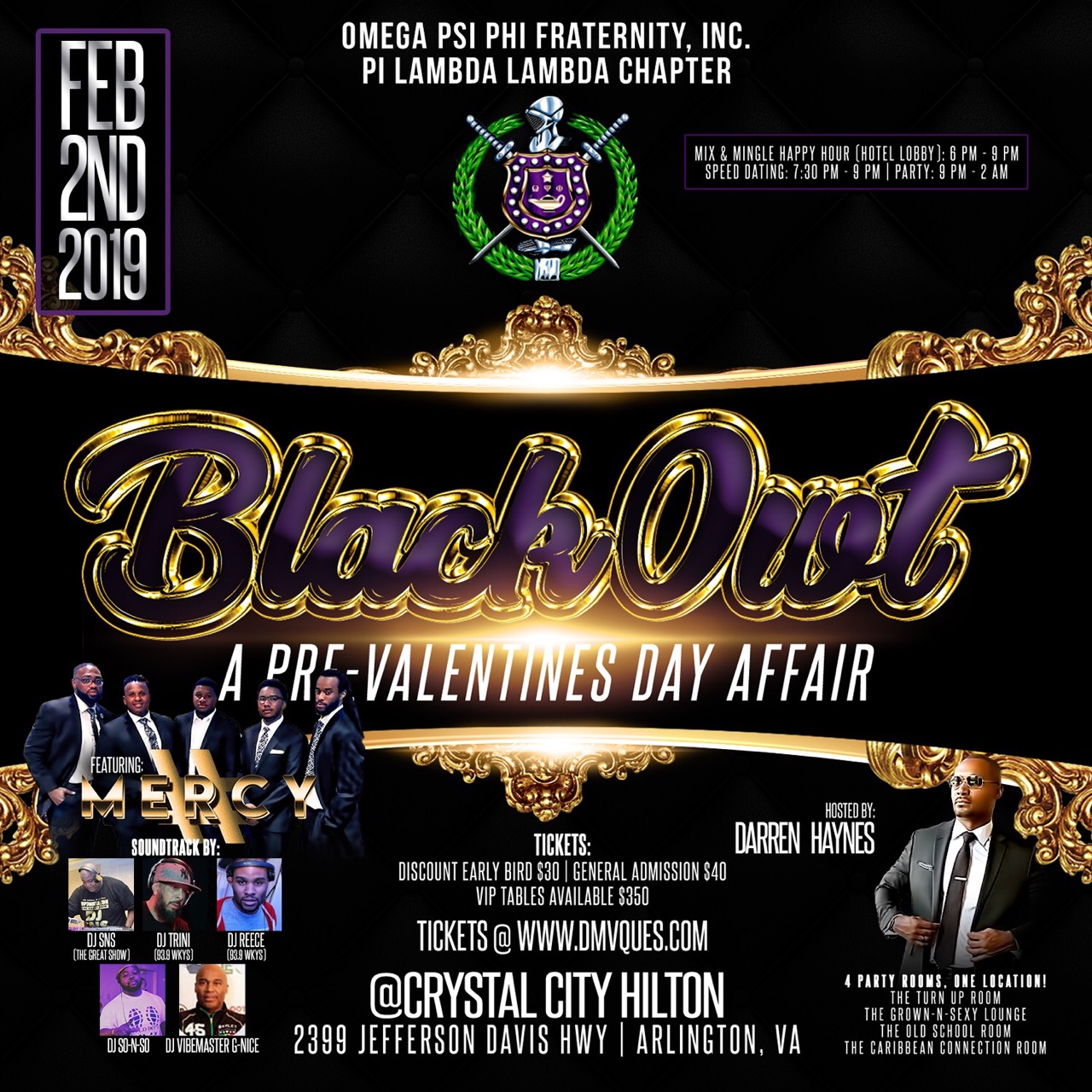 THE BLACK OWT AFFAIR (2019)
PRESENTED BY THE DMV QUES OF
PLL CHAPTER, OMEGA PSI PHI FRATERNITY, INC.
SATURDAY FEBRUARY 2, 2019
PRE EVENT HAPPY HOUR (HOTEL LOBBY BAR): 6:00PM – 9:00PM
SPEED DATING (2ND FLOOR): 7:30PM – 9:00PM
PARTY (MAIN BALLROOMS): 9:00PM – 2:00AM
DRESS CODE STRICTLY ENFORCED! ALL BLACK ATTIRE REQUIRED (ACCENTS ACCEPTED) ABSOLUTELY NO ATHLETIC WEAR, JEANS, BOOTS OR T-SHIRTS
EARLY BIRD DISCOUNT TICKETS $30
DISCOUNT PRICES END @ MIDNIGHT (FEBRUARY 1, 2019)
DAY OF EVENT TICKETS $35 (FEBRUARY 2, 2019)
DOOR TICKETS $40 (FEBRUARY 2, 2019)
VIP TABLES $350 (SOLD OUT)

VIP SEATING INFORMATION: THERE WILL BE VIP SEATING FOR EACH OF THE TWO MAJOR BALLROOMS. VIP SERVICES INCLUDE THE FOLLOWING: (1) ENTRY & PLUSH SEATING FOR 5 PATRONS, (2) ONE BOTTLE OF MOET & CHANDON NECTAR IMPERIAL ROSE CHAMPAGNE, (3) ONE FREE APPETIZER FOR GROUP, (4) COMFORTABLE VISIBILITY OF THE PARTY AND STAGE (BALLROOM SPECIFIC) IN A ROPED OFF SECTION, AND (5) HOTEL STAFF SERVICE.
VIP SEATING SECTION COST IS $350. THERE WILL BE ONE SECTION FOR GROUPS OF 4-5 IN EACH BALLROOM. THE FIRST BALLROOM WILL FEATURE DJ SNS & DJ TRINI. THE SECOND BALLROOM WILL FEATURE THE MERCY BAND AND DJ SO-N-SO.
2399 JEFFERSON DAVIS HIGHWAY
FOUR PARTIES IN ONE LOCATION:
ROOM 1 (THE TURN UP ROOM) ~ SPINNING CLASSIC R&B, HIP-HOP, & REGGAE 90S CLASSICS AND TOP 40 URBAN RADIO HITS, THE LEGENDARY CIROC BOY - DJ SNS (THE GREAT SHOW) AND DMV RADIO LEGEND - DJ TRINI (93.9 WKYS)
ROOM 2 (THE GROWN N SEXY ROOM) ~ THE MERCY BAND PERFORMING CLASSIC R&B AND NEO SOUL HITS & DJ REECE 93.9 WKYS

ROOM 3 (THE OLD SCHOOL ROOM) ~ SPINNING OLD SCHOOL, R&B CLASSIC HITS & FUNK ALL NIGHT LONG - DJ SO-N-SO

ROOM 4 (THE CARIBBEAN CONNECTION ROOM) ~ SPINNING CLASSIC REGGAE, DANCEHALL, & SOCA HITS ALL NIGHT LONG - DJ G-NICE
COME DRESSED TO IMPRESS IN ALL-BLACK GROWN & SEXY ATTIRE TO PARTICIPATE IN THE BEST DRESSED COMPETITION. SPECIAL THANKS TO OUR LEAD SPONSOR, BE SPOKE NOT BROKE!
CONTACT BROTHER ERIK NOEL @ PLLOMEGA1911@GMAIL.COM FOR VENDOR REGISTRATION INQUIRIES
MULTIPLE DJ'S & PARTY ROOMS
FOR QUESTIONS, CONTACT BROTHER ERIK NOEL 571.402.2760 OR PLLOMEGA1911@GMAIL.COM
SPONSORS
BESPOKE NOT BROKE
PHENYX ROSE
MS LONDON CROSS
ART OF NOIZE ART GALLERY
DJ TRINI 93.9 WKYS
DJ REECE 93.9 WKYS
GOLD BOOT ENTERTAINMENT
THIS DATE IS OVER
STELLAR LIFE PHOTOGRAPHY
STREETZ MEDIA
KIDMIX PHOTOGRAPHY
ENERGY PHOTOS
THANK YOU!
~DMV QUES OF PLL