Sales Have Ended
Ticket sales have ended
Check out our previous Meeting of the Minds event: https://www.youtube.com/watch?v=OLVnfbCrsyY&t= Catalyst Network Foundation Inc. (CNF) is a 501(c)(3), the cost of admission for this event is tax-deductible.
Sales Have Ended
Ticket sales have ended
Check out our previous Meeting of the Minds event: https://www.youtube.com/watch?v=OLVnfbCrsyY&t= Catalyst Network Foundation Inc. (CNF) is a 501(c)(3), the cost of admission for this event is tax-deductible.
A panel discussion about Black people being Investors and Business Owners, not solely Consumers in the Cannabis industry
About this Event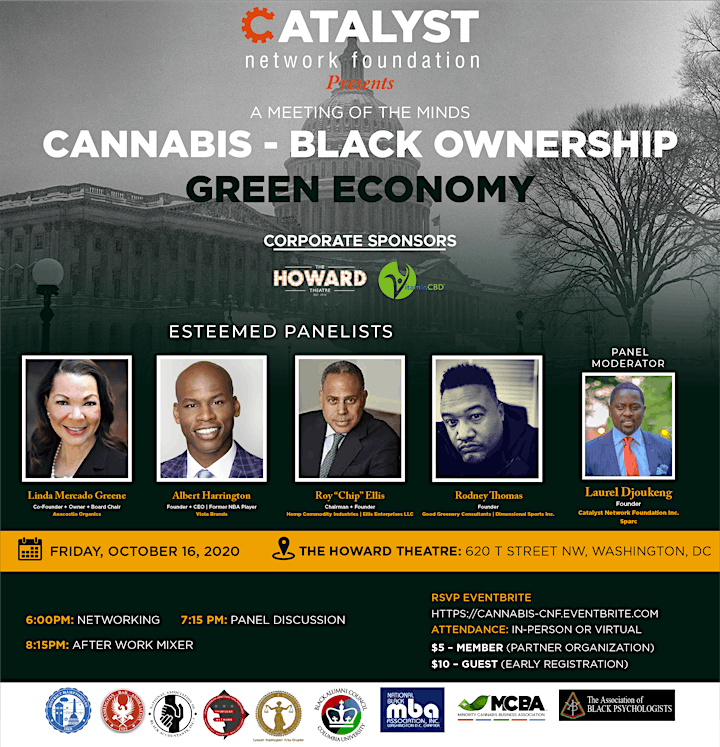 *You can attend In-Person or Virtually; once you register a zoom link with a password will be emailed to you leading up to the event so that you have the option to participate virtually.
Topics
Collective Economics
The industry
Entrepreneurship (bootstrapping, fundraising, execution, and implementation)
Leveraging Politics and Sports (pushing policies that will benefit Blacks and leveraging Athletes and Entertainers)
Panelists
Al Harrington
Founder + CEO | Former NBA Player
Viola Brands
As Founder of premium cannabis company Viola Inc., Al Harrington is the mastermind behind the brand named after and inspired by his grandmother, Viola Harrington. After seeing how cannabis helped Viola who was a sufferer of various ailments including glaucoma and diabetes, Al worked with a team of industry leaders to create a cannabis brand that is founded in purpose.
Harrington wants to make 100 Black individuals millionaires through the cannabis business.
Al, who was drafted by the Indiana Pacers straight out of high school in 1998, invested $5 million in a cannabis company with his cousin in 2011. Initially, he did it in his cousin's name to hide it from the NBA.
In October of 2019 Al Harrington raised $16 million funding on a $100 million valuation the round led by Gotham Green Partners. The investment firm, known for its financial support of some of the most reputable cannabis companies in the industry, is the first institutional investment in the company.
Viola raised $15 million prior to 2019, which enabled the company to grow its product offerings and footprint within the cannabis industry. The company is currently operating in California, Colorado, Oregon and Michigan, with plans to expand into Maryland, Nevada and Arizona.
Overseeing Viola's carefully curated cultivation, extraction, and production processes, Al has brought the most premium cannabis products to market. In 2018, Al launched Harrington Wellness, a company that manufactures non-psychoactive cannabinoid products, as well as a third company Butter Baby, that makes cannabis edibles. All three companies are under the Harrington Group umbrella.
While in and after the NBA, Al Harrington has been a strategic investor in startups across the cannabis market. Prior to his entrepreneurship, Al Harrington was a professional basketball player for 16 seasons playing in the NBA. He played for the Indiana Pacers, Atlanta Hawks, Golden State Warriors, New York Knicks, Denver Nuggets, Orlando Magic, and Washington Wizards. He briefly played with the Fujian Sturgeons of the Chinese Basketball Association. Al was first drafted at the age of 18, making him one of the youngest NBA players in history.
Al Harrington is currently an active member of the Minority Cannabis Business Association (MCBA), the Cannabis Trade Federation, and Tidal Royalty's Advisory Board.
CNBC article:
https://www.cnbc.com/2020/06/13/al-harrington-wants-to-make-100-black-people-millionaires-with-cannabis.html
Video Interview: https://www.youtube.com/watch?v=9sVsR2DsFKs&t=
Rodney Thomas
Founder
Viola Maryland Inc. | Good Greenery Consultants | Dimensional Sports Inc.
Rodney is the Co-owner of Viola Maryland Inc., his company was recently granted the Medical Cannabis Cultivation license by the Maryland Medical Cannabis Commission.
Al Harrington is also a Co-Owner of Viola Maryland Inc.
He was a Sports Agent and Founder of Dimensional Sports Inc, that represented notable athletes; New York Giants WR Victor Cruz, St. Louis Rams CB Janoris Jenkins, and Arizona Cardinals RB Ryan Williams, and Buffalo Bills QB E.J. Manuel.
Rodney was a running back at Harvard University where he received his bachelor's degree majoring in Economics. He later went to work on Wall Street as an Equity Trader. He obtained his Masters from Georgetown University.
Linda Mercado Greene
Founder + Owner + Board Chair
Anacostia Organics
Linda Mercado Greene is the Co-Founder, Board Chair, and CEO/Owner of Anacostia Organics, a minority woman-owned medical cannabis dispensary in the District of Columbia and the first to open in DC to serve the most undercapitalized demographic population in the city. She has gained national status in this new industry as Chair of the DC Medical Cannabis Trade Association. Linda is on the Executive Team as Strategic Advisor of the Cannabis Trade Federation (CTF), and the Chair of the CTF Diversity, Equity, and Inclusion Task Force comprised of the top civil rights leaders and advocates in the US. CTF is one of the largest cannabis national coalitions of industry related businesses.
She is the Host of a daily podcast, "Cannabis Conversations Podcast with Linda Mercado Greene", on DCRadio.gov, 96.3HD4, and SoundCloud, which is the only DC government funded cannabis broadcasting.
Linda is also the Founder and CEO of The Linda Greene Group, a nationally and internationally renowned full-service public relations company located in Washington, DC established in 1989. Linda's diverse career spans from serving as a political advisor, strategist, and fundraising consultant to many members of the United States Congress, to planning national events, to representing and providing consultation to African Heads of State, including the late President Nelson Mandela, His Majesty Otumfou Osei Tutu II (Asanthane) and other delegations, the African Ambassadors Spouses Association, to being a senior executive of an institutional investment firm, to representing many acclaimed entertainment and sports figures. She has orchestrated many political victories in her home base of Washington, DC, planned and managed Mayoral Inaugural events, and proudly served as Chief of Staff to The Honorable Marion Barry.
Linda proudly served as the National Director of Fundraising for the Million Man March in 1995.
Linda attended Virginia Union University and Christopher Newport University. Amongst her many honors are MEA Magazines "50 Women of Influence and Power", a DC Council Recognition Resolution, Who's Who In Black Washington, and one of the top 100 people to watch by Hemp Connoisseur Magazine.
Roy "Chip" Ellis
Chairman + Founder
Hemp Commodity Industries | Ellis Enterprises LLC
Roy "Chip" Ellis is Chairman of Hemp Commodity Industries, LLC. Mr. Ellis is the Co-founder Ellis Development Group, Head of Business Development for VitaminCBD, and founder of Ellis Enterprises LLC, a real estate development services company.
Ellis Enterprises, LLC, has worked in the Washington, DC. market on various commercial and residential real estate development projects including mixed use developments and historic restorations. As a result of these efforts both companies, has created approximately one million square feet of residential and commercial space with an asset value over $400,000,000.
Mr. Ellis is a firm believer that hemp is one of the most exciting lifestyle products in the marketplace today. Industrial hemp and CBD offer compelling solutions and products throughout the consumer service industry including: nutritional, medicinal, environmental and industrial. Mr. Ellis is committed to being part of the new economic revolution of industrial hemp which will greatly surpass all revenue and market projections of the recreational and medicinal cannabis sister plant widely known as marijuana.
Mr. Ellis is a graduate of Howard University.
Panel Moderator – Laurel Djoukeng: Founder of Sparc + Catalyst Network Foundation Inc.
Partner Organizations:
National Black MBA Association, Inc., Washington, D.C. Chapter
NABA Metro DC
Washington, DC Chapter- National Hampton Alumni Association
Thursday Network – GWUL Young Professionals
Black Alumni Council of Columbia University (BAC)
Minority Cannabis Business Association
GWAC
Washington Bar Association
The Association of Black Psychologists