'Tis the season to enjoy the "Holiday spirit" with Nia Performing Arts Inc. and the cast of Black Nativity. Good News, "We Made It!"
About this event
After a two-year absence due to the Covid- pandemic, Nia Performing Arts proudly announces the return of Black Nativity. In light of all that has transpired due to the pandemic, there is Good News, "We Made It!"
Come and enjoy the Timeless Langston Hughes Classic about the Birth of Jesus set in Africa and present-day church. The central message of the Christmas narrative is the coming of Jesus, the Messiah to the earth. Under the new direction of Rebecca Hairston our audience will experience an energetic presentation by a cast of actors, dancers, singers, and musicians that is spectacularly fresh and vibrant.
The production will be presented on Saturday, December 18th at 2:30pm and 7:00 pm at the historic Matesich Theatre on the campus of Ohio Dominican University, located at 1216 Sunbury Road, Columbus OH 43219.
Additionally, this year Nia Performing Arts is bringing back it's Holiday Market Place and Santa Land and will be open to the public for shopping and visiting Santa Land. Our local Entrepreneurs vendors have affordable items specifically for holiday shopping.
We are excited to be back and thank you for your continued support!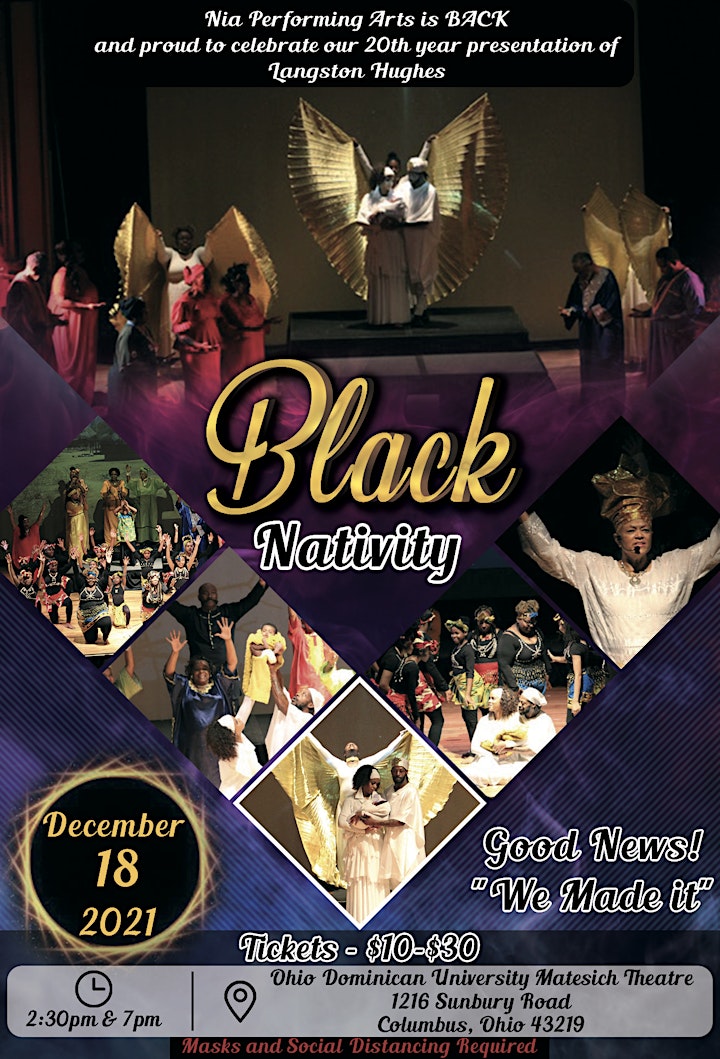 Organizer of Black Nativity - Theme: Good News, "We Made It!"