'Tis the season to enjoy the "Holiday spirit" with Nia Performing Arts Inc. and the cast of Black Nativity. Good News, "We Made It!"
About this event
After a two-year absence due to the Covid-19 Pandemic, Nia Performing Arts proudly announces the return of Langston Hughes Black Nativity. In light of all that has transpired due to the pandemic, the theme of this year's production is Good News: We Made It!
This year's director is Rebecca Hairston who is the niece of the former director Ronald "Ronnie" Hairston. Ronnie now serves as the Artistic Director of Nia Performing Arts. Rebecca has been in several past productions of Black Nativity. Along with her past affiliation with Nia Performing Arts, she brings her experience as a producer, director and writer of "When the Bell Rings" which focuses on the problem of bullying. She is using new technologies, new music/songs, new chorography and ultimately a new vision to make this year's presentation spectacularly fresh and vibrant. Assisting her are other energetic young people; Johnny Sorrells, Rodney Riley, Christopher Grays and Artistic Director, Ronnie Hairston. Black Nativity 2021: "Good News: We Made It"! The production will be presented on Saturday, December 18 at 2:30pm and at 7:00pm at the historic Matesich Theatre on the campus of Ohio Dominican University located at 1216 Sunbury Road, Columbus OH 43219.
This year Nia Performing Arts is bringing back it's Holiday Market Place and Santa Land. Pre-holiday shopping will be open to the public at 11am. Come ready to experience and purchase items from our local entrepreneurs. They offer unique and affordable items for that special person in your life.
Tickets are on sell online via Eventbrite (VIP $30; General Seating $20; Senior Citizens 65 years and up & Students 12-18 years of age $15; and Youth 11 and under $10. For V.I.P. purchasers' doors open at 1:30pm and 6:00pm.
We are excited and looking forward to seeing you at one of our performances.
ATTENTION: Due to the mandate of CDC, Ohio Dominican University and Nia Performing Arts a Mask is a requirement and not optional. For questions feel free to contact Linda at (614) 270-1173 and or Janette at 614-595-5421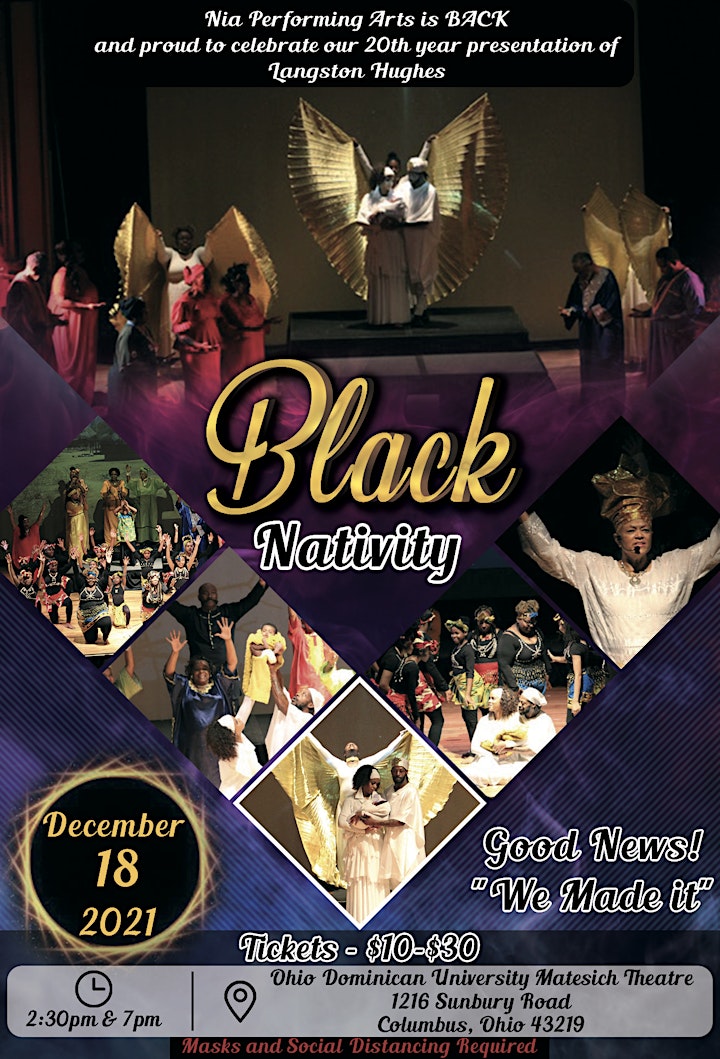 Organizer of Black Nativity - Theme: Good News, "We Made It!"