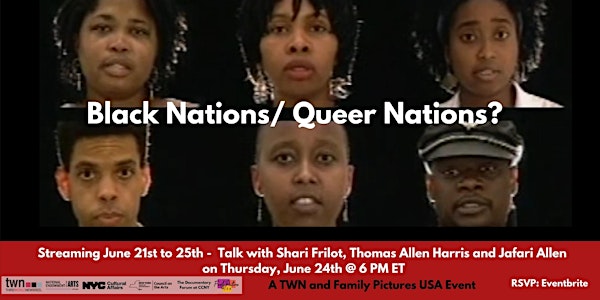 Black Nations/Queer Nations? Film & Talk with Shari Frilot and More
Watch the groundbreaking BLACK NATIONS/QUEER NATIONS? and hear filmmaker Shari Frilot, Thomas Allen Harris and Jafari Allen in conversation.
About this event
Join us Thursday, June 24, 2021 as Third World Newsreel and Family Pictures USA present a special Black Pride event - and continue the joy and celebration of Juneteenth!
Filmmakers Shari Frilot and Thomas Allen Harris and author Jafari Allen will talk about the historic 1995 film and conference Black Nations/Queer Nations? and its meaning for today. This film was edited by the late, great Lewis Erskine.
Black Nations/Queer Nations? is an experimental documentary chronicling the March 1995 groundbreaking conference that brought together an array of dynamic scholars, activists, and cultural workers including Essex Hemphill, Kobena Mercer, Barbara Smith, Urvashi Vaid, and Jacqui Alexander to interrogate the economic, political, and social situations of diasporic lesbians, gay men, bisexual, and transgender peoples.
The video brings together the highlights of the conference and draws connections between popular culture and black gay media production of the time. The participants discuss various topics: Black and Queer identity, the shortcomings of Black nationalism, and homophobia in Black communities. Drawing upon works such as Isaac Julien's "The Attendant" and Jocelyn Taylor's "Bodily Functions," this documentary illuminates the importance of this historic conference for Black LGBTQIA+SGL people.
The film will stream from June 21-25 and on Thursday, June 24 at 6 PM ET, filmmaker Shari Frilot will be in conversation with maker Thomas Allen Harris and author Jafari Allen, along with other guests to discuss that conference and time, and its connection to the present. This program is cosponsored by the Documentary Forum at CCNY.
With your RSVP, you will get a link to the film and to the Zoom talk on June 24 at 6 PM ET.
Shari Frilot is a senior programmer for Sundance Film Festival and the chief curator of the New Frontier program. In New Frontier, she has created an experience where film, art, and multimedia technology coincide to hatch new ways to tell stories. Her career in cinema began in the 1990s with her indie documentary Black Nations/Queer Nations? She served as director of the MIX festival in New York, co-founded MIX Brazil and MIX Mexico, and was the co-director of programming for Outfest before aligning with Sundance. A filmmaker, curator and festival programmer for events including MIX International Festivals and LA's Outfest, Shari also has been a pioneer in the development of immersive cinematic environments, and the creative force behind New Frontier since its inception.
Thomas Allen Harris uses film, video, photography, and performance to explore family and identity in a participatory model of filmmaking that he has been pioneering since 1990. Harris's television series Family Pictures USA, which was broadcast on PBS in August 2019, explores America through the lens of the family photo album and continues now, digitally. The series grew out of Harris' decade long socially engaged art project Digital Diaspora Family Reunion. Harris has received numerous awards including Guggenheim, Rockefeller and United States Artist Fellowships as well as an NAACP Image Award, an African Oscar and Emmy nominations. A member of Academy of Motion Picture Arts and Sciences, Harris is a Senior Lecturer at Yale University where he teaches courses around family narratives and community storytelling. Read his latest interview here: https://yalemaquette.com/WIWO-Thomas-Allen-Harris-Issue-2
Dr. Jafari Sinclaire Allen is the Director of Global Black Studies, and Associate Professor of Anthropology at the University of Miami. He is the author of ¡Venceremos?: The Erotics of Black Self-Making in Cuba; and editor of Black/Queer/Diaspora. His new book, There's a disco ball between us: a theory of Black gay life will be published by Duke University Press this fall. Visit his website for more information.