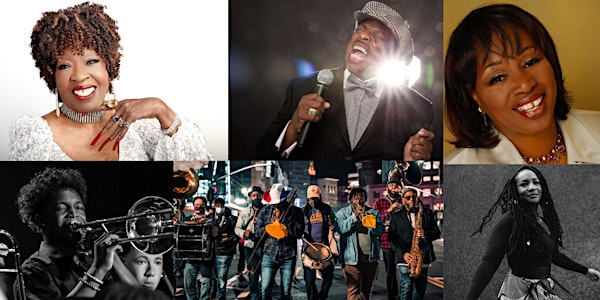 Black Music Month Festival
A multigenerational festival celebrating Black Music Month with Oakland's finest Black artists in jazz, blues, country, gospel, and beyond
Date and time
Saturday, June 4, 2022 · 2 - 6pm PDT
Location
Geoffreys Inner Circle 410 14th Street Oakland, CA 94612
About this event
Black Music Month Festival
Saturday June 4, 2022, 2-6pm
Geoffrey's Inner Circle
410 14th St Oakland, CA
Featuring:
Legendary Vocalist The Dynamic Miss Faye Carol
Anointed Gospel Artist Robin Hodge-Williams
County Singer-Songwriter Miko Marks
Powerhouse Bluesman Alabama Mike
New Orleans Brass Band MJ's Brass Boppers
Rising Star Trombonist Kazeem Elebute
Hosted by Emcee & Activist Rico Pabon
Soul Food Plates + Full Bar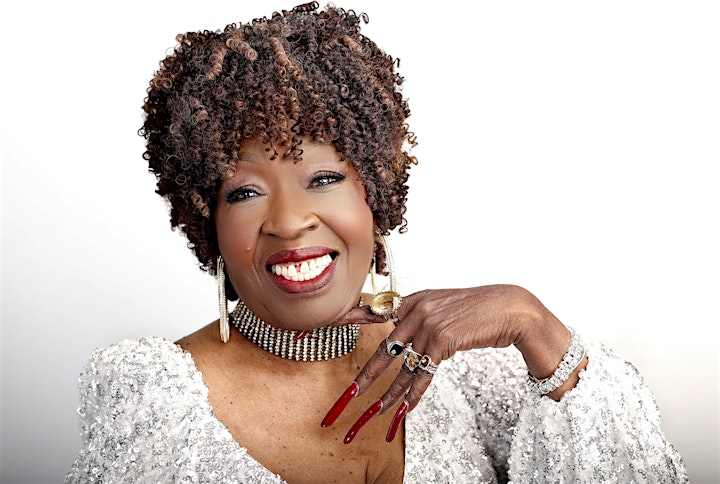 The Dynamic Miss Faye Carol is known as an icon in the Bay Area and beyond, highly regarded for her powerful voice, astonishing versatility, and gift of connecting with her audience. Equally at home in jazz, blues, R&B, gospel, funk, latin, and hip-hop, she has developed her own authentic sound and unique delivery, delighting audiences young and old across the globe. After beginning her career with gospel music, Faye Carol made her name singing with Oakland blues and funk legend Johnny Talbot & De Thangs before forming her own trio and gaining fame in San Francisco's jazz, blues, and cabaret clubs of the 1970s and 80s. Over a 60-year career in music, this living legend has developed her own unique acoustic sound and style in Black Music - drawing from funk, blues, gospel, and straight ahead swingin' - and cultivated an audience that remains as diverse as her uplifting music. She has maintained a high level of musicianship in her groups, mentoring some of the Bay Area's brightest young talent including pianist Benny Green, bassist/composer Marcus Shelby, saxophonist/composer Howard Wiley, and her daughter, pianist/compser Kito Kamili. Her vocal proteges include international superstars Kehlani and Ledisi.
Miss Faye has shared the stage with Marvin Gaye, Ray Charles, Pharaoh Sanders, Joan Baez, Billy Higgins, Albert King, Bobby Hutcherson, Sister Rosetta Tharpe, Buster Williams, Azar Lawrence, Steve Turre, Dennis Chambers, Bernard Purdie, Lenny White, Robert Randolph, Mistah F.A.B., Henry Butler, Gary Bartz, Cedar Walton, Ledisi, Philly Joe Jones, Dorothy Donegan, Pete Escovedo, David Murray, Chester Thompson, Charles Brown, and Eddie 'Cleanhead' Vinson, among others. Miss Faye is also a dedicated educator and founder of School of the Getdown. She has been honored with the proclamation of a city-wide "Faye Carol Day" in the City of Berkeley and inducted into the Oakland Walk of Fame, the Meridian Mississippi Walk of Fame, and the Pittsburg Entertainment and Arts Hall of Fame, and has received countless awards including the 2014 Bay Area Jazz Journalists Association Jazz Hero Award, Jefferson Award for Public Service, four Cabaret Gold Awards, Top Star Awards Entertainer of the Year, and a prestigious 2021 Hewlett 50 Arts Commission.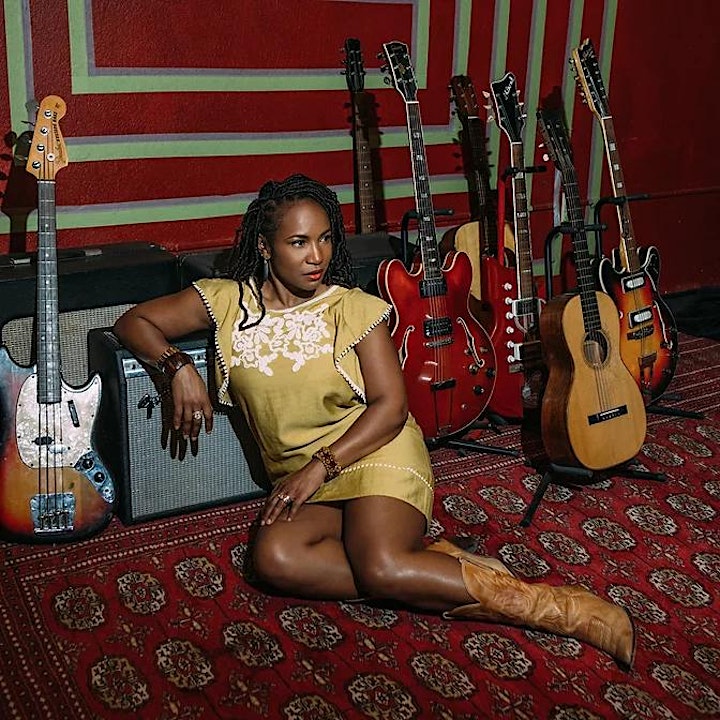 Miko Marks refuses to take a break. Her highly anticipated single "Feel Like Going Home" (March 25, 2022) will be released almost exactly one year after Our Country was released and approximately six months following the Race Records EP. The track is one she has been performing live and feels a deep connection to. "Whenever we perform it, certain lines just resonate deep in my spirit as I sing them. "Rest for the wanderer who never more shall roam." I'm the wanderer, and now I feel like I don't have to roam anymore. "Years that I have wasted feel just like a dream" and "Now the time is coming to reap what I have sown." Those lines just feel like where I really am. I've come back to my true self after trying to figure out who and how to be in the world and in the music industry. Where I am right now, just feels right" Marks says of the song.
While Miko Marks is no newcomer, Our Country (via Redtone Records), was her first album in 13 years, so her name may be fresh to the uninformed. In 2003, Marks made her way to Music City - Nashville, TN - playing CMA fest year after year and fully immersing herself in the country music community. While marks received well-deserved accolades - "Nashville's hottest new country star" by People Magazine and "Best New Country Artist" by New Music Weekly - her efforts to be fully embraced by the industry in return proved to be elusive. While her crowd of supporters grew year after year, so did efforts from the industry to diminish her success. "In trying to pursue the gates of Nashville, I discovered that there were high fences made of stone," Marks said of her experience in the early 2000s. She ultimately landed in California and focused on her family, but never gave up on the dream she was devoted to.
Miko Marks proves to be a bonafide maverick that has blazed an unprecedented trail in the music industry. After a long overdue hiatus from music, Marks is eager to spread not only her music, but a message of unity and outspokenness for Black musicians in country music and beyond. She has done much more than just make a splash and now she is ready to make waves. Marks works towards an ever evolving dream of creating art that is not stereotyped or pigeonholed by a specific genre and is created with no borders or boundaries. Our Country was released in march 2021 and garnered praise from NPR, the New York Times, the Wall Street Journal and Billboard, among others. Marks continued to release music via Redtone Records with an EP release, Race Records, which came out in October 2021. Race Records was a compilation of cover songs that pay homage to the blend of genres we now recognize as country music.
In January of 2022, Marks was named to CMT's "Next Women of Country" class of 2022. The network has pledged to support her throughout the year. Marks is currently on tour supporting Tedeschi Trucks Band and Ron Pope and is playing major festivals throughout the summer.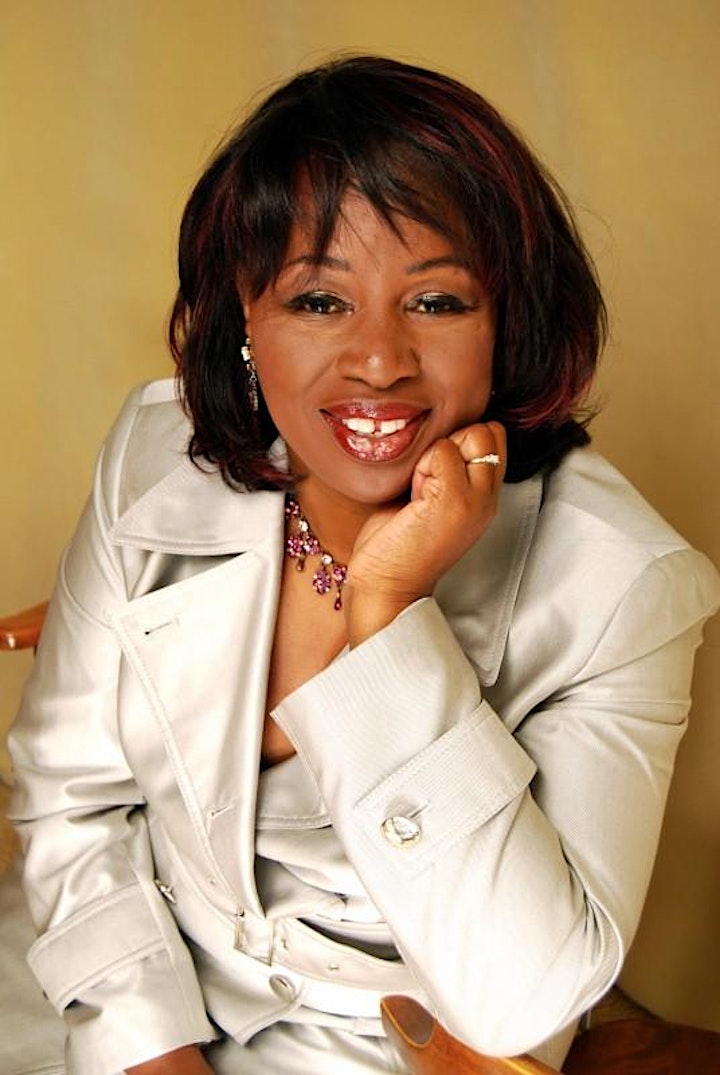 For years, Robin Hodge-Williams' God given talent has allowed her to bless a wide and vast audience. As an anointed singer, songwriter, actress and composer, Robin has performed in the plays, "Momma I want to Sing", "Gospel at Colonus with the Five Blind Boys of Alabama and Clarence Fountain, "Sing Out Sweet Gospel", "Graffiti Blues by Bob Dylan", "The Many Faces of Robin Hodge-Williams" and "Somebody Ought to Tell God Thank You" featuring Vicki Winans. Robin has been privileged to perform with noted greats, Lawrence Matthews, Shirley Caesar, Daryl Coley and the Hawkins Family. She has also graced the stage with Patti LaBelle, Kim Burrell and numerous others.
With two CD releases under her belt, "Show Me" and "Anointed Me" Robin has delivered the hits, "Show Me", "Lord We Praise You", "Tell It", "He's Got Everything You Need", "Keeper" and "More Than Anything." She has also been featured in several projects including: Lawrence Matthews and Friends' "Savior Do Not Pass Me By", Greater Victory Temple Church of God in Christ as the composer and lead vocalist of "Saved".
Robin has received the "Best Female Vocalist of the Year" award from the Bay Area Gospel Academy Awards twice. Billboard Magazine recognized her in August 2000 as one of Gospel's "Hottest New Upcoming Artists." In 2002, Robin was featured on television network's "Bobby Jones Gospel Hour!". And in 2004, thru 2006 and 2010 Robin was the musical director and featured artist of the play "Black Nativity" and "Joyful Noise "at the Lorraine Hansberry Theatre in San Francisco.
Robin has completed her third recording "Purpose." This project features such notable songs as, "Celebrate Jesus", "Presence of the King", "That's Who He Really Is" and "Heaven is a Wonderful Place." She has a diverse selection of songs mixed by noted Bay Area producer Michael J. Witwer with additional production by David Jackson. She is currently working on her fourth recording Victory is Mine.
Robin is aware that she is on a mission that shall be accomplished. That is: to spread the Joy and Love of God to all through her music and ministry. And, through the will of Jesus, Robin knows her mission will not be defeated!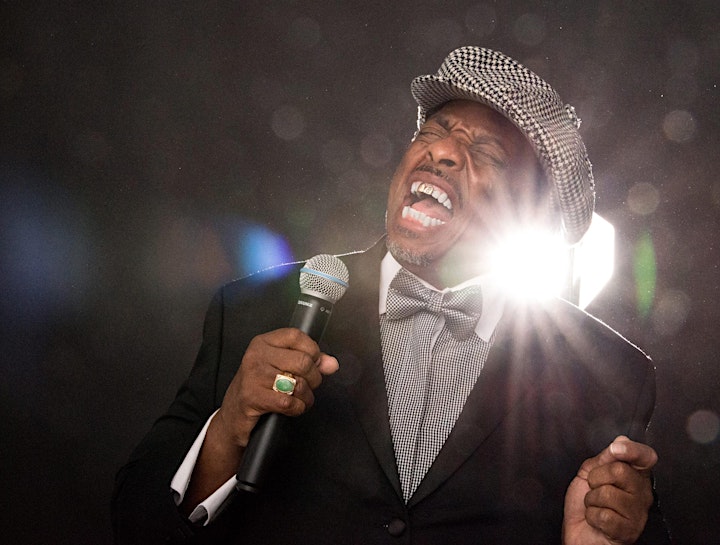 Alabama Mike has plenty to sing the blues about these days. Until March of last year, he had a full-time job as a truck driver, hauling produce in an 18-wheeler back and forth between Richmond and Sanger in Fresno County five, sometimes six days a week. His side job as a blues singer was beginning to take off, and he'd just been nominated by the Blues Foundation in Memphis as "traditional male blues artist of the year." (He lost to Charlie Musselwhite.)Then he developed a persistent, painful cough. He wouldn't go to a doctor at first, thinking it was just a cold, but his girlfriend insisted. He was initially diagnosed as having double pneumonia, but it was eventually discovered that he had valley fever, so named because of its prevalence in California's Central Valley. Mike had the worst type – disseminated valley fever – and he was bedridden in his San Leandro apartment with an IV port in his arm for a year – until six weeks ago.
"I had a nurse coming over three times a day to give me medicine they call Abelcet," he says while sitting behind the wheel of his 1996 Buick Roadmaster. "The medicine is so strong that they had to give me a cocktail of Demerol, Tylenol and Benadryl to ease the side effects 'cause it gives you the shakes and fever and chills."
To make matters worse, he was fired from his truck driving job in July, his state disability insurance ran out recently, and he lost his combination manager, record producer and drummer, who had moved out of the Bay Area.
The singer, who was born Michael Benjamin 48 years ago in Talladega, Ala., is wearing a shiny champagne-colored suit, yellow shirt and hat, yellow and green tie and tan suede shoes, having just finished a four-song set at a Sunday afternoon blues festival in the parking lot behind the Capri Lounge in East Oakland.
That is his comeback gig, and he does another one that evening in West Oakland at Bikers' Paradise, a private establishment in a warehouse operated by the Public Enemy Motorcycle Club.
At the biker party, Mike has exchanged the yellow shirt and tie for a red shirt and matching breast-pocket handkerchief. Backed by a five-piece band that includes such Oakland blues veterans as guitarist Big Bob Deance, bassist Country Pete McGill and onetime Queen Ida saxophonist Bernard Anderson, he wails "Little Red Rooster," the Willie Dixon tune that was popularized in the '60s by both Howlin' Wolf and Sam Cooke.
As he sings, a woman wearing a see-through, ankle-length cape that reveals her bare shoulders and arms struts between the pool tables and the musicians. She flaps her arms like a chicken, then bends down, picks a red balloon off the floor and holds it atop her head to simulate a rooster's comb. Mike eggs her on by crowing between the song's phrases. Anderson joins the hilarity by making squawking sounds with his tenor.
Mike now sees an upside to his misfortunes. With no day job to report to and having largely recovered from his illness, he plans to focus all his energies on his career as a blues singer.
"This is my opportunity to really go ahead on and approach doing the blues for my lifestyle," he says. "I'm singing the blues for my bread and butter now."
Six days later, in a tiny recording studio in the basement of producer and harmonica blower Scot Brenton's house on San Francisco's Bernal Hill, Mike begins work on his third CD. Even though there's no audience, other than Brenton, guitarist Anthony Paule and a reporter, the singer is still looking sharp, this time wearing an outfit that includes a green V-neck sweater, orange bowtie and spit-shined orange-tan leather shoes.
Mike's previous CDs – 2009's "Day to Day" and the following year's "Tailor Made Blues," both on his own Jukehouse label – drew rave reviews from blues magazines in the United States and United Kingdom – "[H]e has a superb soulful voice that brings Elmore James, Buddy Guy, Little Johnny Taylor and a young B.B. King to mind," England's Blues & Rhythm observed – and helped him land slots on blues festivals in Northern California and Nevada and at Pennsylvania's prestigious Pocono Blues Festival, where he opened for headliners Mavis Staples and the Fabulous Thunderbirds in 2010.
Unlike those discs, which featured full electric bands, the one he's currently recording is a stripped-down acoustic affair with just voice, guitar and harmonica. With Paule picking a syncopated pattern that draws on the styles of both Robert Johnson and his stepson Robert Jr. Lockwood, and Brenton blowing lonesome Sonny Terry-like mouth harp, Mike kicks the session off with an original 12-bar blues titled "I Ain't Never Seen Times Like This Before." "My money done got funny/My change done got strange/My credit won't get it/Not a doggone thing," he cries out in anguished tenor tones. The trio's old-school performance sounds as if it might have come from the Great Depression of the 1930s, rather than from the current recession.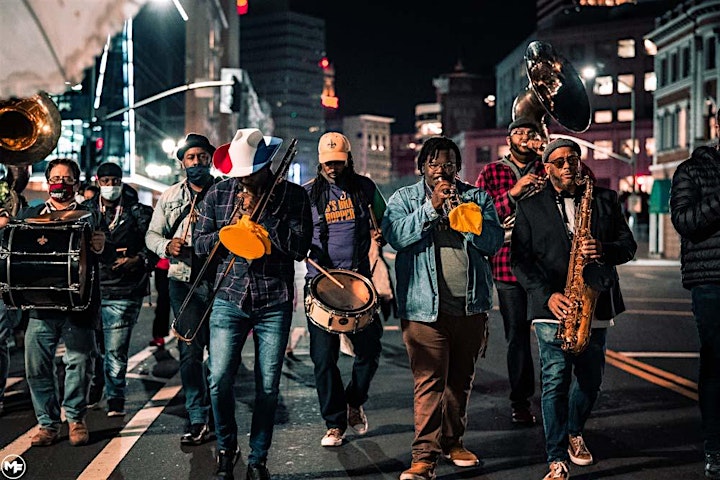 Attending a MJ's Brass Boppers show is the next best thing to following a brass band down New Orleans' famed Claiborne Ave. The swinging and singing brass-line is the Bay Area's only New Orleans-style brass band whose founding members were born and raised in New Orleans itself.
This group's sound has been meticulously formed over years of practicing and experimenting together from concert halls to street corners, fusing classic cultural New Orleans performance with funk, jazz, modern pop, and a second line twist.
Since 2008, the tight knit musicians have written, practiced, and performed together at festivals, community events, nightclubs, and street corners around the Bay Area and beyond. They've opened for a variety of acts, including George Clinton & Funkadelic, The O'Jays, Trombone Shorty & Orleans Ave, Funky Meters, George Porter Jr., Zigaboo Modeliste, Kermit Ruffins, Katdelic, and many more.
Together, these musicians come together as the versatile MJ's Brass Boppers, offering a taste of authentic New Orleans style with a West Coast flair.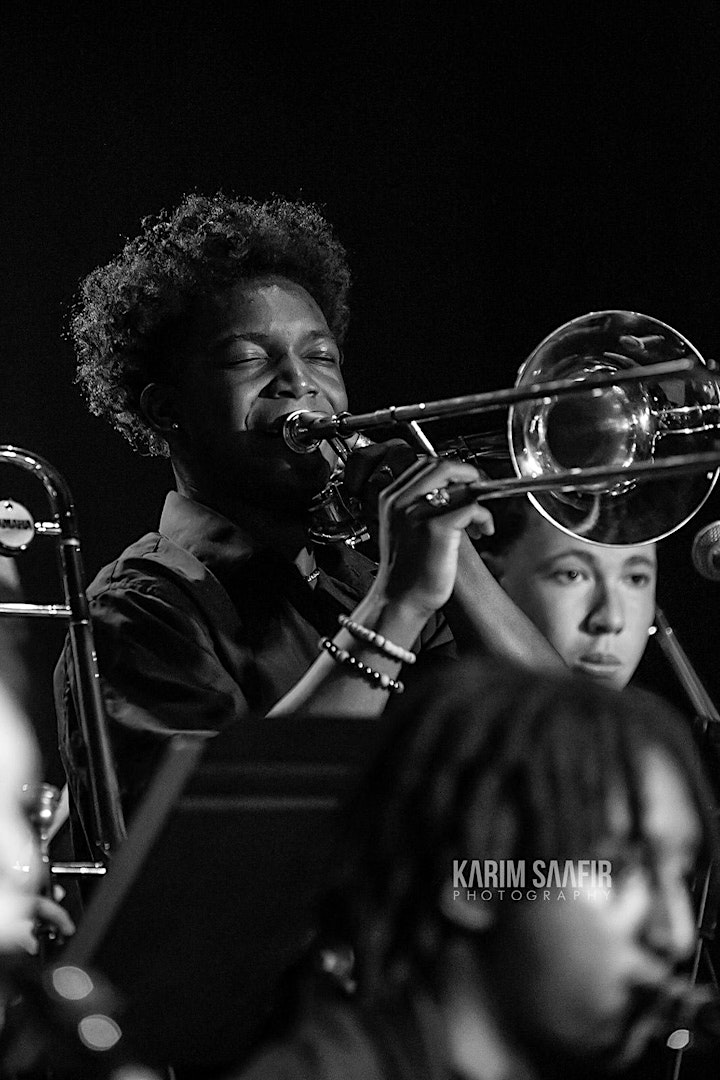 Kazeem Elebute is a Rising Star Trombonist from Oakland, CA. A graduate of Edna Brewer Middle School and current student at Oakland Technical High School, Kazeem studies privately with renowned trombonist Steve Turre of the Satruday Night Live Band. He has been featured in the Pixar movie Soul and has participated in the All-State High School Jazz Band and Oakland Eastside All-Stars. Kazeem will be performing with his quintet at Black Music Month Festival.