Event Information
Location
Slowdown - Front Room
729 North 14th Street
Omaha, NE 68102
About this Event
Doors at 7:00pm
Front Room
$18 Advance/$20 Day of Show
All ages show. Check entry requirements at http://theslowdown.com/All-Ages
About Black Mountain
Black Mountain's Stephen McBean turned 16 after Woodstock but before Varg started burning down Norwegian churches. And yet, until just two short years ago, McBean had lived his entire adolescence and adult life without a proper driver's license, that first and most coveted ticket to personal independence. Black Mountain's new album, Destroyer, is imbued with all that wild-ass freedom and newfound agency (and anxiety and fear) that comes with one's first time behind the wheel.
Destroyer, named after the discontinued single-run 1985 Dodge Destroyer muscle car, is structured around the feeling of driving a hot rod. The album exists in the middle of the early-to-mid 80s Los Angeles war between punk and hair metal - it's exhilarating, spirited, and dangerous. Throughout, youthful themes run rampant: "Boogie Lover" cruises down the Sunset Strip, "Horns Arising" is a fill-up at a desert gas station just in time to see a UFO hovering near a mesa, and "High Rise" rounds out a sense of teenage discovery.
To create Destroyer, McBean shacked himself up in his rehearsal space and invited over friends from the endless rock'n'roll highway, bringing to life 22 songs. While some were laid back into shallow graves to dig up once again at a later date, the others were left above ground and polished and given life, some transformed by longtime band member Jeremy Schmidt. This generation of Black Mountain also sees new members Rachel Fannan (Sleepy Sun) and Adam Bulgasem (Dommengang & Soft Kill) as well as familiar collaborators Kliph Scurlock (Flaming Lips), Kid Millions (Oneida) and John Congleton (St. Vincent, Swans). Collectively, there's a renewed vitality to Black Mountain on Destroyer — a seasoned, veteran of heady hard rock that's found new, young muscles to flex and roads to explore.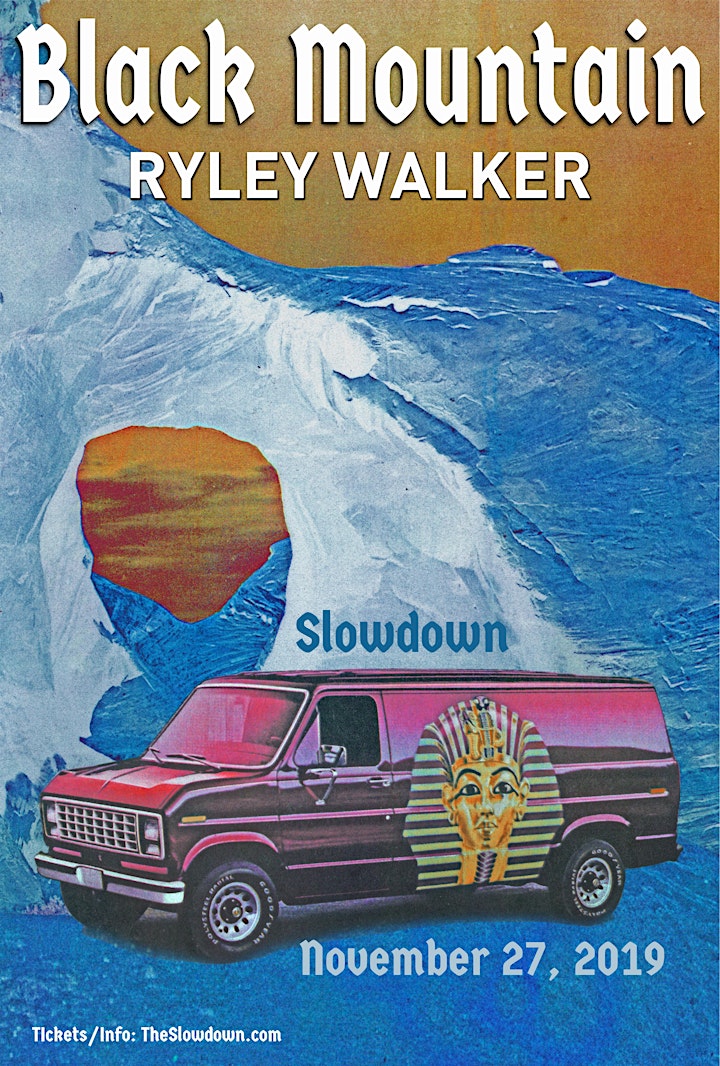 About Ryley Walker
"I think more than anything the thing to take away from this record is that I appreciate what improv and jamming and that outlook on music has done for me, but I wanted rigid structure for these songs. I don't want to expand upon them live. There's a looseness to some of the songs I guess, but I didn't want to rely on just hanging out on one note .
I was under a lot of stress because I was trying to make an anti-folk record and I was having trouble doing it. I wanted to make something deep-fried and more me-sounding. I didn't want to be jammy acoustic guy anymore. I just wanted to make something weird and far-out that came from the heart finally. I was always trying to make something like this I guess, trying to catch up with my imagination. And I think I succeeded in that way — it's got some weird instrumentation on there, and some surreal far-out words. And it's more Chicago-y sounding. Chicago sounds like a train constantly coming towards you but never arriving. That's the sound I hear, all the time, ringing in my ears."
Performers
Date and Time
Location
Slowdown - Front Room
729 North 14th Street
Omaha, NE 68102
Refund Policy