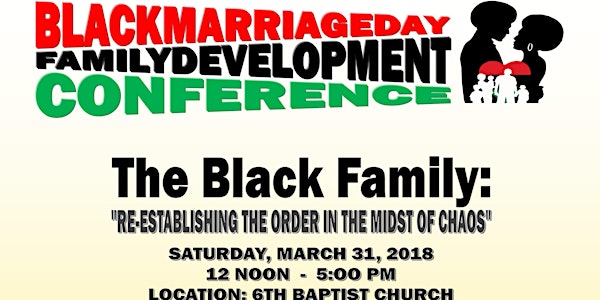 Black Marriage Day Family Development Conference
By Black Marriage Day RVA
When and where
Date and time
Saturday, March 31, 2018 · 12 - 5pm EDT
Location
Sixth Baptist Church 400 South Addison Street Richmond, VA 23220
Description
Theme: The Black Family: Reestablishing The Order in the midst of chaos.
Beginning at 12 noon and ending at 5pm, workshops centering around personal and family development will be available for youth, singles, married and unmarried couples. Workshops will cover topics, including but not limited to, parenting, good character, developing personal and family mission statements, co-parenting/blended families, sustaining marriage through life's transitions, being single and healthy and workshops for youth ages 8 and up.
Lunch catered by Chef MaMusu will be available for purchase.
Donations will be accepted at the event.
About the organizer
For 13 years Black Marriage Day RVA was an event facilitated by a wife and husband team until Four years ago a collection of families (Abusua Pa Black Family Institute) has joined forces to bring marriage education and family development workshops to couples, intended families, singles and youth, of Richmond in order to support and strengthen healthy traditional Black marriages and families.
Sponsored by The Richmond Chapter of the National Association of Black Social Workers, Inc., comprises people of African Ancestry, committed to enhancing the quality of life and empowering people of African Ancestry through advocacy, human services, and research. National Association of Black Social Workers, Inc. will work to create a world in which people of African ancestry will live free from racial domination, economic exploitation and cultural oppression. In collaboration with national, international and other appropriate groups, NABSW will continue to leverage its collective expertise to strategically develop capacity of people of African ancestry to sustain and flourish.