Description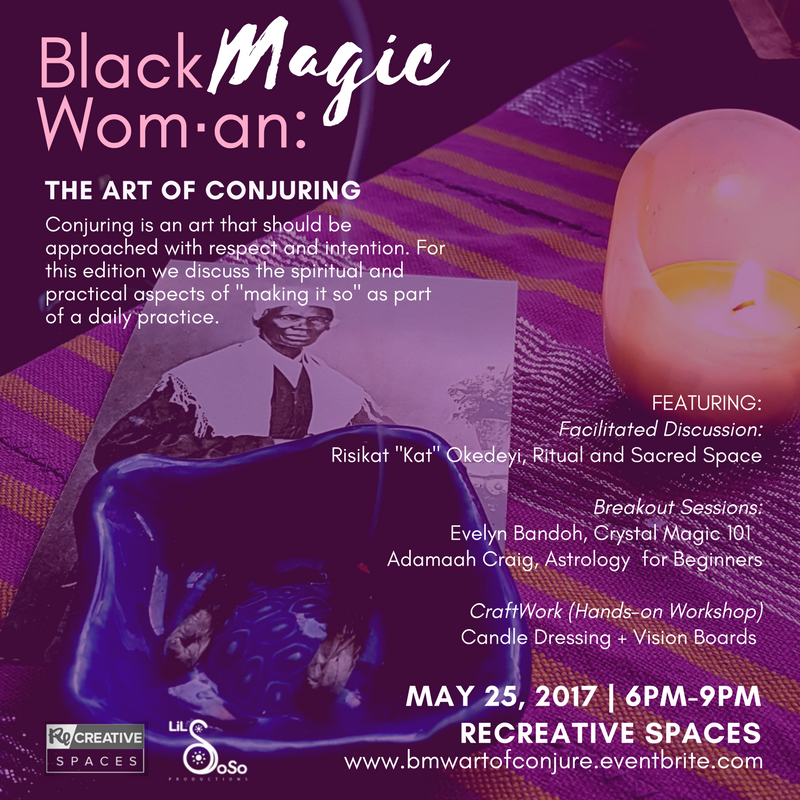 con·jure
1 : to charge or entreat earnestly or solemnly
2 a : to summon by or as if by invocation or incantation
b (1) : to affect or effect by or as if by magic
(2) : imagine, contrive —often used with up
(3) : to bring to mind

The Art of Conjuring
Conjuring is an art that should be approached with respect and intention. For this edition we discuss the spiritual and practical aspects of "making it so", exchange experiences and create tools you can use to enhance your daily life. We begin with a group discussion around creating ritual and sacred space and then move into mini workshops that offer a basic understanding of crystals and astrology. We round out the evening with individual craft work as we build or add to our toolkits. Space is limited to 30 attendees and fee includes materials.
6:00PM: Welcome
6:30PM: Facilitated Discussion | Risikat "Kat" Okedeyi, Ritual and Sacred Space
7:00PM: Breakout Sessions (Attendees will be able to do both.):
Evelyn Bandoh, Mystic Genius -Crystal Magic 101
Adamaah Craig, Graysenmotion-Astrology for Beginners
7:45PM: CraftWork (Hands-on Workshop) | Candle Dressing + Vision Boards
9:00PM: Wrap UP
Black Magic Woman is anew series designed to highlight, celebrate and inform the public on the variety of ways Black women create, uplift and restore their communities and society at large.