Description
THE ART OF CONJURING
Conjuring is an art that should be approached with respect and intention. We continue our exploration of art of the spiritual and practical and "making it so" as part of a daily practice.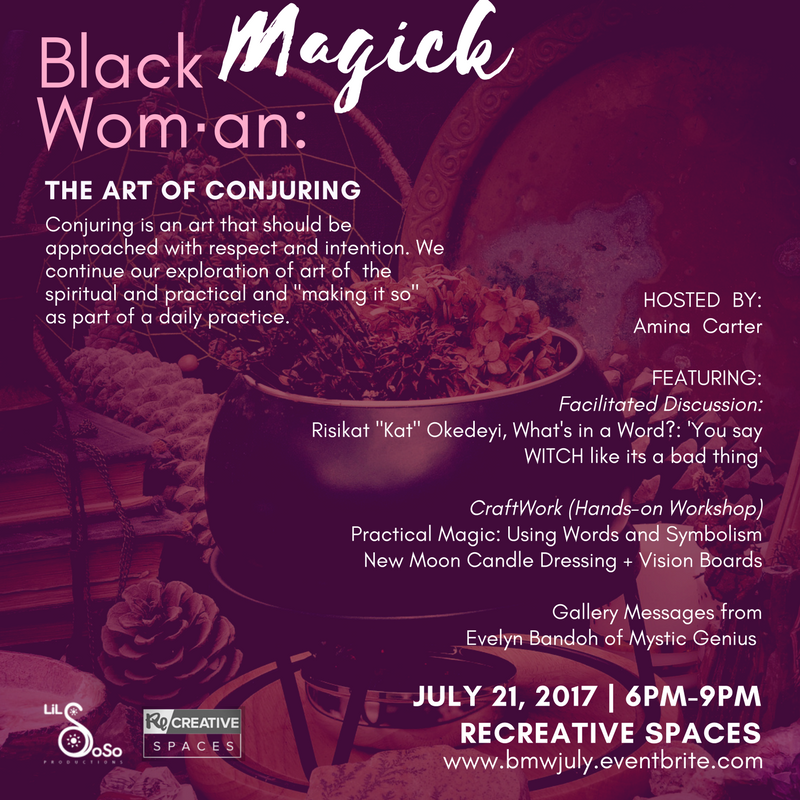 HOSTED BY:
Amina Carter
FEATURING:
Facilitated Discussion led by Risikat "Kat" Okedeyi
What's in a Word?: 'You say WITCH like its a bad thing'-Together we will explore the fear behind the word witch and how the internalization of its negative connotations can dampen our abilities.

CraftWork (Hands-on Workshop)
Practical Magic: Using Words and Symbolism
Learn how words and symbolism can be used to move energy towards your greatest good.

New Moon Candle Dressing + Vision Boards
Prepare for the next new moon cycle in Leo (July 24th) with new candles and a new vision board

Gallery Messages from Evelyn Bandoh of Mystic Genius
Back by popular demand, Evelyn will channel messages in an open setting. Please note there is no guarantee that messages will come through for everyone.