Black Love Day 28th Relationship Ceremony & Virtual Black Love Conference
Sales Have Ended
Registrations are closed
Give thanks for your registration and your connection
Sales Have Ended
Registrations are closed
Give thanks for your registration and your connection
28th Black Love Day theme "Healing the Wounds that Divide; Re-uniting Our Strengths Thru Black Love" will restore our unity in diversity
About this Event
Nya Akoma (pronounced N yah Ah coma) is the greeting for Black Love Day, Feb. 13, observed since 1993. BLD is the 3rd nationally observed African-American holiday (wholyday) of atonement, reconciliation, celebration and 24 hour demonstration of Black Love through 5 Tenets (Loving Acts) - Love for the Creator, for Self; for the Family, the Community and Black race (herefore called the the Hue-man race). So called White people "show love in action" towards so-called Black people, atone and work on their own racial attitudes and behaviors.
BLD is a spiritual alternate to the commercialized Valentine's Day
Ayo Handy-Kendi, the founder of Black Love Day (BLD) and CEO, PositivEnergyWorks, in collaboration with African American Holiday Association (AAHA) and UNIA/ACL Division 300 invites you to PARTICIPATE in:
The free 1st Virtual Black Love Conference & Book Fair on Sat, Feb. 13th, 2021 (BLD) from 10 a.m. to 7 p.m.,with 30 presenters, videos relationship solutions, breathology, healing, inner-attainment, lots of fun. See list below of confirmed participants.
Then come bring your love pains to the ritual for the Black Love Day 28th Relationship Ceremony from 7 to 9 p.m est. The Relationship Ceremony will be facilitated by Ayo Handy-Kendi, founder of Black Love Day, Certified Breathologist, Diversity Trainer. Breathology Heart Increase; the Ritual of Reconciliation, where you can bring your love pains and recommit to the 5 Black Love Tenets. PERFORMANCE BY RICKIE BYARS, acclaimed singer/songwriter/composer in inspirational, new thought music. Earth Love tune Up Crew (ELTUC), sound healing. Founder's message on 2021 Black Love Day Theme
Register in advance for this Black Love Day Event:
https://us02web.zoom.us/meeting/register/tZIvc-ytrDMsG9XvWceRl3kU6b37zaeSJ9AF
After registering, you will receive a confirmation email containing information about joining the meeting.
The 28th Black Love Day (BLD) theme will focus on all of the 5 Tenets with the theme: "Healing the Wounds That Divide - Re-uniting Our Strengths Thru Black Love"
GET THE SCHEDULE TIMELINE FROM:
https://www.positivenergyworks.com/up-coming-events.html
This year, 2021, as we celebrate the 28th Black Love Day demonstrating the Tenets in our homes or virtually together, our annual Celebration gone virtual will help reconnect the world with Black Love, so desperately needed now. Heal the "divides" for unity in our diversity.
Black Love Day (BLD) gives us 24 hours to focus on healing our relationships....Among Blacks...Between Blacks & Whites...To increase the Peace...To Stop Violence To return to Love for it's healing power.
The 2021 Partial List of Invited Presenters to the Virtual Black Love Conference:
Rickie Byars, acclaimed singer/composer of inspirational new thought music performing at the Ceremony only;
Presenting/Performing at the Conference only
Maimouna Yousef aka Mumu Fresh, grammy nominated Singer;
Willie & Dee Jolly, award winning Speaker of the Year and Relationship Experts;
Will & Jada Pinkett-Smith, Red Table Talks video;
Kymone Freeman, founder Re-Act Radio, producer, Black Love Festival;
Dr. Wayne Chandler, Historian/Sexologist;
Adio Kuumba Akil, Vegan chef;
Dr. Kevin Wiliams, Psychiatrist, Spiritual leader;
Dr. Maulana Karenga, founder of Kwanzaa; reading on Black Love
Daku Akasha, Black Love Foundation;
Sam P.K. Collins, award-winning Journalist/Hip hop Artist
Dr. Kokayi Patterson, Acupuncturist, founder African Wholistic Health Association (AWHA),
Dr. Yew Bellamy, herbalist, drummer, company director NDembaya Dance Troupe;
The Noble Touch, Pranic healer;
Avalaura, Reiki master; Headwrap specialist;
Beverly Nickerson, Spiritual guide, Breathologistm ,
Freedome Nsoroma El, acclaimed singer, Breathologist, founder Library Cafe Ghana;
Lona Alias, host Spirit in Jazz, WpFW, Meditation/Breathologist;
Rachel Pope, Artisan/Make-up Artist, Relaxation Specialist/ Breathologist
D.C. Dentist, Terry Victor, Alternative wholistic denistry;
Mama ife Faitu, founder, Rise up Sisters;
Khetnu Ladawn, Author, Massage therapist, African dancer;
Mama Tendai, Spiritual leader, Counselor;
Duron Chavis, Agriculturist, founder Happily Natural Day;
Johnson Lancaster, Book store owner,co- founder T.E.A.C.H., St. Louis Akoma Days;
Councilwoman Elaine Williams, Town of Capitol Heights;
Wekesa O. Madzimoyo, founder AYA, Black Love Atlanta;
Eliza Cooper, Holistically Balanced, Baltimore Black Love;
Montsho and Nwasha , Akoma House Initiative, Counselors, Authors, Black Love advocates
LeShell Smith, Minority Report, Entrepreneur;
Sister Nia 2X VLB Productions, Entrepreneur;
Roach Brown & Mertine, WPFW hosts, Returning Citizens advocates;
Sia Barbara Kamara Baba Kelechi, co-founder Appeal, inc, ;
Ka-ba, the Soul Singer;
Jennifer Gelencia, Singer, Humanitarian ;
and more.
Children's Book Fair sponsored by the UNIA @ 12- 2 p.m.
CONNECTIONS:
Black Love Day VIDEO EXPLANATION BELOW.
GET THE SCHEDULE TIMELINE FROM:
https://www.positivenergyworks.com/up-coming-events.html
SHARE THE LINK TO INVITE OTHERS: https://www.eventbrite.com/e/black-love-day-28th-relationship-ceremony-virtual-black-love-conference-tickets-135441175201
2021 PRESS MATERIALS: http://www.africanamericanholidays.org/blackloveday.html
PURCHASE THE BLACK LOVE BOOK: https://www.positivenergyworks.com/store/p45/The_Black_Love_Book_3rd_Ed__%28E-Book%29_by_Ayo_Handy-Kendi.html
LEARN THE HISTORY/GOALS: http://www.africanamericanholidays.org/blackloveday.html
GAIN GREATER SELF-LOVE , EMOTIONAL HEALING, RELEASE TRAUMA/STRESS thru Transcendence Breathwork/Breathology and BREATH CIRCLES TO HEAL THE DIVIDEShttps://www.positivenergyworks.com/new-courses-services.html
Your donations AND sponsorships support this day's activities and is appreciated.
PAYPAL: www.Sales@PositivEnergyWorks.com
CASH APP: $AyoHandyKendi
For further info or contact; 202-667-2577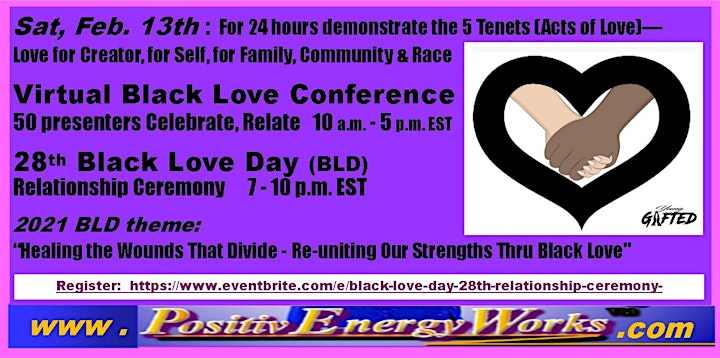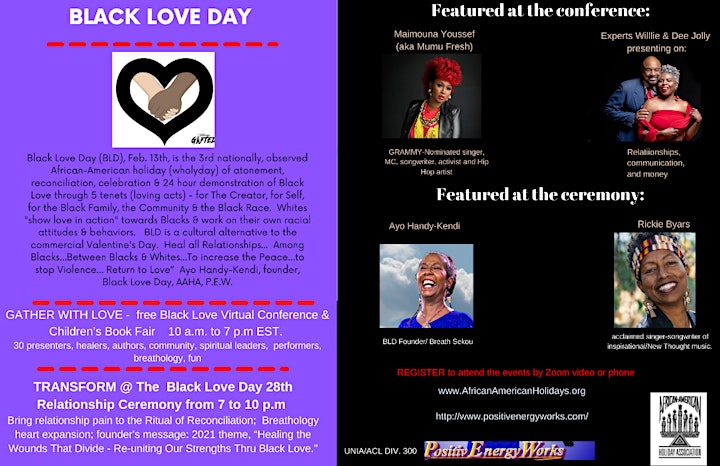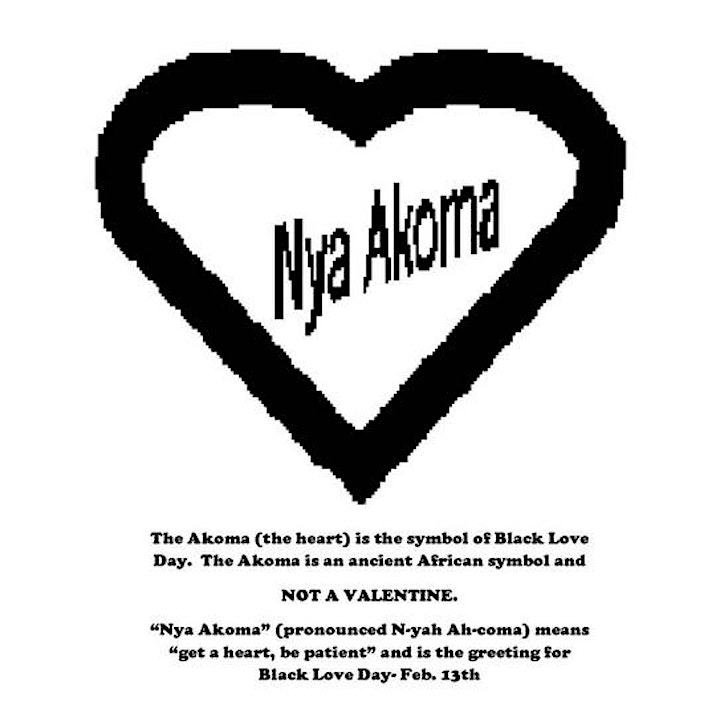 NEWS RELEASE, MEDIA MATERIALS AND HOW TO DO BLACK LOVE DAY @
TO GAIN HEALING OF THE HEART, EMOTIONS AND LOVE PAINS: