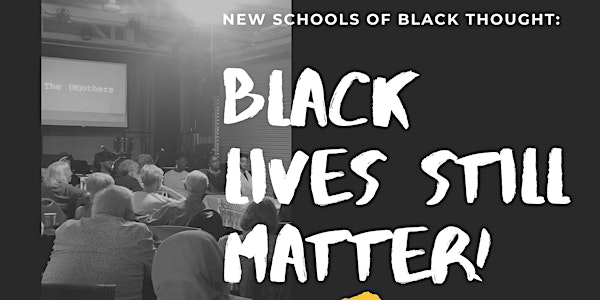 Black Lives Still Matter - New Schools of Black Thought Academic Symposium
A two day symposium about the Black Lives Matter movement focusing on local and national efforts for justice as well as equity in schools.
About this event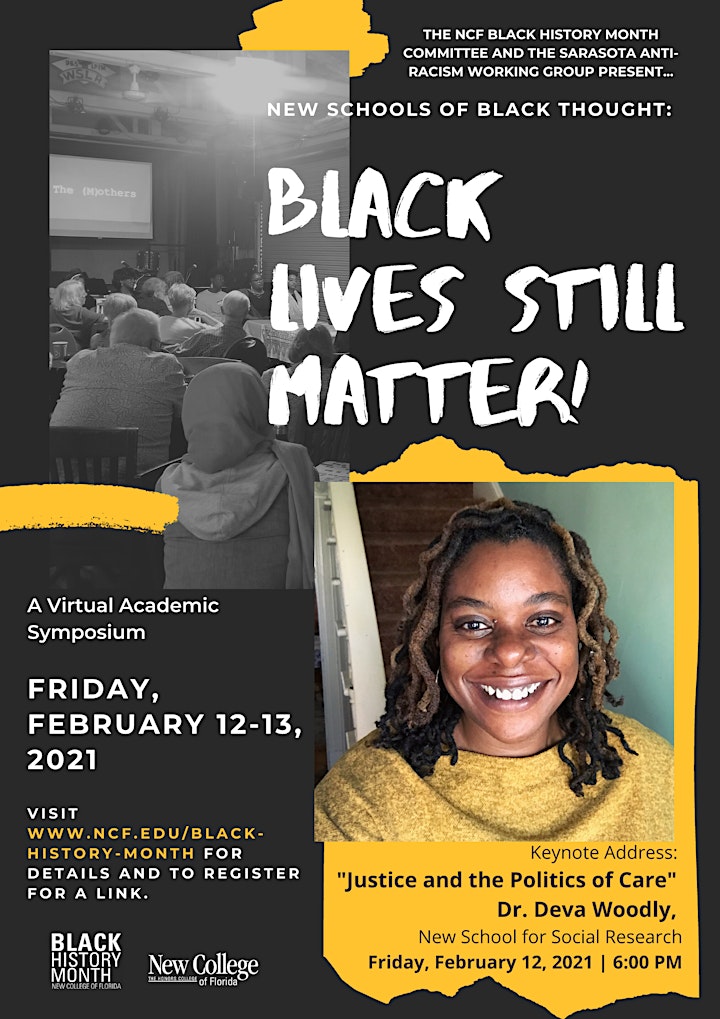 Black Lives Still Matter
New Schools of Black Thought Academic Symposium
New College of Florida
Friday, February 12, 2021 - 6:00 PM - 7:30 PM
Keynote Presentation: "Justice and the Politics of Care" by Deva Woodly, Associate Professor of Politics, New School For Social Research
The Movement for Black Lives is not only a social movement that seeks to end the lethal harm perpetrated by police and other disciplining apparatus of the state, it also offers a political philosophy that invites us to reconsider what constitutes justice and how we might achieve it. In this talk, Dr. Woodly explore the ways that the movement offers a guiding political philosophy that teaches us how to treat people as though they matter, providing us with a perspective that could be era-defining, if we chose to embrace it.
Saturday, February 13, 2021 - 11 AM - 3:00 PM
Welcome - 11:00-11:10 AM
Introduction - - 11:10 - 11: 40 AM - Nancy Wilson, SpiritHouse, Inc
Video: "Why Cops Shoot: Natasha Clemons, 'Five years fighting'" - 11:40 - 11:50 AM
Local Movements for Justice - 11:50 AM - 1:10 PM
Panelist: Deidra Larkins - Black Lives Matter, Sarasota-Manatee; Ruth Beltran - ANSWER - Suncoast; Richie Floyd, Bay Area Dream Defenders; and Layla Vincent-Brown - Assistant Professor of Africana Studies, UMass- Boston
Restorative Break - 15 minutes - 1:10-1:25
Black Lives Matter at School - 1:25 - 2:45 PM
Panelist: Black Lives Matter at School Organizing Committee : Awo Okaikor Aryee-Price, Angela Harris, Ismael Jimenez, and Lisa Covington
Closing - 2:45 - 3:00 PM
Annual BHM Open Mic Night 'n Mixer!:
Saturday, February 13, 2021 - 7-9 PM
Hosted by Lo-Fi Language Learning
Miles Iton, Naimul Chowdhury, Donovan Brown, and Eileen Calub