Description
Black List Live! is coming to New York!
Join us on Saturday, May 2nd at the New School for a live reading of 2014 Black List script:
BIG TIME ADOLESCENCE
written and directed by Jason Orley

STARRING...
Michael Angarano (THE KNICK, THE ENGLISH TEACHER)
Alex Wolff (A BIRDER'S GUIDE TO EVERYTHING)
Zosia Mamet (GIRLS, THE KIDS ARE ALL RIGHT)
Julia Garner (GRANDMA, THE AMERICANS)
Timothee Chalamet (INTERSTELLAR, HOMELAND)
Jon Michael Hill (ELEMENTARY)
Giullian Gioiello (THE CARRIE DIARIES)
Amy Carlson (BLUE BLOODS, THIRD WATCH)
Michael Gaston (THE LEFTOVERS, THE MENTALIST, MAD MEN)
And Cooper Thornton returns as Black List Live's house narrator.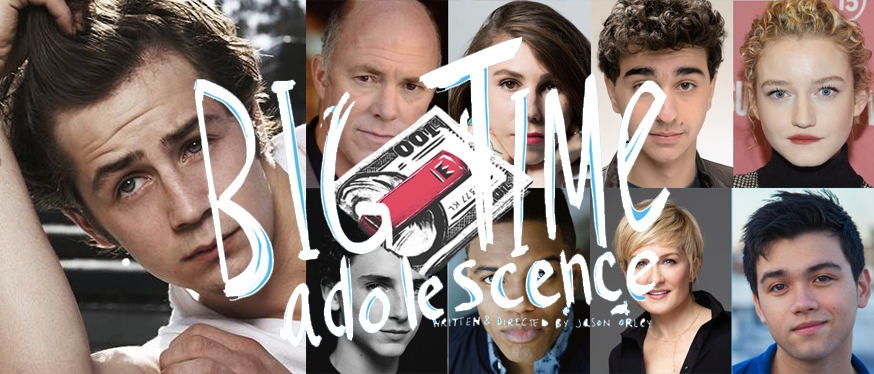 ---
Doors open at 7:30pm. Show begins at 8:00pm.
---
Praise for previous Black List Live! events:
"I probably witnessed the best script read of my career last night."
-Andrew Stanton (WALL-E, TOY STORY, FINDING NEMO)
"The best movie I've seen this year and it's not even a movie yet."
-Walt Hickey (FiveThirtyEight.com)
---
Organizer of Black List Live! NYC presents BIG TIME ADOLESCENCE
The Black List, an annual survey of Hollywood executives' favorite unproduced screenplays, was founded in 2005. Since then, more than 319 Black List scripts have been produced, grossing over $26 billion in box office worldwide. Black List movies have won 51 Academy Awards from 264 nominations, including four of the last nine Best Picture Oscars and ten of the last twenty Best Screenplay Oscars.
In October of 2012, the Black List launched a unique online community where screenwriters make their work available to readers, buyers and employers. Since its inception, it has hosted more than 40,000 screenplays and teleplays and provided more than 65,000 script evaluations. As a direct result of introductions made on the Black List, dozens of writers have found representation at major talent agencies and management companies, as well as sold or optioned their screenplays. In only three years, a half dozen films have been produced from scripts introduced on the website including Golden Globe nominated NIGHTINGALE, starring David Oyelowo.
Currently, the Black List hosts over 3,700 scripts for consideration by over 3,500 film industry professionals ranging from agency assistants, to studio and network presidents, to A-list actors and directors.