About this Event
DOORS: 8:00 PM, SHOW: 9:00 PM
AGE RESTRICTIONS: 21+
GENERAL ADMISSION, LIMITED SEATING
Important Notice: All tickets are nonrefundable and nontransferable with the exception of event cancellation. Support acts are subject to change
----------------------------
About Black Lips:
Atlanta flower punk pioneers Black Lips have announced that their first album in three years, Satan's graffiti or God's art?, is set for release May 5 on Vice Records. Produced by Sean Lennon at his studio compound in upstate New York throughout 2016, the album is the group's most musically evolved to date, while still staying true to their original blistering take on fuzzy, dirty rock n' roll.
During the recording the band isolated themselves from the outside world, infusing the album with a focused liveliness similar to the spirit that brought them together in the first place. On Satan's graffiti or God's art? founding members Cole Alexander and Jared Swilley teamed with former guitarist Jack Hines (who played in the group from 2002-2004) and recent additions Oakley Munson on drums and Zumi Rosow on saxophone. The album also features contributions by Saul Adamczewski of Fat White Family and guest vocals by Yoko Ono.
Black Lips were born of DIY ethic, working their way from sweaty basement shows in Georgia to huge crowds at international music festivals (including a performance at Fun Fun Fun Fest that appears in Terrence Malick's forthcoming film Song to Song) to tours in such far flung locales as India, Jordan, Cyprus, Egypt, Lebanon, Iraqi Kurdistan, the United Arab Emirates, and many more. Satan's graffiti or God's art? vindicates Black Lips for sticking it out through many years of shifting trends and buzz bands; a sonically captivating document that is as creatively unhinged as it is precisely executed, one of the rawest and most expansive albums in the band's storied history.

DOORS: 8:00 PM, SHOW: 9:00 PM
AGE RESTRICTIONS: 21+
GENERAL ADMISSION, LIMITED SEATING
Important Notice: All tickets are nonrefundable and nontransferable with the exception of event cancellation. Support acts are subject to change
----------------------------
About Wooing:
Fresh NYC trio Wooing present their debut EP, Daydream Time Machine. Fronted by multi-instrumentalist Rachel Trachtenburg - a performer in the New York music scene since she was six years old - Wooing offer hauntingly beautiful vocals backed by echoing guitars. The lead single, "In Colour", displays the vintage influences come into play: the urgency of underground 90s rock (i.e. Helium, Quasi) meets the psychedelic Syd Barrett sounds of the 60s.
Trachtenburg started playing as the drummer in her family's Seattle-born group, The Trachtenburg Family Slideshow Players, who played Conan and drew the attention of Rolling Stone, NPR and Spin. Trachtenburg went on to perform in Supercute! and The Prettiots. Wooing, comprised of Trachtenburg (vocals), JR Thomason (guitar) and Rosie Slater (drums), have existed for just over a year. Trachtenburg and Thomason met while performing with disaster master R. Stevie Moore, while Trachtenburg and Slater had previously toured together in Supercute!.
The three-song EP Daydream Time Machine, produced by Bryce Goggin (Pavement, Come), Wooing covers a wide scope of material. Inspired by a documentary on LSD experiments performed on housewives in the 1950s, Trachtenburg wrote the lead single, "In Colour", in which she beautifully croons a direct quote from the film: "I wish I could talk in technicolor." The video, directed by John Zhao, encompasses the vintage aesthetics of the track accompanied by gorgeous, dream-like visuals. The band's reveries, however, aren't always sweet; "Tear World" comments on our species' abusive treatment of whales, while "Two Can Keep A Secret" destroys the comforting facade of security within relationships, made all the more profound set against the backdrop of their upbeat and energetic sound.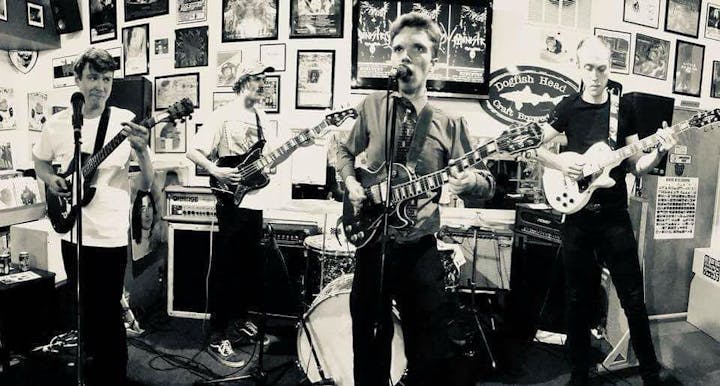 About Chives:
"Fast-paced punk and psychedelia culminate together to create what we call 'Chives.' Face-melting yet danceable tunes that bring any crowd to the soles of their shoes" -Maxwell Denari
"After four years of 7-inch vinyl and cassette releases, the arrival of the first full-length Chives LP is a major event for dedicated fans and an exciting introduction for new listeners. Led by singer-songwriter-guitarist Ryan Perkins, the Indianapolis group is an intense but fun combination of punk-rock roots, psychedelic vibes, and a twisting, turning, angular punch that reminds me of Zappa, Beefheart, Sparks, the Residents, Snakefinger, Devo, and--well, I think you get the picture! The title track has a great "majestic" heavy-metal feel, but sabotages any generic possibilities with eccentric vocalizing and changes that feel like they come from Indiana avant-gurus MX-80 Sound, not Metallica. Dig "Opus & Absentia," which seems to alternately reference Thin Lizzy, the Sweet, and Sparks--or something?--killer outta-kilter stuff! "Pistol" has a similar off-center heavy swagger--check them double leads! There are also some Chives favorites revived and re-arranged a bit: "Family Pearls," "Payasso," "Porcelain." This is an amazing debut from a major talent who deserves to be known far outside Indiana and the Midwest!" --Eddie Flowers, Vulcher magazine
"From one man stomp - to three piece roll - to four or five piece psych trample, the talented and young chives does it all. He's been making quite a name for himself since he came onto the indy scene, as both a visual artist and as a fab rock n roll performer. This show finds the Chives band about a year into its evolution in the Indy scene - they're tighter and louder than ever, and that shriek is still on fleek." - Miss Mess
"Let it be known, Chives procure sounds that are eclectic even for today's standards of Psychedelic Rock. Combining zany vocals, abrasive percussion and burning guitar/bass partnerships. They'll take an immobile crowd and get them to bounce off the walls. Make no mistake, Chives are technical whilst remaining creatively sporadic." -Maxwell Denari
Performers
Date and Time
Location
Refund Policy