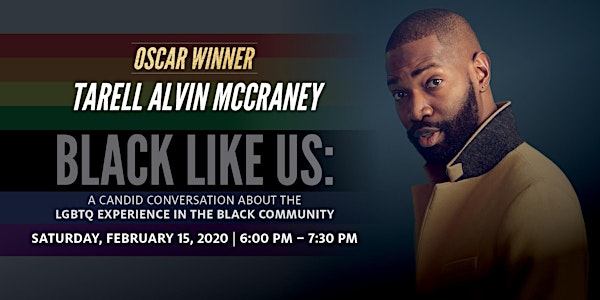 Black Like Us: A Candid Conversation About the LGBTQ Experience in the Blac...
Event Information
Location
Hilton University of Houston - Waldorf Astoria Ballroom
4450 University Drive
Houston, TX 77204
Description
Join us for the third annual Black Like Us, A Candid Conversation About the LGBTQ Experience in the Black Community. Held each year during Black history month, Black Like Us centers LGBTQ voices and issues in an event designed to both celebrate and hold space for discussions essential to continued progress.
Curated by GCSW community collaborator Harrison Guy, this year we present an intimate evening with Oscar winner Tarell Alvin McCraney. An acclaimed writer, (Moonlight and David Makes Man), McCraney will share from his experiences as we explore the true meaning of community at the intersections of being both Black and LGBTQ.
"Moonlight" dwells on the dignity, beauty, and terrible vulnerability of black bodies, on the existential and physical matter of Black lives." – New York Times Film Review
About Tarell Alvin McCraney: Tarell Alvin McCraney is an American playwright and actor from Liberty City, Florida. Since 2017 he has been the chair of playwriting at the Yale School of Drama. He is also a member of numerous theatre companies and an International Playwright in Residence at the Royal Shakespeare Company.
McCraney co-wrote the 2016 film Moonlight, based on his play In Moonlight Black Boys Look Blue, for which he received an Academy Award for Best Adapted Screenplay. In 2019, his first television project debuted on the OWN Network (Oprah Winfrey is one of the show's executive producers). David Makes Man centers on a 14-year-old prodigy from the projects who is haunted by the death of his closest friend and relied on by his hardworking mother to find a way out of poverty. The series is inspired by events in McCraney's own life and explores childhood trauma and the power of imagination to survive.
DATE:
Saturday,February 15, 2020
LOCATION:
Waldorf Astoria Ballroom - Hilton University of Houston Hotel
TIME:
Lecture: 6:00 pm
PARKING:
Date and time
Location
Hilton University of Houston - Waldorf Astoria Ballroom
4450 University Drive
Houston, TX 77204