The 1st Annual Juneteenth Food Festival, the official outdoor celebration commemorating Juneteenth holiday is sponsored by Fidelis Care
About this event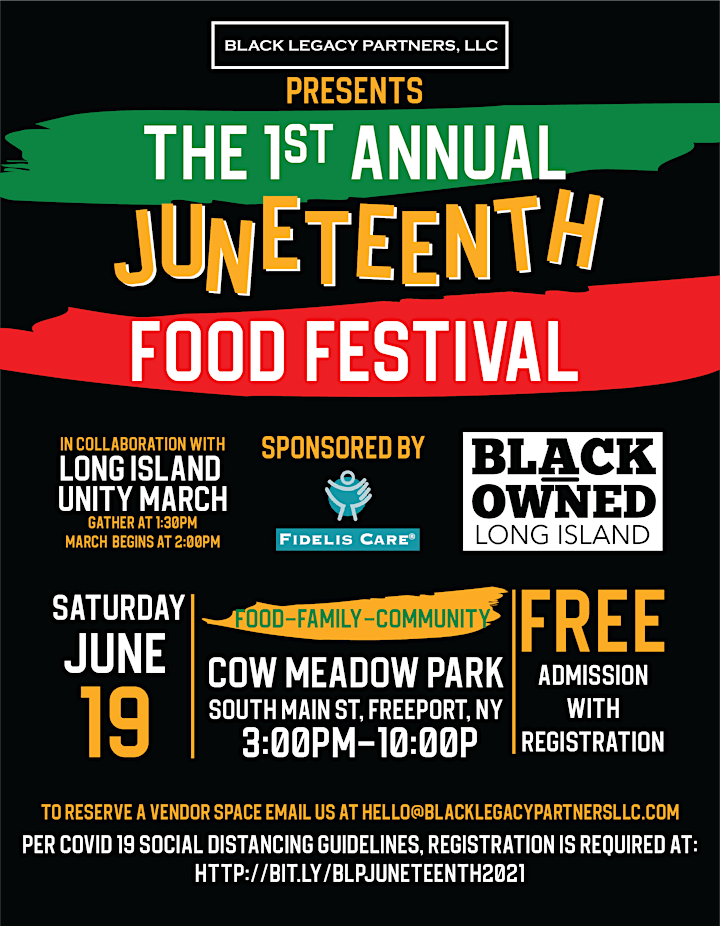 Black Legacy Partners Announce Its 1st Annual Juneteenth Food Festival Sponsored by Fidelis Care
Cow Meadow Park, South Main Street, Freeport, NY
Saturday, June 19th, 3:00 PM – 10: 00 PM
(Long Island, NY) - Long Island-based company Black Legacy Partners LLC presents The 1st Annual Juneteenth Food Festival, the official outdoor celebration commemorating Juneteenth holiday, will take place on Saturday, June 19th, 2021 at Cow Meadow Park with an 80s & 90s themed music as the backdrop. The festival will open in collaboration with a Unity March hosted by Long Island Unity March beginning at 2:00PM followed by the Food Festival at 3:00PM and a special movie feature of 'Johnson Family Vacation' starring Cedric the Entertainer at` 8:00PM. The Juneteenth Food Festival and The Long Island Unity March are Long Island's only and largest community events dedicated to commemorating African American history, achievement and advancement, acknowledging a period in our history that shaped and continues to influence our society today.
The 1st Annual Juneteenth Food Festival will feature a line-up of various food vendor exhibitions, food trucks, and restaurants, local vendors, live Deejay, and a film screening on the lawn beginning at dusk. Over 200+ residents from the surrounding areas of Freeport are expected to attend one of the biggest cultural festivals in the community where attendees and vendors can gather in a safe environment. In accordance with the Centers for Disease Control and Prevention's COVID-19 guidelines, all staff, volunteers and vendors will enforce a "no mask, no service" rule. In areas that have the potential for crowding, there will be marks on the ground and signage throughout the park to indicate appropriate physical distancing. Groups limited to family units are encouraged and there will be a sanitation station at Black Legacy Partners Hospitality tent and hand sanitizer pumps at each vendor.
The 1st Annual Juneteenth Food Festival is the signature event produced by Black Legacy Partners LLC with special support from Fidelis Care, Black-Owned Long Island, the Nassau County Parks & Recreation Department, and Long Island Unity March.
Launched in 2020, Black Legacy Partners, a new Black-owned and operated venture was formed by a group of professionals with backgrounds in entertainment, business, and art. We joined forces to establish a network of, and build a platform for, Black entrepreneurs, creators, and artists who were devastated by the effects of 2020. We use our experience, passion, connections, and influence to build a legacy, not only for us, but also our community. Black Legacy Partners is dedicated to curating inspiring entertainment experiences that puts the talents of Black entrepreneurs, artists, filmmakers, and dreamers on full display. We are building a creative platform to bridge communities of color and create safe cooperative spaces that will empower others to actualize their own legacies.
Admission to the festival is free with pre-registration to control the number of attendees.
Vendor registration is now open! For more information on how to reserve a vendor space, please email hello@blacklegacypartnersllc.com or call (631) 875-3077.
To complete an online vendor application, click here: http://bit.ly/BLPJuneteenth2021VendorApp
For further questions and inquiries regarding the festival, please contact us at hello@blacklegacypartnersllc.com
*PLEASE NOTE: Due to safety guidelines, registration is one ticket per attendee. Each guest MUST be listed with their own ticket. Registration will close once the capacity has been reached.
###
NOTICE OF FILMING AND PHOTOGRAPHY
When you enter a Black Legacy Partners (BLP) event or program, you enter an area where photography, audio, and video recording may occur. By entering the event premises, you consent to interview(s), photography, audio recording, video recording and its/their release, publication, exhibition, or reproduction to be used for news, web casts, promotional purposes, telecasts, advertising, inclusion on websites, social media, or any other purpose by BLP and its affiliates and representatives. Images, photos and/or videos may be used to promote similar BLP events in the future, highlight the event and exhibit the capabilities of BLP. You release BLP, its officers and employees, and each and all persons involved from any liability connected with the taking, recording, digitizing, or publication and use of interviews, photographs, computer images, video and/or sound recordings.
By entering the event premises, you waive all rights you may have to any claims for payment or royalties in connection with any use, exhibition, streaming, web casting, televising, or other publication of these materials, regardless of the purpose or sponsoring of such use, exhibiting, broadcasting, web casting, or other publication irrespective of whether a fee for admission or sponsorship is charged. You also waive any right to inspect or approve any photo, video, or audio recording taken by BLP or the person or entity designated to do so by BLP.
You have been fully informed of your consent, waiver of liability, and release before entering the event.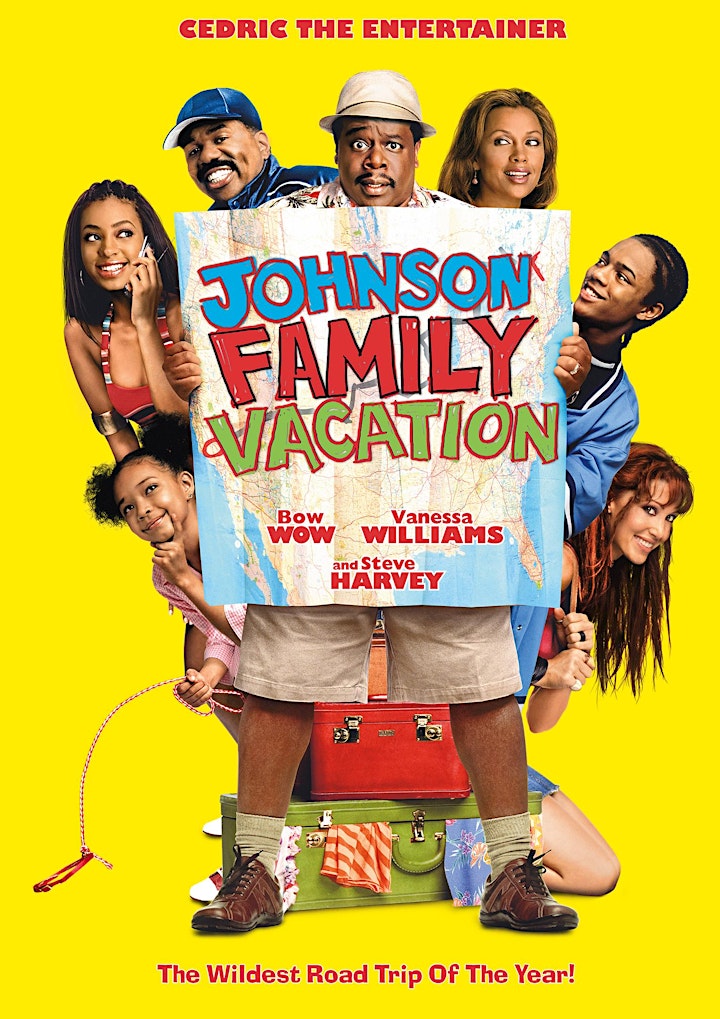 Organizer of Black Legacy Partners Presents 1st Annual Juneteenth Food Festival